The Church's Bible (4 vols.)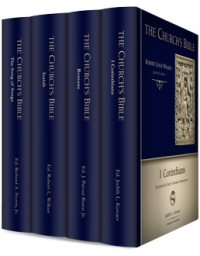 Overview
In the early church, all discussion of theological topics, moral issues, and Christian practices started with the biblical text, resulting in a substantial library of biblical commentaries and homilies. Unfortunately, this ancient body of writings is now known only in bits and pieces—if at all. The Church's Bible series brings this rich classical tradition of biblical interpretation to life once again. Compiled, translated, and edited by leading scholars, these volumes draw extensively from early and medieval commentators, illuminating Holy Scripture as it was understood during the first millennium of Christian history. Designed for clergy, Bible teachers, men and women in religious communities, and all serious students of Scripture, The Church's Bible will lead contemporary readers into the inexhaustible spiritual and theological world of the early church and the Bible itself.
The Logos Bible Software edition of The Church's Bible is designed to encourage and stimulate your study and understanding of the early church commentary on the biblical text. Scripture passages link directly to your English translations and original-language texts, while important theological concepts link to dictionaries, encyclopedias, and a wealth of other resources in your digital library. In addition, you can perform powerful searches by topic and find what other authors, scholars, and theologians have to say. With Logos Bible Software, the most efficient and comprehensive research tools are in one place, so you get the most out of your study.
Key Features
Composed of patristic and medieval commentary on the Bible
Reveals a millennium's worth of rich biblical interpretation
Edited and translated by key scholars in the field
Praise for the Print Edition
The Church's Bible, a new commentary series on books of the Bible composed of quotations from patristic and medieval commentators, bears witness to the long, rich tradition of biblical interpretation within the church catholic. Such a series has always been badly needed. It also provides a welcome corrective to current fringe modes of interpretation that are more interested in rhetoric, style, or sociology than in the substance and content of the written Word of God. Recommended heartily to all pastors, preachers, and professors and students of theology.
—Joseph A. Fitzmyer, SJ, emeritus professor, Catholic University of America
Serious students of the Bible will want to consider subscribing to the entire series, which holds the promise of powerfully enriching and recasting scriptural study in the twenty-first century.
—First Things
This series rescues from the shadows the many penetrating insights of ancient Jewish and Christian interpreters. . . . They can continue to instruct us today with their perception into the perennial foibles of the human condition.
—Religious Studies Review
Individual Titles
About Robert Louis Wilken
Robert Louis Wilken is distinguished fellow of the St. Paul Center for Biblical Theology and the William R. Kenan, Jr. Professor of the History of Christianity at the University of Virginia.
More details about these resources