Gravity and Gladness Video and Study Guide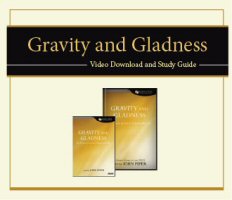 Overview
What does the Bible say about corporate worship? What is worship in the first place? The drastic difference in worship styles among churches can lead to much confusion on this topic. In this twelve-session video seminar with accompanying study guide, John Piper looks to the Bible to help us discover the true nature of worship. In these sessions, you will examine how gravity in worship doesn't mean being stern or grim. And gladness in worship doesn't mean being frivolous or superficial. As Piper points out, if our God is both inestimably glorious and infinitely happy, our worship will have both gravity and gladness, both substance and satisfaction. With great warmth and insight, he addresses important questions including: What should our worship look like? How can we find a difficult balance with worship that is both solemn and joyful? This video download of the seminar and helpful study guide is ideal for community groups, but also can serve for individual study.
The Logos Bible Software edition of Gravity and Gladness is designed to encourage and stimulate you and your group's study of Christian worship. Scripture passages link directly to your English translations and original language texts, and important concepts link to dictionaries, encyclopedias, and a wealth of other resources in your digital library. You can also perform powerful searches by topic and find what other authors, scholars, and theologians have to say about worship.
Key Features
Video download of seminar sessions and accompanying study guide with pre-planned lessons
Insights on worshipping with appropriate reverence and gladness
Great group study
Helpful guidance included for group leaders
Product Details
Title: Gravity and Gladness
Author: John Piper
Publisher: Crossway
Pages: 176
Video Length: approx. 5 hrs
Individual Titles

Gravity and Gladness: The Pursuit of God in Corporate Worship, video download
Author: John Piper
Publisher: Crossway
Publication Date: 2010
Video Length: approx. 5 hours
This resource is a video download of John Piper's seminar on worship. Broken into 11 video sessions, each is approximately 25 minutes long.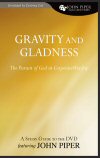 This is the accompanying study guide to the video sessions. It includes lessons for a 12 session study, with Scripture references, discussion questions, plus helpful insights and recommendations for group leaders.
About the Author
John Piper is a theologian and bestselling author. He was the Pastor for Preaching and Vision at Bethlehem Baptist Church for over thirty years. Piper attended Wheaton College where he majored in literature and minored in philosophy. He completed his Bachelor of Divinity at Fuller Theological Seminary, where he studied under Dr. Daniel Fuller. Piper received his Doctorate in Theology from the University of Munich and taught biblical studies for six years at Bethel College. In 1994, Piper founded Desiring God Ministries, which provides Piper's sermons, articles, and information on titles he has authored. One of his bestsellers, Desiring God: Meditations of a Christian Hedonist, prompted the name of the ministry. Several of Piper's books have been Evangelical Christian Publishers Association Christian book award winners including What Jesus Demands from the World, Pierced by the World, and God's Passion for His Glory.