Cecil Sherman Formations Commentary (5 vols.)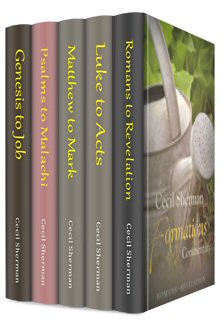 Cecil Sherman Formations Commentary (5 vols.)
•
Runs on Windows, Mac and mobile.
Overview
In thousands of Bible study classes across America, teachers, elders, and pastors use Cecil Sherman to help them teach essential passages in the Bible. Dr. Sherman served as the primary commentary writer for the Smyth and Helwys Formations series of adult Bible study for nearly fifteen years. In those years, he contributed to nearly 700 sessions across 45 issues of the commentary and addressed an extensive amount of Scripture.
Dr. Sherman's commentaries provide a depth of biblical scholarship that he brings to life through rich storytelling based on a lifetime of experience and spiritual wisdom. He is able to communicate the gospel in a way that balances bold proclamation with good pastoral sense. By drawing the reader into a dialogue around a passage, Sherman is able to expound on what might otherwise seem complex and distant, helping the reader discover its richness.
His writing is clearly informed by careful research into biblical languages, backgrounds, theology, and archaeology. His love of the church is revealed through each commentary he writes, speaking to the real issues and challenges congregations face today.
Now, at long last, his commentaries are being made available once again. These five volumes collect the wisdom, insight, and wit that Sherman's readers have come to treasure week after week through the years.
Product Details
Title: Cecil Sherman Formations Commentary
Author: Cecil Sherman
Publisher: Helwys Publishing, Inc.
Volumes: 5
Pages: 994
Individual Titles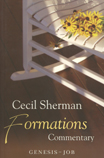 Genesis to Job
Author: Cecil Sherman
Publisher: Helwys Publishing, Inc.
Publication Date: 2006
Pages: 200
Sherman approaches the beginning of the Bible with an understanding of the modern problem of how one embraces Genesis and the findings of science. The bottom line, he says, is that "In the beginning…God." In discussing Abraham's calling, Sherman tells us that "When we follow God into hard places and attempt hard things, we meet surprises. When our faith gives way, God comes again." He shows how the human stories in Genesis, though real, provide us with instruction today. His commentary on God's name, "I Am," is insightful. In discussing the Ten Commandments, Sherman reminds us to read them in the light of Jesus, recognizing the way He interpreted them is the way we ought to view them. His treatment of Ruth focuses on how God works in the lives of ordinary people, how God guides the destiny of people towards His desired end. Sherman's treatment of David, Ezra and Esther are profound, and he concludes this volume by looking at the puzzlement of why good people suffer in his instructive look at Job.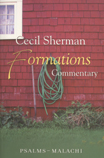 Psalms to Malachi
Author: Cecil Sherman
Publisher: Helwys Publishing, Inc.
Publication Date: 2006
Pages: 200
Dr. Sherman chooses eleven psalms to expound upon that cover typical themes that run throughout the entire book of Psalms. These themes are giving thanks, following God, confession and forgiveness, and blessings. He includes six proverbs that focus on different aspects of wisdom. Isaiah, he tells, us was written to encourage a discouraged, humiliated people. It is about hope, promise, and deliverance. Jeremiah, too, is about hope, preceded by despair. Sherman gives us gems of truth gleaned from the Minor Prophets; he takes Amos personally, for example, contending that the prophet clearly speaks to American Christianity, holding up a mirror to see how we reflect Jesus.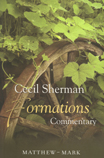 Matthew to Mark
Author: Cecil Sherman
Publisher: Helwys Publishing, Inc.
Publication Date: 197
Pages: 2006
Matthew's style, we are told, was to pull together in an orderly fashion the teachings of Jesus on a common theme, and then package them tightly and present them to us. Sherman offers twenty-three chapters on Matthew's gospel, expounding on themes such as Responding to Temptation, How to Pray, Following Jesus, Suffering Servant and A Directive for Mission. Sherman offers sixteen chapters on Mark, covering such topics as repentance, family priorities, denying yourself, being possessed by your possessions, and the role of a servant.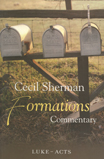 Luke to Acts
Author: Cecil Sherman
Publisher: Helwys Publishing, Inc.
Publication Date: 197
Pages: 2006
In Luke, Dr. Sherman again gives us valuable snippets that can be translated into our own lives as we read and learn about Jesus. He offers a contextual interpretation of the Lord's Prayer that is meaningful and relevant. In his exposition on John's Gospel, he shows how we can encounter God through Jesus. He concentrates on six chapters in Acts, focusing on the missionary's challenge, and overcoming barriers of culture and color, geography and gender, and false religions.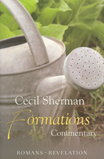 Romans to Revelation
Author: Cecil Sherman
Publisher: Helwys Publishing, Inc.
Publication Date: 2006
Pages: 200
Included in this commentary are seven chapters on Romans that focus on the law, being saved by faith, Christ's love, being transformed, and the importance of being in harmony with fellow Christians. He expounds on seven chapters in 1 Corinthians and one in 2 Corinthians. He touches on important themes in Paul's other epistles and pastoral letters, and then concentrates on passages in Hebrews and James that focus on faith as a source of strength and obedience, and its consistency with works. The remaining several chapters offer important lessons from Peter, Jude and the book of Revelation.
About Cecil Sherman
Cecil Sherman has most recently served as visiting professor of pastoral ministries at the Baptist Theological Seminary. Dr. Sherman has pastored at Broadway Baptist Church in Fort Worth, Texas, from 1985-1992, and First Baptist Church in Asheville, North Carolina, from 1964-1984. He was the first executive head of the Cooperative Baptist Fellowship and served on the board of directors for the Alliance of Baptists. Sherman is a graduate of Baylor University and is the recipient of the Baylor Alumni Association Distinguished Alumni Award for 1992. He received a B.D. and Th.D. from Southwestern Baptist Theological Seminary and a Master of Theology from Princeton Theological Seminary. He has been very active in church life and community service and has written extensively, publishing numerous articles and several books. Sherman continues to write Sunday school literature and other Christian educational resources for Baptists.
Sample Pages from the Print Edition
More details about these resources