Answering Jewish Objections to Jesus (4 vols.)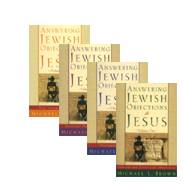 Overview
A Jewish person has different objections to Jesus than an atheist, yet most apologetics books are geared toward conversing with non-religious people about the gospel. In Answering Jewish Objections to Jesus, Michael L. Brown has compiled close to 150 objections he has encountered in his ministry to Jews and provides biblical answers to them, demonstrating how to discuss the Messiah sensitively, intelligently, and convincingly.
These four volumes will give anyone interested in reaching the Jewish people with the good news of Jesus the Messiah a strong foundation upon which to stand. With detailed responses based on careful research of the Hebrew Bible, Rabbinic texts, and the New Testament, Dr. Brown thoroughly and respectfully answers these objections and invites Jewish seekers to consider the possibility that the new covenant they have been waiting for is already here.
In discussing Jewish objections to Jesus as the Messiah, Dr. Brown also explains many of the concepts and doctrines that are important to Christians. He speaks in detail about the Trinity, the Holy Spirit, Jesus being the Son of God, how Jesus is the Messiah, and Messianic prophecy. These important discussions make this a viable collection even to those who do not have a Jewish ministry. Each volume ends with copious notes, a glossary and an index of Scripture and other Ancient Writings.
Praise for the Print Edition
This is a wonderful resource for study of the relationship between Christianity and Judaism.
—Darrell Bock, Research Professor, New Testament Studies; Professor, Spiritual Development and Culture, Dallas Theological Seminary
There is no other contemporary resource like this, and it will no doubt be useful in countering not just Jewish objections but the objections of so many other skeptics and naysayers of the New Testament.
—David Brickner, Executive Director, Jews for Jesus
Brown's answers to objections are carefully thought out, honest, and well researched. His work provides a useful model on how to do apologetics for all who are interested in articulating and defending the Christian faith.
—Craig Keener, Professor, New Testament Studies, Palmer Theological Seminary, Eastern University
Michael Brown's work in the area of Jewish apologetics is the most thorough and penetrating I have seen. There is no doubt in my mind that this work will make a major contribution to the ongoing discussion and will, in fact, set the standard in the field.
—Richard Averbeck, Associate Professor, Old Testament and Semitic Languages, Trinity Evangelical Divinity School
Michael Brown's thinking is incisive and to the point. His ability to explain so that anyone can understand is amazing. He will surely be acclaimed as the new expert in Jewish Christian apologetics. I would be happy to recommend his much needed book to anyone.
—Moishe Rosen, Founder, Jews for Jesus
Answering Jewish Objections to Jesus, by Michael Brown, is must reading for everyone who desires to be better "prepared to give an answer to everyone who asks you to give the reason for the hope that you have" (1Peter 3:15). Michael is thorough in his responses to "typical" objections to the Messiahship of Yeshua, yet, his style of writing makes these responses easy to understand. Much insight is to be gained as a result of Michael dealing with issues such as "Christian anti-Semitism". I also appreciated his views on the Holocaust (not an easy issue to deal with).
—Messianic Rabbi Noach Zaner
Product Details
Title: Answering Jewish Objections to Jesus (4 vols.)
Author: Michael L. Brown
Publisher: Baker Books
Volumes: 4
Pages: 1,224
About the Author
Michael L. Brown is a Jewish believer in Jesus and has a Ph.D. in Near Eastern Languages and Literatures from New York University. He was the first president of the Brownsville Revival School of Ministry in Pensacola, FL, and went on to help found the FIRE School of Ministry where he serves as its president and full-time staff member. He has been a visiting professor at Trinity Evangelical Divinity School and Fuller Theological Seminary. He is the founder and president of ICN Ministries, which is devoted to taking the gospel of Jesus to Israel, the Church, and the Nations. He is active in Jewish evangelism, debating rabbis on television, radio, and college campuses. Dr. Brown has written more than fifteen books and is a contributor to the Oxford Dictionary of Jewish Religion. His books include Go and Sin No More and Compassionate Father or Consuming Fire.