From Alpha to Omega Classical Greek Collection (2 vols.)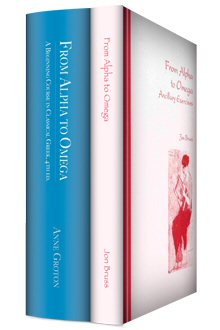 From Alpha to Omega Classical Greek Collection (2 vols.)
•
Runs on Windows, Mac and mobile.
Overview
The Alpha to Omega Classical Greek Collection provides students and instructors with everything they need to learn and teach classical Greek. Anne Groton's new edition of the bestselling classical Greek textbook presents clear lessons on grammar and provides stimulating exercises from actual Greek texts. This comprehensive introduction covers all the major aspects of Greek, including orthography, phonetics, morphology, and syntax. Jon Bruss' supplemental lessons continue the focus on reading proficiency with extensive exercises to encourage a basic mastery of concepts and reading competency.
In the digital editions, these resources are enhanced by amazing functionality. Pull up these lessons for reference as you read the Greek New Testament and the Greek Classics Research Library. Important terms link to dictionaries, encyclopedias, and a wealth of other resources in your digital library. Tablet and mobile apps let you read and learn on the go. With Logos, the most efficient and comprehensive research tools are in one place so you get the most out of your study.
Key Features
Complete introduction to classical Greek
Reinforcement readings from classical Greek authors
Succinct, instructive vocabulary lists
Comprehensive glossary of words in the grammar and readings
Product Details
Title: From Alpha to Omega Classical Greek Collection
Publisher: Focus Publishing
Volumes: 2
Pages: 636
Individual Titles

This new edition of the bestselling classical Greek textbook combines a traditionally rigorous introduction to Ancient Greek with an encouraging, pleasant, and accessible presentation for today's modern students. From Alpha to Omega inspires students of Ancient Greek by structuring lessons around manageable selections of actual Ancient Greek writings, beginning with Aesop's most amusing and curious fables. By the second half of the book, students are able to take on instructive passages from The New Testament, Demosthenes, Xenophon, Thucydides, Lysias, Arrian, Aristotle, and Plato. The readings demonstrate new vocabulary and syntax learned in the lesson, allowing students to develop the chapter's lesson through actual Ancient Greek passages. This textbook also includes a comprehensive glossary of words from the lessons and readings in both Greek-to-English and English-to-Greek format for easy reference.
Anne Groton is professor of classics at St. Olaf College, where she has chaired the department of classics and directed the programs in ancient and medieval studies.

This workbook supplements Anne Groton's From Alpha to Omega: A Beginning Course in Classical Greek. This volume includes 50 additional lessons and answer keys. The exercises cover each part of Gorton's grammar for additional reinforcement and mastery of Ancient Greek orthography, phonetics, morphology, syntax, and more.
Jon Bruss is assistant professor in the department of classical languages at Sewanee, the University of the South. He received his PhD from the University of Minnesota and has served as an editor of Brill's New Pauly Encyclopedia of the Ancient World. His interests include Greek poetry and epigram, ancient philosophy, Latin hexameter and lyric, and Greek history.
More details about these resources