Studies on Gothic Christian Writings (3 vols.)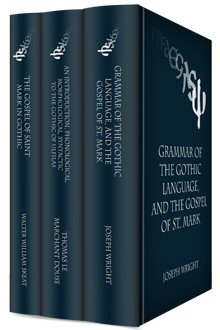 Studies on Gothic Christian Writings (3 vols.)
•
Runs on Windows, Mac and mobile.
Your Custom Discount
Reg. Price $39.95
Sale Price $29.95
Your Price $29.95
You Save $10.00 25%
Your Price
What's Pre-Pub?
$29.95
Reg.: $39.95
Print: $77.25
Overview
The Goths have had an immense impact on world history, having changed the face of Europe by bringing down the Roman Empire in the fifth century, only a century after the Gothic bishop Ulfilas converted most of the Gothic kingdom to Christianity. Ulfilas (also known as Wulfila) invented the Gothic alphabet through which he translated the Bible into the Gothic language, of which many surviving New Testament fragments remain. The Wulfila Bible, despite being fragmentary, is the only extensive document that survives in this ancient Eastern Germanic language, making it of particular interest to linguists and scholars of New Testament textual criticism.
The Gothic language also provides a key glimpse at the ancient Indo-European language family, due especially to its widespread use throughout ancient Europe—from Portugal to Bulgaria and from Sweden to Northern Africa. Its wide reach, lack of modern descendants, and early fourth-century texts make it of considerable interest in comparative linguistics. Studies on Gothic Christian Writings provides three essential volumes on the Gothic language and the Gothic translation of the Gospel of Mark.
Expand your study of Gospel fragments into Gothic through Logos. Analyze these ancient manuscripts alongside the accompanying grammars and introductions, and explore the variations between other pre-medieval Gospel manuscripts. Logos makes linguistic studies a breeze.
Key Features
Important manuscript texts from the earliest Gothic Gospels
Key introductions, backgrounds, and histories for the Gothic language and Ulfilas
Essential grammar that teaches the ancient language
Fragments of all four Gospels and Second Timothy
Product Details
Title: Studies on Gothic Christian Writings
Authors: Thomas Le Marchant Douse, Joseph Wright, and Walter W. Skeat
Publishers: Clarendon Press, Taylor and Francis
Volumes: 3
Pages: 744
Individual Titles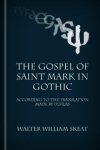 Built largely on the Codex Argenteus, this volume is Walter W. Skeat's assembly of the Gospel of Mark according to the extant Gothic fragments of the text. With an introduction explaining the history of the Gothic manuscripts and a glossary of Gothic words—especially useful for the study of English etymology—this volume serves as an excellent Gothic language primer and starting point for research on Gospel fragments.
. . . [The Gospel of Saint Mark in Gothic] [has] hitherto been the most accessible English edition.
—The Presbyterian and Reformed Review
Prof. Skeat who stands foremost among university professors in England in his perception of the needs of students of English and his skil and promptness in supplying them, has prepared [some] excellent textbooks for Gothic, a glossary in 1868, and in 1882 an edition of the Gospel of St. Mark in Gothic. . . a very convenient primer.
—Francis A. March (LLD, Princeton)
Walter William Skeat (1835–1912) was educated at King's College School, Highgate School, and Christ's College, Cambridge. In 1860, he was named a fellow at Cambridge, and in 1878 was elected Elrington and Bosworth Professor of Anglo-Saxon. He did much work in both Anglo-Saxon and in Gothic, but is most well-known for his research and writings on Middle English, notably his editions of Chaucer and of Langland's Piers Plowman.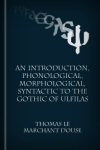 This essential volume on the Gothic language provides the critical point-of-entry for the student or scholar to break into the language. In addition to providing instruction in Gothic, Thomas Le Marchant Douse presents his own hypotheses on the impact of Gothic on the Teutonic aspect of Old English.
Contents:
Preliminary Chapter: The Place of the Goths and their Language in the Indo-European System
Part I: The Gothic Alphabet: Transliteration, Pronounciation
Part II: Phonology
Part III: Morphology
Part IV: Syntax
A well-grounded and suggestive book for more advanced students.
—Francis A. March (LLD, Princeton)
Mr. Douse's Introduction to the Gothic of Ulfilas supplies a want that has long been felt in English philological literature.
—Academy
The volume before us is one of the most solid and scholarly pieces of work of its own kind which have appeared in the English language.
—Athenaeum
Thomas Le Marchant Douse was a scholar in linguistics, specializing in early Indo-European languages.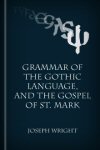 This invaluable volume gives a complete grammar of the linguistics of the Gothic language, with frequent reference to the manuscripts from which Gothic survives. In addition to its linguistic chapters, the volume also gives nearly 100 pages' worth of manuscript fragments from the four Gospels and the Second Epistle to Timothy. Several glossaries and indexes open to door to easier access to the Gothic language.
Joseph Wright was professor of comparative philology at the University of Oxford and was a Fellow of the British Academy.