Randy Clark and Bill Johnson Collection (3 vols.)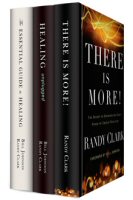 Randy Clark and Bill Johnson Collection (3 vols.)
•
Runs on Windows, Mac and mobile.
Overview
Bill Johnson and Randy Clark—known worldwide as bestselling authors and leaders in healing ministry—witness the miraculous regularly and see thousands touched by God each year. This collection includes three volumes of their insight, wisdom, and personal stories. The Essential Guide to Healing will equip Christians to minister healing prayers to their friends, families, and strangers. Healing Unplugged tells the stories of how Johnson and Clark began their ministries, the trials they have overcome, and the miracles they have seen. And in There Is More!, Randy Clark explains that seeking more from God is not only biblical, but essential for greater fruitfulness in ministry and service. This collection will be a valuable resource for pastors, students, and all Christians interested in strengthening their prayer life and healing ministry.
Logos Bible Software makes these texts easier to study than ever before. With Logos' advanced features, you can perform powerful searches by topic or Scripture reference—finding, for example, every mention of "faith," or "Luke 8:48."
Key Features
Guidance on starting, strengthening, and maintaining a healing ministry
Candid interviews with ministry leaders Randy Clark and Bill Johnson
Advice on how to seek spiritual gifts from God
Individual Titles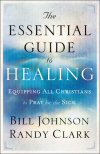 For the first time, pastors and bestselling authors Bill Johnson and Randy Clark team up to equip all Christians to minister healing. Sharing inspiring and exciting stories—and grounded from start to finish in Scripture—Johnson and Clark lay out practical, proven, step-by-step guidance to ministering healing, including instruction on how to understand your authority in the ministry of healing, walk out the ministry of healing in your personal life, receive and relay words of knowledge, and implement and apply the five-step model of healing prayer. The ministry of healing is not reserved for a select few. God's miraculous healing is part of the good news, and you can become a powerful conduit for the healing power he loves to manifest.
This book is a game-changer. It will transform you. It will revolutionize your life and ministry.
—John Arnott, Catch the Fire Ministries, Toronto
The Essential Guide to Healing is an excellent teaching tool that points us not only to God's power, but also to the very nature of Jesus. Healings and miracles reveal God's huge heart of love. Read this book and watch God do wonders through you.
—Heidi Baker, founding director, Iris Global
God is working in ways that surprise many of us. We may well not all agree how to understand all the details, but the experiences in this book challenge us to learn more about God's power and about his loving care for the afflicted.
—Craig Keener, professor of New Testament, Asbury Theological Seminary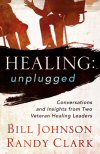 Listen in as, for the first time, these close friends sit down to interview each other, candidly sharing their personal journeys in the healing spotlight. With honesty, humor, and humility they reveal how and why they first got into healing ministry; the trials, errors, and breakthrough experiences that propelled them forward; the most amazing miracles they've seen; detailed insights and time-tested advice for more effective ministry; and more. No stages. No spotlights. No sound checks. No crowds. Just raw, rare, intimate glimpses into real lives—through both the failures and the successes—of two men devoted to God.
Healing Unplugged is like sitting down in your living room with Bill Johnson and Randy Clark as they share their personal stories of discovering how to move in and steward the healing anointing. Each testimony carries a deposit of glory that will make you hunger for more of the presence and miracles of Jesus. This is not a how-to manual, but a catalyst that will activate your faith to begin doing the works of Jesus wherever you go. With humility and honesty, Bill and Randy share their learning curves as well as the trade secrets they have learned from following the Holy Spirit's leading. We are all enriched by the wonderful insights imparted by these special servants. I consider them not only friends but also great models for the present-day healing ministry.
—Mahesh Chavda, senior pastor, All Nations Church
I heartily endorse this book. Reading it is like sitting in on a discussion between two veterans in the healing ministry as they talk over very real questions based on what they have actually experienced. This is as close as you can get to being personally mentored by Bill and Randy, who are very honest and creative in trying to answer questions on how best to pray for healing.
—Francis MacNutt, cofounder, Christian Healing Ministries, Inc.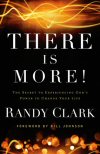 God is not a God of carefully measured handouts. He longs to give you more—as much as you're willing to receive. More love. More power. More faith. More joy. More results in prayer. With his trademark insight and encouragement, Randy Clark explains that more is not only biblical but essential for greater fruitfulness in ministry and service. And he shares how you can access the more God wants to give you.
It all starts with grace. Grace is more than receiving eternal life. It is how we experience God's presence and power in our lives, and how he empowers us to do more than we ever imagined. He wants to give you more. He wants you to be a vessel of his glory. He wants to fill you with his Spirit and his gifts. Will you accept?
Product Details
Title: Randy Clark and Bill Johnson Collection
Author: Bill Johnson and Randy Clark
Publisher: Baker
Volumes: 3
Pages: 688
About the Authors
Bill Johnson is the senior pastor of Bethel Church in Redding, California. A fifth-generation pastor with a rich heritage in the power of the Spirit, he is the bestselling author of When Heaven Invades Earth. Bill and his wife, Beni, serve a growing number of churches through an apostolic network that has crossed denominational lines, partnering for revival.
Randy Clark is the founder of Global Awakening, a teaching, healing, and impartation ministry that crosses denominational lines. An in-demand international speaker, he is part of the Apostolic Network of Global Awakening and travels extensively for conferences, international missions, leadership training, and humanitarian aid.