Baker Academic Early Church Upgrade (3 vols.)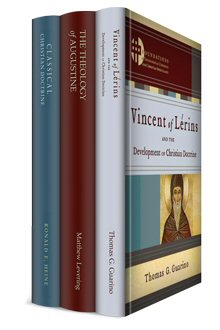 Baker Academic Early Church Upgrade (3 vols.)
•
Runs on Windows, Mac and mobile.
Overview
The Baker Academic Early Church Collection presents insights into early Christian theology. Appealing to both Protestants and Catholics, it includes contributions from scholars and theologians of all traditions. Drawing mostly from the first five centuries, it provides an introduction to various patristic authors and addresses their theologies, their impact on the early church's development, their contemporary relevance, and common misconceptions that have tainted evangelical views. The volumes in this upgrade discuss classical Christian doctrine, the theology of Augustine, and the views of Vincent of Lérins.
This collection is perfect if you're a student, scholar, pastor, or layperson interested in the most pressing topics relating to early church history, theology, and spirituality. The Logos Bible Software edition of this collection is designed to encourage and stimulate your study and understanding of the Christian church. Scripture passages link directly to your preferred English translation and original language texts; important theological concepts link to dictionaries, encyclopedias, and a wealth of other resources in your digital library. In addition, you can perform powerful searches by topic to find what other authors, scholars, and theologians have to say about the early Church Fathers' writings, culture, and thought.
Key Features
Contains contributions from Augustine, Vincent of Lérins, and theologians from various traditions
Provides insights into the early church's theological development
Analyzes the historical and contemporary significance of the early Church Fathers and their writings
Individual Titles
This clear and concise text helps readers grasp the basic doctrines of the Christian faith from the earliest days of Christianity. Ronald Heine, an internationally known expert on early Christian theology, developed this book after many years of teaching Christian doctrine. Heine primarily uses the classical Christian doctrines of the Nicene Creed to guide students into the essentials of the faith. Sidebars identify major personalities and concepts, and each chapter concludes with discussion questions and suggestions for further reading.
If you are searching for a solid and solidifying introduction to the doctrines of early Christianity, this is it. Ronald Heine helps those of us who feel unsettled within our transitory age to find some steadiness of faith within the classical and foundational. This is a book for those who think beginnings might be important to beliefs, who think antiquity might enrich the contemporary, and who, because they don't like to free-fall, appreciate the groundwork.
—D. Jeffrey Bingham, associate dean of biblical and theological studies, Wheaton College
One couldn't ask for a clearer or more succinct account of the process whereby classical Christian doctrines were articulated. Shaped by the clauses of the Nicene Creed, it brilliantly sketches out how the early church fathers debated and appropriated scriptural themes. This sharp focus and the judicious selection of key elements in what can seem a dauntingly complex story make this an excellent initial text. Also of value are telling quotations from original sources in clear English translation and good questions to make beginning students think hard about doctrinal questions.
—Frances Young, emeritus professor of theology, University of Birmingham
Most theology students realize that Augustine is tremendously influential in the Christian tradition as a whole, but they generally lack real knowledge of his writings. This volume introduces Augustine's theology through seven of his most important works. Matthew Levering begins with a discussion of Augustine's life and times and then provides a full survey of the argument of each work with bibliographical references for those who wish to research further. Written in clear, accessible language, this book offers an essential introduction to the major works of Augustine, from which anyone interested in church history will benefit.
Matthew Levering introduces Augustine through seven of his most important texts—a wonderful idea. Augustine shines out as one whose theology focuses on the central mystery of the Christian faith, God's gracious drawing of humanity into the divine life through the work of the incarnate Word and the life-giving Spirit. Levering's treatment beautifully complements existing introductions, providing a guide that should aid generations of students and inspire the interested lay reader.
—Lewis Ayres, Bede Chair in Catholic Theology, Durham University
The current reawakening of interest in Augustine's theology has created a great need for an introduction that is elevated enough to be of interest to specialists and yet accessible enough to be read by students and readers from other disciplines. Levering's study meets exactly that need. It points the way for those who are interested in how Augustine is relevant to our own theological quandaries, and it guides those who are just beginning to find their way in things Augustinian by helping them see theological themes as they are embodied in whole texts. An excellent contribution!
—John Cavadini, professor of theology, University of Notre Dame
The theology of Vincent of Lérins is often reduced to a memorable slogan: "We hold that faith which has been believed everywhere, always, and by everyone." Thomas Guarino argues that this Vincentian Canon has frequently been taken out of context. This book introduces Vincent's thought and its reception in Christian history, exploring Vincent's creative and innovative understanding of the development of doctrine and showing how it informed the thought of John Henry Newman. Guarino contends that Vincent's theology contributes significantly to twenty-first-century theology and ecumenism.
Any student of theology interested in the problem of the development of doctrine must take seriously the full measure of Guarino's carefully researched book. He not only provides us with brilliant historical scholarship but also demonstrates the enduring pertinence of the Vincentian Canon, which is too often reduced to a catchphrase. This volume is a splendid example of authentic ressourcement.
—Lawrence S. Cunningham, John A. O'Brien Professor of Theology, University of Notre Dame
Of the splendid Commonitorium of Vincent of Lérins, many Christians know only one sentence—if that. Thomas Guarino remedies the situation superbly. He offers a full reading of the Commonitorium and of Vincent's complex thought on the development of doctrine. He then moves on to John Henry Newman's cautious interpretation of Vincent and ends with a reflection on Vincent in contemporary theology and ecumenism. From the Council of Nicaea to Vincent to Newman to Vatican II and beyond, this is a challenging journey, beautifully presented.
—Joseph T. Lienhard, professor, Fordham University
Thomas G. Guarino is professor of systematic theology at Seton Hall University in South Orange, New Jersey. He is the author of Vattimo and Theology, Foundations of Systematic Theology, and more.
Product Details
Title: Baker Academic Early Church Upgrade
Publisher: Baker Academic
Volumes: 3
Pages: 608
More details about these resources