Swindoll's New Testament Insights (4 vols.)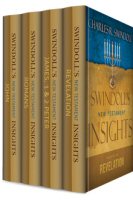 Overview
Combining rich, rock-solid scholarship with a storyteller's imagery and passion, Chuck Swindoll has a gift for sweeping people into the immediacy of the Scriptures. This landmark series is the legacy of a master teacher and communicator to the church of Jesus Christ. You'll gain remarkable new insights into the Bible and better ways to apply its message to your life. God's Word will come alive for you, filled with drama, power, and truth, as you journey with Chuck chapter-by-chapter through the New Testament.
Scripture references link directly to Greek and Hebrew texts, along with the English Bible translations of your choice. For any word in any language, you can double-click on that word and your digital library will automatically search your lexicons for a match. That gives you unprecedented access to linguistic data, along with all the tools you need for exegesis and interpretation.
Key Features
Provides chapter-by-chapter commentary
Offers practical lessons
Includes maps, charts, and illustrations
Praise for the Print Edition
Chuck Swindoll has been a faithful and wise teacher of God's Word for many decades, and I am glad to see this new series will make his captivating and heart-touching Bible teaching available to many more readers.
—Wayne Grudem, research professor of Bible and theology, Phoenix Seminary
Chuck always finds a way to bring to life ancient stories and abstract thoughts. He doesn't have a boring bone in his body.
—Philip Yancey, editor, Christianity Today
Product Details
Title: Swindoll's New Testament Insights
Author: Charles R. Swindoll
Series: Swindoll's New Testament Insights
Publisher: Tyndale
Volumes: 4
Pages: 1,376
About Charles R. Swindoll
Charles R. Swindoll has devoted his life to the clear, practical teaching and application of God's Word. He currently pastors Stonebriar Community Church in Frisco, Texas, and serves as the chancellor of Dallas Theological Seminary. His renowned Insight for Living radio program airs around the world.
More details about these resources