Christianity for the Common Good (2 vols.)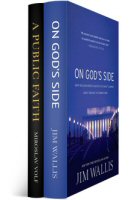 Overview
The Christianity for the Common Good series questions current Christian involvement in the greater community and offers answers that will inspire personal responsibility and passionate social engagement. The two volumes discuss contemporary topics such as: living in a multifaith society, engaging in politics, working for social justice, and ultimately serving Christ by working for the common good of all of his creation.
With Logos Bible Software, it's easier than ever to use this valuable resource. The collection integrates seamlessly with your digital library, so you can access A Public Faith and On God's Side from your desktop, tablet, or smartphone. All Scripture references link directly to the text of the Bible, making your study of public engagement both scripturally sound and rewarding.
A Public Faith was named one of the "Top 100 Books" and one of the "Top 10 Religion Books" of 2011 by Publishers Weekly.
Key Features
Perspectives on faith-based public engagement from bestselling authors
Practical applications for modern Christians in a multifaith society
Product Details
Title: Christianity for the Common Good
Publisher: Brazos
Volumes: 2
Pages: 512
Individual Titles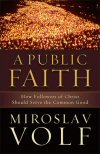 In A Public Faith, Miroslav Volf offers his wise perspective on how Christians can, "[Promote] the practice of Christian faith in all spheres of life so that what is broken in our individual lives and cultures can be mended, and we all can flourish as God's creatures." Covering such timely issues as witnessing in a multifaith society and political engagement in a pluralistic world, this compelling book highlights things Christians can do to serve the common good.
Highly original . . . The book deserves a wide audience and is one that will affect its readers well after they have turned the final page.
—Christianity Today
Why should Christians use the resources of their faith to speak to and serve the common good rather than reducing the faith to a message that soothes individuals or energizes them to pursue success? And how can they do that without coercing those who are not Christians? In A Public Faith, Miroslav Volf sets for himself the daunting task of addressing these two deep and urgent questions in a way that is both widely accessible and takes account of the scholarly literature. He succeeds on all counts. It is a wonderful guide for the perplexed in our times.
—Nicholas Wolterstorff, Noah Porter Professor of Philosophical Theology, Yale University
Firmly rooted within his own tradition of Christianity, Miroslav Volf has produced an indispensable guide for voices of faith within the arena of public discourse. A Public Faith is arguably the most important book on the topic since H. Richard Niebuhr's Christ and Culture.
—Randall Balmer, professor of American religious history, Columbia University
Miroslav Volf is the Henry B. Wright Professor of Systematic Theology at Yale Divinity School and director of the Yale Center for Faith and Culture. He has written more than 15 books, including Exclusion and Embrace, After Our Likeness, and The End of Memory.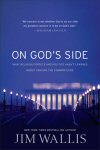 Abraham Lincoln once said, "My concern is not whether God is on our side; my greatest concern is to be on God's side." Lincoln led the United States through one of the most tumultuous times in our nation's history. Reading his words today, it is clear we still have much to learn concerning what it means to be on God's side. Bestselling author, public theologian, and leading Christian activist Jim Wallis speaks directly into our current context, revealing the spiritual compass we need to effect lasting change in our society. He explains how the good news of Jesus transforms not only our individual lives but also our public lives. This book seeks to move beyond the current media and political warfare and bring together a divided country. Wallis explores how Jesus' agenda can serve the common good, what it takes to sustain a lifelong commitment to social justice, and how reading the Bible as well as the culture can shape our lives for genuine transformation.
I love the work and books and existence of Jim Wallis. His is a profound and always-entertaining voice of reason, reconciliation, and passion for social justice and peace. Each of his books makes me wish I could get it into the hands of more politicians, right-wing Christians, left-wing Christians, secular humanists, economists, and regular people—everyone—so we could see how much we have in common and how much is at stake. Jim Wallis and I do not share many of the same political views, but we share the same heart and soul and love for God and all of God's children. Plus, he's a marvelous storyteller.
—Anne Lamott, author
I have read all of Jim Wallis's books, books that call evangelicals to full conversion and an ecclesial faith that works. On God's Side is Jim's best book; it is personal, pastoral, and prophetic—a summons to a deeper conversion, to bridge-building commitments to the common good, and to a family life that grounds active faith in a common, caring community.
—Scot McKnight, professor of New Testament, Northern Seminary
This is the finest of all Jim Wallis's writings. It reminded me that my actions as a citizen are a natural extension of my life as a Christian. Jim's comprehension of how Scripture and political issues relate to each other is surpassed only by the number of bridges he builds so that we can all solve problems together. Reading this book will help you be more like Jesus, especially in the public square.
—Joel C. Hunter, senior pastor, Northland–A Church Distributed
Jim Wallis is president and CEO of Sojourners and editor of Sojourners magazine. He is a bestselling author, public theologian, national preacher, social activist, and international commentator on ethics and public life. Wallis has written 10 books, including bestsellers God's Politics: Why the Right Gets It Wrong and the Left Doesn't Get It and The Great Awakening, and is a frequent speaker in the United States and abroad. He has written for major newspapers and appears frequently on CNN, MSNBC, Fox News, and NPR. Wallis also teaches at Georgetown University and has taught at Harvard University.
More details about these resources