Bible Studies and Biblical Characters Collection (6 vols.)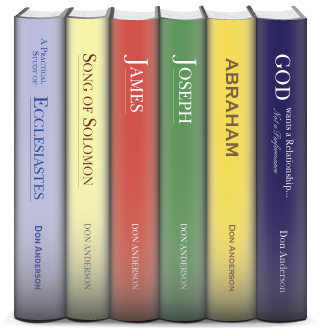 Bible Studies and Biblical Characters Collection (6 vols.)
•
Runs on Windows, Mac and mobile.
Overview
Interested in expanding your small group studies? The Bible Studies and Biblical Characters Collection is designed to help you grow your relationship with God using biblical examples and studies on books of the Bible. Discover God's desire for you and how you can more fully relate with him through these time-proven books.
With Logos Bible Software, studying these books has never been easier. Take them with you on your mobile device and study them in your small group. Set reading plans, share your favorite quotes, and connect to the Word in new and exciting ways in Logos.
Key Features
Studies characters of the Bible that speak directly to our lives
Provides insight to biblical books and what they mean for us today
Individual Titles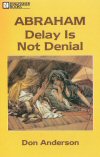 Don Anderson's study in Genesis vividly presents Abraham as a man in a hurry, unwilling to wait for God's perfect timing in his life. Not just examples from the patriarch's life on how God used a man with shortcomings, Delay is not Denial provides biblical answers to the dilemmas and temptations that we all face as we strive to wait on the Lord.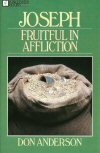 Joseph: Fruitful in Affliction
Author: Don Anderson
Publisher: Don Anderson
Publication Date: 1988
Pages: 242
Come meet Joseph, a man of enduring faithfulness in the midst of hardship. Slave-turned-ruler, wise administrator, forgiving brother, devoted son—Joseph was a real man who faced real affliction with a steadfast trust in the God who made him wait.
As Joseph's story unfolds, you'll get to know him and his family as never before. Don Anderson's warm, casual style, coupled with his insightful handling of Scripture, provides a rich backdrop to this journey through the Genesis account of the life of a true servant of God.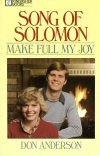 Song of Solomon: Make Full My Joy
Author: Don Anderson
Publisher: Don Anderson
Publication Date: 1987
Pages: 204
The Song of Solomon is the incomparable record of a romance which took place long ago and was witnessed with approval by a loving and holy God. In his Word, God speaks boldly about the consequences of sexual sins and sexual disobedience. Is it not logical that the Holy Spirit would give us guidelines for sexual obedience—insights into the proper development of the physical relationship within marriage? By its inclusion in Scripture, this Song of Songs provides God's endorsement of such physical love between husband and wife.
In this beautiful model of all that married love can be, you can learn how to discover the pure joy of total giving within the bond of marriage. See from this love story of Solomon and Shulamith how to experience real intimacy, sincere sharing, and genuine satisfaction in your marriage.

Ecclesiastes: The Mid-Life Crisis
Author: Don Anderson
Publisher: Don Anderson
Publication Date: 1987
Pages: 195
Don Anderson's study in Ecclesiastes vividly presents Solomon as a man in the throes of a mid-life crisis. Not just an analysis of the various problems that confront a man in middlescence, The Mid-Life Crisis provides biblical answers to the trauma that many are experiencing in today's world.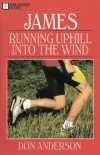 James: Running Uphill into the Wind
Author: Don Anderson
Publisher: Don Anderson
Publication Date: 1990
Pages: 242
Champion Christians are those who have been spent and are still going on—seeking to plant their feet on higher ground.
Higher ground should be the goal of every believer, the end result of a life lived for Christ, a life that is progressively changed to conform to the image of the Savior. Becoming Christlike involves steep ascents, struggles, detours, successes, and failures—because it is basically a battle to change our behavior.
The New Testament book of James is a practical manual for running the race that is the Christian life. It is a guide to going to higher ground. It is a guide to running uphill into the wind.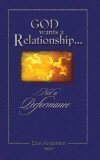 God Wants a Relationship, Not a Performance takes a look at the wonderfully written script for successful living found in Romans 5–8. But the drama is not about us doing our best to try to impress God. It's about God doing what we could never do. When it comes to victorious living in the Christian life, God takes the leading role. However, we too often convince ourselves a human being is capable of performing to please god. Our human performance just doesn't cut it with God. Only our acceptance of Jesus Christ as the Savior and Lord of our lives brings heaven to its feet.
Product Details
Title: Bible Studies and Biblical Characters Collection
Author: Don Anderson
Publisher: Don Anderson
Volumes: 6
Pages: 1,344
About the Author
Don Anderson is a popular guest speaker at churches, para-church organizations, conferences, and retreats. His refreshing style and unique insights, as shown in many of his books, effectively communicate the timeless truths of Scripture and their application to everyday life.
More details about these resources