Belief: A Theological Commentary on the Bible (7 vols.)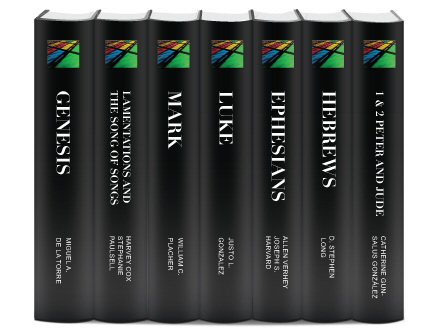 Belief: A Theological Commentary on the Bible (7 vols.)
•
Runs on Windows, Mac and mobile.
Overview
The volumes in Belief: A Theological Commentary on the Bible, from Westminster John Knox Press, offer a fresh and invigorating approach to seven significant the books of the Bible. Building on a wide range of sources from biblical studies, the history of theology, the church's liturgical and musical traditions, contemporary culture, and the Christian tradition, noted scholars focus less on traditional historical and literary angles and more on a theologically focused commentary that considers the contemporary relevance of the texts. This series is an invaluable resource for those who want to probe beyond the backgrounds and words of biblical texts to their deep theological and ethical meanings for the church today.
The Logos edition makes this resource even more relevant, saving you time and strengthening your study. Clicking any Scripture reference links you directly to your preferred translation for easier side-by-side analysis. Perform comprehensive searches by topic to add new depth to your sermon research and personal study.
Key Features
Various theological perspectives from prominent scholars
Fresh commentaries for the modern church
Praise for the Print Edition
Intentionally theological in interpretation, Belief: A Theological Commentary on the Bible is extraordinary, inspiring, innovative, and passionate for Christ in its vision. Its priority is not interpreting the Scriptures from historical-critical perspectives of biblical scholarship but providing theological interpretations for building up the church of Jesus Christ. Written with pastors in mind, this series is an excellent resource for discerning the intention of the Holy Spirit through the Scriptures and for preaching the love of God.
—Andrew Sung Park, professor of theology, United Theological Seminary
Surely, Belief will assist pastors, laypersons, and scholars both in reading the Bible better and in doing better theology for decades to come.
—Cynthia Rigby, W.C. Brown Professor of Theology, Austin Presbyterian Theological Seminary
Product Details
Title: Belief: A Theological Commentary on the Bible
Editors: William C. Placher and Amy Plantinga Pauw
Publisher: Westminster John Knox
Volumes: 7
Pages: 2,192
About the Editors
William C. Placher (1948–2008) was Charles D. and Elizabeth S. LaFollette Distinguished Professor in the Humanities and chair of the Department of Philosophy and Religion at Wabash College in Crawfordsville, Indiana. In 2002, the American Academy of Religion named him the best teacher in the country.
Amy Plantinga Pauw is Henry P. Mobley Jr. Professor of Doctrinal Theology at Louisville Presbyterian Theological Seminary. She lectures internationally on historical theology as well as contemporary issues and serves on the editorial board for the Columbia Series in Reformed Theology.
More details about these resources