Bible Study Magazine—January–February 2013 Issue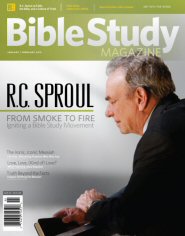 Bible Study Magazine—January–February 2013 Issue
Overview
Get Bible Study Magazine now by purchasing the January–February 2013 back issue for $3.95. That's 20% off the newsstand price of $4.95!
Bible Study Magazine is a print magazine (not an emagazine) published by Lexham Press. Six times a year, Bible Study Magazine delivers tools and methods for Bible study as well as insights from respected teachers, professors, historians, and archeologists.
Read pastor profiles, author interviews, and stories of individuals whose thoughtful engagement with Scripture has shaped their thinking and defined their ministries. Bible Study Magazine reveals the impact of God's Word in their lives—and the power of Scripture in yours.
Each Issue of Bible Study Magazine Includes:
Feature Stories
Discover new ways to connect the Bible with your ministry and life through in-depth interviews and articles from the biggest names in the church and biblical scholarship.
Bible Study Tips
Explore the Word—thoughtful and engaging authors tackle the tough passages in Scripture, explain difficult concepts, and confront complex interpretations in a way that helps the Gospel make sense in your life.
On the Cutting Edge
Keep up to date on the latest news in biblical research, including archaeological and historical findings.
A New Kind of Bible Study
Encounter God by yourself or with other believers with an ongoing Bible study in each issue.
On Teaching
Get advice on how to preach or teach the Bible in any setting from well-known pastors and teachers who use the Bible every day.
Tool Box
Learn how to effectively use the latest Bible study tools with our how-to guides.
In the News
Keep informed about the latest news in biblically related topics, discoveries, and events.
Thoughts from the Ancients
Read the Bible together with those who have come before you, and learn from the wisdom of the early church—in its own words.
Word Studies
Get a close-up view of the Bible! Each issue contains insights about specific words found in the Bible and tutorials on how to do word studies.
If Only Someone Would Explain It to Me
Enrich your understanding of the Bible with explanations of biblical and theological concepts by top scholars.
Did You Know?
Discover interesting facts about the place of the Bible in the contemporary and the ancient world.
What They Don't Tell You in Church
See things you never noticed in biblical passages you have read dozens of times.
Biblical Humor
The funniest stories and the best comics related to the Bible, useful for any setting.
Book Reviews
Stay on top of the latest books about Bible study. Each issue contains reviews of books and commentaries to equip you in your study of God's Word.
Excerpts from the January–February 2013 Issue!
From Smoke to Fire: Igniting a Bible Study Movement
Following his conversion, R.C. Sproul experienced many of the struggles that most new Christians face. "That first year was a roller coaster of spiritual highs and spiritual lows. I was frustrated by my ongoing sin and that I still struggled with things I brought into the faith from my old life. At the same time, I couldn't get enough study of Scripture."
"From the day of my conversion, I had this unquenchable thirst to know the Bible. In the first few weeks of my Christian experience, I read the Bible from cover to cover. In fact, that's all I did. The first semester of my freshman year, I got Ds in all my classes except gym and Bible—I got an A in Bible. I didn't want to know anything else."—Jeff Goins and Elizabeth Vince
Bible Study within Prison Walls
Surprisingly, it's not a challenge for Prison Fellowship to convince inmates that Christ's redemptive work on the cross is relevant to their lives. "You don't have to spend time talking to an inmate about how their life is not working out," says Jim Liske, CEO of Prison Fellowship Ministries. "It's painfully obvious to them. In the free world, we have appearances to keep up, and there are a lot of ways we can fake it."
"Inmates who've hit rock bottom usually respond from a place of deep pain: 'Does God really love me? Is God like my earthly father who beat me, who left my mom? Is God like my earthly father who didn't care if I ate or not?' These are the basic questions that those who grew up in fairly healthy homes don't always understand."—Jessi Strong
Called, Beloved and Kept: A Study of Jude
We live in a world swarming with opinions and ideas that oppose God's desire. It's all too easy to let these influences inch into our hearts and beliefs. We are called, beloved and kept by God so that we might pursue Him. Jude suggests an antidote for spiritual lethargy and false teachings: We can build ourselves up in the faith by praying in the Holy Spirit, keeping ourselves and others in the love of God, and looking forward to the eternal life we enjoy through Christ's sacrifice (Jude 20). But ultimately, as Jude points out, the best protection from temptation is a reliance on God, "who is able to protect you from stumbling and make you to stand before his glory blameless" (v. 24).—Miles Custis
Bible Study Strategies for Moms
As every parent knows, no two children learn the same way. Yet we often forget that those differences carry over into adulthood. As Sherry Surrat notes, "one size fits all" does not apply to studying the Bible. "You need to try different ways to grow in God's Word. You have to find what works for you. Find your rhythm." As a mother of two and the president and CEO of Mothers of Preschoolers (MOPS), Surrat recently spoke with Bible Study Magazine about overcoming isolation and studying the Word as a family.—Elizabeth Vince
We have a limited supply of back issues of the January–February 2013 Bible Study Magazine. Get your copy while you still can!
Key Features
R. C. Sproul's insights on Bible study
Called, beloved, and kept: 8 weeks in the Book of Jude
Special section: John's Gospel
Product Details
Title: Bible Study Magazine—January–February 2013 Issue
Editor-in-Chief: John D. Barry
Academic Editor: Michael S. Heiser
Art Director: Sean Fields
Graphic Designer: Kayla Soper
Managing Editor: Rebecca Kruyswijk
Advertising Sales: Santiago Galeano
Marketing: Dan Pritchett, Phil Gons, Scott Lindsey, Jonny Heemstra, and Jeffrey Kranz
Publisher: Lexham Press