JPS Classic Midrash Collection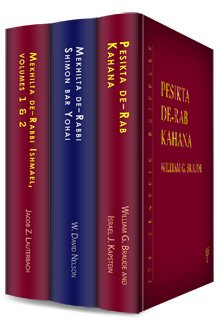 Overview
The JPS Classic Midrash Collection brings together three ancient anthologies of Midrash. The two Mekhilta titles deal exclusively with the book of Exodus, acting as commentaries that exegetically illuminate both the legal (Halakhic) and moral (Aggadic) aspects of the text. The Pesikta de-Rab Kahana presents a collection of discourses for special Sabbaths and festival days. It operates as an almanac of sorts, filled with all manner of spiritual and intellectual material in many midrashic forms. These range from puns and verse juxtapositions to stories and dramas, and from there to high theology.
Composed during the 3rd and 5th centuries, the JPS Classic Midrash Collection opens a door to the practices and beliefs of the Jews living in the early centuries of the Common Era and considers the common Judeo-Christian holy scripture from uncommon angles. Much of this midrashic material has at points become lost for centuries, then miraculously recovered only to have their print editions lapse out of print. With the JPS Classic Midrash Collection these vital masterpieces of midrashic literature, appropriate for the scholar and novice alike, are given new – and technologically advanced – existence.
Product Details
Title: JPS Classic Midrash Collection
Publisher: Jewish Publication Society
Volumes: 4
Pages: 3,164
Mekhilta de-Rabbi Ishmael is a classic collection of midrash. It contains commentary on a large part of the Book of Exodus (chapters 12 to 23) and represents the two main modes of interpretation: the halakhah (legal doctrine), and the aggadah (moral and religious teachings). The work also contains allusions to historical events and ancient legends not found elsewhere. A new introduction by noted scholar David Stern highlights the work. It retains the original text – based on manuscript and early editions – from the JPS 1933 edition.
This classic work is widely recognized as a model of meticulous and thorough scholarship. Its translation is accurate, straightforward, and usable by scholars, students, and lay readers. Out of print for many years, Mekhilta de-Rabbi Ishmael should belong to every rabbi, rabbinical school, and Jewish Studies professor, or anyone interested in Midrash.
Jacob Lauterbach (1873-1942) was born in Galicia, studied in Germany, and received rabbinical ordination. In 1903 he immigrated to America and later became professor of Talmud at the Hebrew Union College. A prolific author, his greatest work is considered to be his edition of the Mekhilta, originally published in 1933.
Mekhilta de-Rabbi Shimon bar Yohai
Author: W. David Nelson
Publisher: Jewish Publication Society
Publication Date: 2006
Pages: 1,100
The Mekhilta de-Rabbi Shimon bar Yohai is a collection of classical midrashic interpretation of the biblical Book of Exodus. Lost for centuries, the text was reconstructed and recovered in the 19th and 20th centuries by both German and Israeli scholars from a variety of source materials, including medieval manuscripts of the text and midrashic anthologies. As one of the first collections of rabbinic biblical interpretation, the Mekhilta de-Rabbi Shimon bar Yohai is an indispensable source for understanding the history, beliefs, and practices of the earliest rabbis. A critical introduction provides the reader with a firm grounding in the historical setting of the text, as well as its source material, reconstruction, subject matter, and significance for understanding the history of Judaism.
W. David Nelson received an M.A. in bible and cognate studies and Ph.D. in rabbinic literature and thought from Hebrew Union College-Jewish Institute of Religion. He is the Rosalyn and Manny Rosenthal Assistant Professor of Jewish Studies and the director of the Program in Jewish Studies at Texas Christian University and Brite Divinity School in Fort Worth, Texas.
Long known only to scholars and specialists, Pesikta de-Rab Kahana is a masterpiece of midrashic literature. A collection of discourses for special Sabbaths and festival days compiled and organized during the fifth century, it was well known and studied from the end of that century until it disappeared sometime in the sixteenth century. From manuscripts discovered in 1868 and still others 100 years later, it was reborn. Braude and Kapstein's translation brings this classic to English readers, with forward by Yehiel E. Poupko.
Rabbi William G. Braude was a scholar, lecturer, and visiting professor at Brown University, Yale University, Providence College, Hebrew University of Jerusalem, Hebrew Union College, and University of Connecticut. He translated numerous ancient Hebrew texts including Builders of Zion (Bonay Zion), The Midrash on Psalms, Pesikta Rabbati: Discourses for Feasts, Fasts, and Special Sabbaths, Pesikta de-Rab Kahana: R. Kahana`s Compilation of Discourses for Sabbaths and Festal Days, and Tanna debe eliyyahu: The Lore of the School of Elijah. He also wrote Jewish Proselyting in the First Five Centuries of the Common Era: The Age of the Tannaim and Amoraim.
Israel J. Kapstein (1904-1983) was born in Fall River, Massachusetts. He graduated from Brown University in 1926, returning two years later as an English instructor. He received his M. A. there in 1929, and his Ph. D. in 1931. His 1941 novel Something of a Hero made the best-seller list. His collaboration with Rabbi William Braude on Pesikta de-Rab Kahana earned him the 1976 National Jewish Book Award. He died in Providence on August 5, 1983.
About the Jewish Publication Society
The Jewish Publication Society of America was founded in Philadelphia in 1888 to provide the children of Jewish immigrants to America with books about their heritage in the language of the New World. As the oldest publisher of Jewish titles in the English language, the mission of JPS is to enhance Jewish culture by promoting the dissemination of religious and secular works of exceptional quality, in the United States and abroad, to all individuals and institutions interested in past and contemporary Jewish life.
Over the years JPS has issued a body of works for all tastes and needs. Its many titles include biographies, histories, art books, holiday anthologies, books for young readers, religious and philosophical studies, and translations of scholarly and popular classics. It is perhaps known best for its famous JPS Tanakh, the translation of the Hebrew Bible in English from the original Hebrew. You can find more information about JPS by visiting their website.
More details about these resources