Five Facets of the Balanced Christian Life, vols. 2 & 3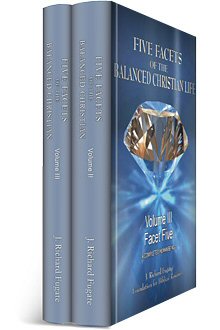 Five Facets of the Balanced Christian Life, vols. 2 & 3
•
Runs on Windows, Mac and mobile.
Overview
In the Five Facets of the Balanced Christian Life series, biblical scholar J. Richard Fugate seeks to clear confusion about basic doctrine by defining salvation and the responsibilities of Christians' lives. Fugate explores the connection between God and humanity, relying only on the Bible and what it has to say about these issues. In a concise, readable style, Fugate makes this subject scripturally sound and applicable to Christian life. The series identifies the five facets of Christian life as relationships:
The relationship between a believer and the Godhead
The relationship of a believer to unbelievers
The relationship between believers in mutual ministry
The relationship a believer can have as conqueror over Satan and the world's thinking
The relationship with one's self
Previously, Volume one studied the first facet: the relationship between a believer and the Godhead. In this collection, volumes two and three analyze the remaining four facets.
This resource is perfect for laity seeking a deeper understanding of what the Bible says about how Christians should function in different capacities, as well as students and scholars desiring an overview of biblical theology and its relationship to daily living.
In the Logos editions, these valuable volumes are enhanced by amazing functionality. Scripture citations link directly to English translations, and important terms link to dictionaries, encyclopedias, and a wealth of other resources in your digital library. With Logos' advanced search features, powerful searches by topic or Scripture reference help you find exactly what you're looking for—such as every mention of "evangelism" or "Philippians 2:15." Tablet and mobile apps let you take the discussion with you. With Logos Bible Software, the most efficient and comprehensive research tools are in one place, so you get the most out of your study.
Key Features
Approachable style perfect for laity, students, and scholars
Helpful graphics and illustrations
Detailed appendixes and overviews for each facet
Individual Titles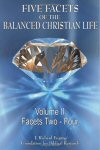 This volume discusses facets 2–4: the believer's relationship with unbelievers as a beacon, a believer's relationship with other believers, and a believer's relationship as conqueror over Satan and the systems of the world.
Every believer is related in various ways to nonbelievers, other believers, Satan, and the evil world system. Believers need to understand what is involved in those relationships in order to mature spiritually. Mr. Fugate has spelled out those relationships effectively by showing how the Scriptures relate to these issues. This is an important work that should be read and heeded by believers.
—Roy B. Zuck, senior professor emeritus of Bible exposition, Dallas Theological Seminary
Five Facets Of The Balanced Christian Life, vol. 2, has been written so that . . . one . . . will be able to gain greater practical insight, as well as a deeper theological understanding of a truly biblical Christian life. The Christian who is seeking to develop a biblical walk with the Lord and relate to the unbelieving world and fellow believers, in a manner which will bring maximal honor to the Lord, will find the second volume . . . will help to show them the way. The principles set forth for a God honoring Christian life, in this book are stated clearly and substantiated with Scriptures which are lucidly explained. The busy pastor, who is looking to take the flock over which he has the oversight beyond the basics of the Christian walk and into a deeper comprehension of a spiritual life that is rooted in God's Word will find this work to be a valuable tool . . . I believe all who read this book will be blessed and grow in their walk with the Lord.
—Carl Denti, pastor-teacher, In the Word Bible Fellowship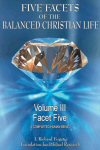 This volume discusses facet 5: becoming a completed human being. Fugate discusses the components of a human being, what makes believers different, how the spirit comes into play, and the corrupt nature of humans and the world.
Possibly Fugate's most original contribution to Bible doctrine is found in this volume as his development of the meaning of "the spirit of Christ" within believers. His contribution is one I had not ever seen before, but it answered some problems more typical interpretations of certain texts left unsolved.
—Donald von Dohlen, instructor of applied social science, Northeast College
Product Details
Title: Five Facets of the Balanced Christian Life, vols. 2–3
Author: J. Richard Fugate
Series: Five Facets of the Balanced Christian Life
Publisher: Foundation for Biblical Research
Volumes: 2
Pages: 276
More details about these resources