Berkeley William Randolph Collection (8 vols.)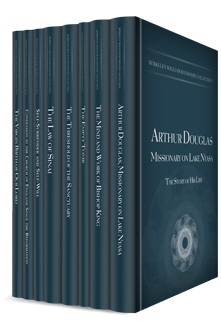 Berkeley William Randolph Collection (8 vols.)
•
Runs on Windows, Mac and mobile.
Overview
Berkeley William Randolph, who described himself as a "Prayer Book Churchman," dedicated his life to the teaching of the Bible. An ordained priest in the Church of England, Randolph always emphasized the infallibility of the Bible, whether at the pulpit or in the classroom. This collection contains his most important works. In The Virgin Birth of Our Lord, Randolph defends the miracle of the conception and birth of our Lord. In The Law of Sinai, Randolph shows why the Ten Commandments still play an important part in our faith today, and provides important lessons for each commandment. In The Empty Tomb, Randolph explores the miraculous resurrection of Jesus and the effect it had on the spreading of Christianity the world over. This collection also contains two inspirational biographies penned by Randolph, Arthur Douglas, Missionary on Lake Nyasa and The Mind and Work of Bishop King.
The Logos edition of these important titles gives you easy access to Scripture texts, along with a wealth of other resources in your digital library! Hovering over Scripture references links you instantly to the verse you're looking for, and with passage guides, word studies, and a wealth of other tools from Logos, you can get into God's Word like never before!
Key Features
Contains studies on the virgin birth and the resurrection of Jesus
Provides fresh observations on the Ten Commandments
Includes biographies on Bishop Edward King and Arthur Douglas
Product Details
Title: Berkeley William Randolph Collection
Author: Berkeley William Randolph
Volumes: 8
Pages: 1,216
Christian Group: Anglican
About Berkeley William Randolph
Berkeley William Randolph (1858–1925) was educated at Haileybury and Balliol College, Oxford, and was ordained a priest in 1882. He was a fellow of St. Augustine's College, Canterbury, from 1880 to 1883, and principal of St. Stephen's House, Oxford, from 1884 to 1885. He was then appointed principal of Ely Theological College in 1891.