Introduction to the New Testament in the Original Greek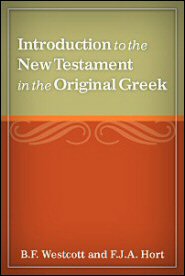 Introduction to the New Testament in the Original Greek
•
Runs on Windows, Mac and mobile.
Overview
Westcott and Hort's Introduction to the New Testament in the Original Greek is one of the most important, ground-breaking books in New Testament Studies. It spells out the techniques of modern text criticism (the science of examining manuscript evidence to try to determine the original text) and influenced every modern edition of the Greek New Testament published since. The first section of the book outlines the principles of text criticism, and the second section, Notes on Selected Readings, applies these principles to hundreds of passages in the New Testament—in essence making a critical apparatus or textual commentary on important passages. In the Logos Bible Software edition, the application section will show in the Exegetical Guide with other critical apparatuses.
With Logos Bible Software, this volume is completely searchable, with passages of Scripture appearing on mouseover, as well as being linked to your favorite Bible translation in your library. This makes this text more powerful and easier to access than ever before for scholarly work or personal Bible study. With the advanced search features of Logos Bible Software, you can perform powerful searches by topic or Scripture reference.
Key Features
Methods of textual criticism
Notes on selected readings
Application of principles
Product Details
Title: Introduction to the New Testament in the Original Greek
Authors: B. F. Westcott and F. J. A. Hort
Publisher: Harper & Brothers
Publication Date: 1882
Pages: 512
About the Authors
B. F. Westcott was Regius Professor of Divinity at Cambridge University, Bishop of Durham, and co-editor of the Westcott-Hort critical edition of the Greek New Testament.
F. J. A. Hort (1828–1887) was an Irish scholar and theologian. He is most famous for his Greek New Testament written with Brooke Foss Westcott, Westcott and Hort Greek New Testament. In 1878, Hort became Hulsean professor of divinity at Emmanuel College, Cambridge.
More details about these resources