History of Dogma (7 vols.)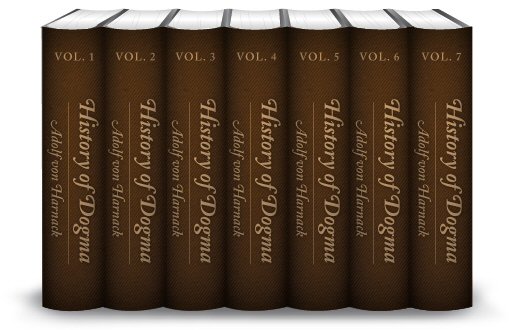 Overview
Among the foremost proponents of Ritschlian liberalism, Adolf von Harnack has been one of the most influential biblical scholars in the modern age. His writings, noted for their in-depth historical research, assist his readers in the study of biblical interpretation and dogmatics through the lens of history. This set contains his seven noted volumes on the history of dogma. Whether you agree or disagree with Harnack's analysis, this set is a fantastic resource for scholars, teachers, pastors, students, and anybody seeking a firmer grasp on historical theology and biblical studies.
A historian, theologian, and renowned professor in Germany's most prestigious learning institutions, Harnack lectured at the University level for over fifty years, influencing thousands of students, such as Karl Barth, throughout his lifetime and beyond.
The perfect addition to your Logos collection, these volumes in digital format can be instantaneously searched, providing hundreds of results at the click of a mouse. Scripture references appear on mouseover, and in the Logos edition, you can easily pull biblical studies and dogmatics resources up alongside your favorite Bible for ease of study.
Key Features
One of the most ambitious treatments of historical theology from one of the most important figures in modern biblical scholarship
Extensive historical background on the church and dogmatic theology
Thorough discussion of the foundations and methodology of historical investigation
Treatment of major theological systems
Praise for Adolf von Harnack
Adolf Harnack (von Harnack from 1914) was the most important representative of theological historicism in Germany. He was the outstanding church historian of his day and one of the most influential academic administrators in the Wilhelmine empire.
—The Dictionary of Historical Theology.
In the range of his achievements Harnack was probably the most outstanding patristic scholar of his generation. He made himself complete master of the early Christian literature, especially of the pre-Nicene period . . .
—The Oxford Dictionary of the Christian Church.
Through his meticulous and wide-ranging scholarship Harnack rescued theology from neglect due to the attacks of Nietzsche and Overbeck.
Product Details
Title: History of Dogma (7 vols.)
Author: Adolph von Harnack
Volumes: 7
Pages: 2,387
About Adolph von Harnack
Adolph von Harnack, born in 1851 in Estonia, lived a life devoted to the study of church history and theology. He became a professor at the age of twenty-four, and taught at the Universities of Leipzig, Giussen, Marbarg, and Berlin until his retirement at age seventy. Although he was widely considered to be one of the most influential members of the Protestant church at the turn of the twentieth century, the Church of Germany believed his theology to be off-base and did not allow him to become an accredited clergyman. Harnack's passion for the history of the Church led him to pen numerous resources on the matter, his most famous work perhaps being What Is Christianity? He continued his studies and writing until his death in 1930.
More details about these resources