The Truth of the Christian Religion (2 vols.)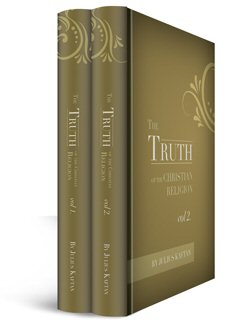 The Truth of the Christian Religion (2 vols.)
•
Runs on Windows, Mac and mobile.
Overview
The 1860s saw a revival of Kant's philosophies, called Neo-Kantianism, which sought to undermine faith with rational proofs and empiricism. Julius Kaftan, once the leading Christian Neo-Kantian scholar, defended Christianity's rationality from antagonistic atheist philosophies. So passionately argued were his apologetic volumes that they informed emerging dogmatics of the time.
His primary response to Kantian philosophy, The Truth of the Christian Religion (also called The Essence of the Christian Religion), deals with the nature of philosophy and reason in regard to religion and faith, going on to expound on the necessity of dogmatic theology in the church and briefly providing a history of its progression. Kaftan posits that if reality is defined by objective facts and subjective understanding, that although religion belongs to the latter, that doesn't render it any less true.
Featuring over 800 pages of solid Christian apologetics from one of the top nineteenth-century German theologians, these volumes are more accessible than ever before. Bible references are linked with your favorite Bible translations and you can search for specific philosophical topics instantaneously with a click or tap. Cross-references to other theologians and philosophers bring a wealth of other collections into your research's dialogue.
Key Features
Provides a primary-source response to Neo-Kantianism
Explores the development of theology in nineteenth century Germany
Engages with late Ritschlian theology
Praise for the Print Edition
Quite apart from the immediate question of obtaining a knowledge of the Ritschlian theology at first hand, these volumes are welcome. For Kaftan is no imitator, but a fertile and able writer. In the near future his view of theology, its essence and its accidents, will exercise a deep influence in our land.
—Expository Times
Julius Kaftan [was] a leading representative of the Neo-Kantian school.
—History of German Theology in the Nineteenth Century
Individual Titles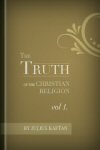 "We are concerned with the truth of the faith when we inquire regarding the truth of the Christian religion," says Julius Kaftan in the introduction to his dogmatic/apologetic exploration of God's revelation of himself to the world. This volume sets forth the first five chapters of his major work, establishing ecclesial dogma using its history, philosophy, and theology.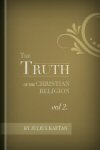 In his second volume, Julius Kaftan gives four final chapters of his two-volume masterpiece, specifically on "The Proof of Christianity." Primarily philosophical in nature, Kaftan's arguments explore the natures of reason, knowledge, and speculation and develop his conclusion, establishing a function for apologetics in dogmatics.
Product Details
Title: The Truth of the Christian Religion
Author: Julius Kaftan
Translator: George Ferries
Publisher: T&T Clark
Volumes: 2
Pages: 802
About Julius Kaftan
Julius Wilhelm Martin Kaftan (1848–1926) was born in Apenrade in Schleswig-Holstein in 1848. He was appointed professor at Bâle (Basle) in 1874 before taking up a position as professor of theology at the University of Berlin, replacing his former professor Isaak August Dorner after Dorner passed away in 1884. Among his students was the famous Friedrich Rittelmeyer, the driving force behind the rise of the Swiss denomination known as The Christian Community.
More details about these resources