J. J. van Oosterzee Theological Studies Collection (8 vols.)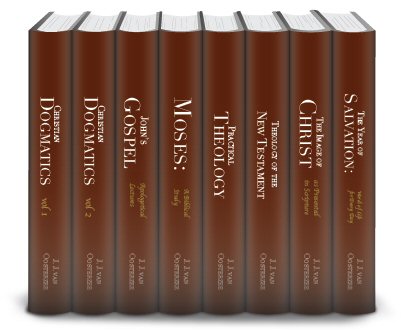 J. J. van Oosterzee Theological Studies Collection (8 vols.)
•
Runs on Windows, Mac and mobile.
$61.00
Reg.: $79.95
Print: $260.40
* Projected price. Future bids may change this price.
Place Your Bid!
Click on the highest price you'd pay. If the final price is lower, that's what you'll pay.
Overview
J. J. van Oosterzee, nineteenth-century preacher, scholar, and teacher, was one of Holland's foremost Christian figures. He made great contributions to theological science studies. Many of Oosterzee's works were translated into English because of their deep impact in the European evangelical world. The J. J. van Oosterzee Theological Studies Collection includes eight of his prominent works. In it, Oosterzee analyzes dogmatics, Christology, homiletics, liturgics, catechetics, poimenics, and Pauline, Petrine, and Johannine theology. Additional volumes defend the verity and credibility of the Gospel of John, present Moses' and Jesus' lives, and provide daily devotional readings.
With the Logos Bible Software edition of the J. J. van Oosterzee Theological Studies Collection, you'll get instant access to Oosterzee's discoveries and insights. Key concepts and ideas integrate with your digital encyclopedias, dictionaries, commentaries, and interactive maps, making this collection powerful and easy to access—a rich guide to biblical and practical theology.
Key Features
Contains eight volumes from one of Holland's greatest scholars, theologians, and pastors
Includes Oosterzee's famous Christian Dogmatics, Practical Theology, and Theology of the New Testament
Provides keen insight on theological science
Praise for J. J. Van Oosterzee
[Van Oosterzee] is one of the most eloquent preachers and profound scholars of Holland . . . His great qualities entitle him to measure weapons with the haughtiest skeptics of Europe.
—Methodist Quarterly Review
Dr. Van Oosterzee is quite at the head of the evangelical preachers, commentators, and theologians of Holland. He early achieved distinction in the pulpit, whence he was transferred to the chair of theology, from both which positions he has given forth numerous valuable contributions to apologetics, biblical exegesis, and dogmatic and practical divinity. . . . he has become favorably know to American scholars and divines.
—The Biblical Repertory and Princeton Review
Dr. J. J. van Oosterzee . . . is one of the most distinguished divines in the Reformed Church of Holland. He has, almost from the commencement of his ministry, occupied a prominent position in the church, and has exerted a powerful and extensive influence in favor of evangelical truth. As a pulpit orator he has no superior in his own country. . . . As a writer on scientific theology he has attained great distinction, not only in Holland but also in Germany. . . . [His] works are fresh, original and profound, bearing the impress of their author's genius and piety, and evincing his intimate acquaintance with the whole range of German literature, on the subjects of which he treats.
—The American Presbyterian Review
Product Details
Title: J. J. van Oosterzee Theological Studies Collection
Author: J. J. van Oosterzee
Volumes: 8
Pages: 3,587
About J. J. van Oosterzee
J. J. van Oosterzee (1817–1882) was a Dutch evangelical preacher, teacher, and theologian. He attended the University of Utrecth, Netherlands from 1835 to 1839. Between 1841 and 1862, Oosterzee served as a pastor at Eemnes-Binnen, Alkmaar, and Rodderdam. In 1863, he was appointed professor of biblical and practical theology at the University of Utrecht, where he taught until his death. In 1877, Dutch law forbid faculty to teach on biblical, dogmatic, and practical theology, so Oosterzee instead taught on the philosophy of religion, New Testament introduction, and the history of Christian dogma. Oosterzee devoted much of his studies to theological science. Among his numerous published works are sermons, lectures, articles, and treatises.