William Burt Pope Collection (5 vols.)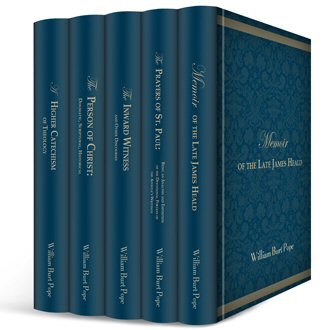 Overview
This nineteenth-century English Methodist thinker's work provides extensive insight into the Wesleyan Methodist Church, and his Compendium of Christian Theology has been heralded as the most influential Methodist systematic theology of its time. Now, with this new collection, this great theologian's sermons and writings are at your fingertips.
With Logos Bible Software, Scripture passages appear on mouseover, and all cross-references link to the other resources in your digital library, making this collection powerful and easy to access—a rich supplement to any study of the Wesleyan Methodist Church or Arminianism. Perform comprehensive searches by topic or Scripture reference—finding, for instance, every mention of "John Wesley" or "theology"—and get the most out of Pope's writings and sermons.
Key Features
Pope's Arminian catechism
A historical, dogmatic, and spiritual approach to the person of Christ
A series of sermons and lectures delivered by Pope
Product Details
Title: William Burt Pope Collection
Volumes: 5
Pages: 1,394
About William Burt Pope
William Burt Pope (1822–1903) was a nineteenth-century Methodist theologian and scholar. He studied theology at Richmond College before becoming a Methodist minister in 1841. In 1867, he was appointed professor of systematic theology at Didsbury College in Manchester, where he lectured and wrote prolifically. In 1877, he became president of the British Wesleyan Conference. His Compendium of Christian Theology is the most influential Methodist systematic theology of its time.
More details about these resources