The Elder Series (4 vols.)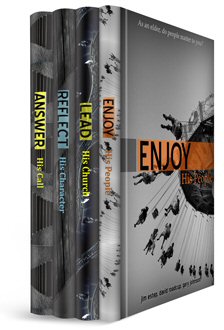 Overview
Healthy congregations require healthy leadership. Without healthy leadership, the odds of a congregation growing spiritually, let alone numerically, are greatly diminished. The principal concern of this series is to facilitate healthy leadership for a healthy congregational life. The four volumes in this collection parallel the four basic components of Christian leadership:
Leadership based on God's call to service
Leaders who are qualified and equipped by a life representative of Christian character
Leaders who possess abilities that serve them well as they lead and shepherd God's people
Leaders who serve within the community
These useful study guides use practical and academic insights to provide a "manual" to eldership. Each chapter in each volume is intentionally brief and includes reflective questions for reflection, discussion, and application, making this series perfect for individual or elder group study.
In the Logos Bible Software edition, all Scripture passages are tagged to the original language texts or your preferred English translation. You can perform powerful searches by topic and find what other authors, scholars, and theologians have to say, making this collection ideal for discovering the elder's roles.
Key Features
Addresses elders' key roles
Illustrates the characteristics an elder must have
Emphasizes the importance of eldership
Praise for the Print Edition
I'm anxious for each of our elders to read this series and talk about the implications. These books will truly be used of God to equip our congregational leaders to be ready for the role they have been assigned. But as the authors remind us, transformation of our elders must begin individually in the heart of each. I can't wait to see what the Lord has in mind to transform our churches throughout this series of books. I've known Jim Estep, David Roadcup, and Gary Johnson for years. Their integrity makes the lessons and insights come alive even more. A huge thank you for tackling a topic we all think we know so much about and yet I feel that, through these publications, we will be given the knowledge to help open the door to the great power of scriptural eldership.
—Dave Stone, senior pastor, Southeast Christian Church, Louisville, KY, from the foreword of Reflect His Character
The authenticity and effectiveness of a local church is in direct proportion to the spiritual maturity, skills, and commitment of its leaders, especially its elders. Therefore, selecting, training, supporting, challenging, and equipping elders in every way must be a highest priority in every congregation. . . . I want to commend Jim, Dave, and Gary and the good work they have done through these four volumes. Every elder in the church should purchase and read these works. As the leadership of any church goes, so goes the church. Elders who use these volumes will be better prepared to lead the body of Christ. I highly recommend these works . . .
—Joe Scott Ellis, distinguished professor of practical ministries, Cincinnati Bible Seminary, from the foreword of Enjoy His People
Product Details
Title: The Elder Series
Authors: Jim Estep, David Roadcup, and Gary Johnson
Publisher: College Press
Volumes: 4
Pages: 462
About the Authors
Jim Estep is a professor of Christian education at Lincoln Christian University Seminary in Lincoln, Illinois.
David Roadcup is the director of the Center for Church Advancement at Cincinnati Christian University.
Gary Johnson is the senior minister of Indian Creek Christian Church in Indianapolis, Indiana.
More details about these resources