Nehemiah Worldview Institute Collection (2 vols.)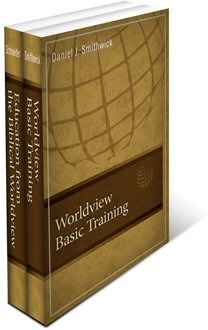 Nehemiah Worldview Institute Collection (2 vols.)
•
Runs on Windows, Mac and mobile.
Overview
What is a biblical worldview? How does the Bible inform contemporary social and political concerns? The books in the 2-volume Nehemiah Worldview Institute Collection are designed to encourage thoughtful and scriptural reflection on theological, philosophical, and political topics in order to foster and encourage a biblical worldview.
These books are intended to analyze individual worldview in light of biblical teaching. The authors take care to scour Scripture for answers to the pressing questions and concerns in modern life. In particular, these books question widespread acceptance of individualism, humanism, and secularism, and instead propose a biblically-based worldview. Although these books were designed for a classroom setting, they will also benefit Bible studies and small groups, as well as individuals looking to reexamine their worldview assumptions.
With the Logos edition of the Nehemiah Worldview Institute Collection, the numerous Scripture references and important terms are helpfully tagged, allowing you quick and easy access to your favorite Bible translations, Bible dictionaries, and a wealth of other resources in your digital library.
About the Nehemiah Worldview Institute
The Nehemiah Worldview Institute was founded in 1986 as a non-profit private foundation to address worldview issues in modern society—much like the issues faced by the Israelites in Nehemiah 2:17: "You see the bad situation we are in, that Jerusalem is desolate and its gates are burned with fire. Come, let us rebuild the wall of Jerusalem that we may no longer be in reproach to God." Toward that end, the Nehemiah Worldview Institute produces materials for Christian education programs, complete with instructional material, testing, and grading resources. Many of the resources are intended for private schools, churches, homeschoolers, and other Christian ministries.
Key Features
Overviews of non-biblical worldviews, including humanism, secularism, and individualism
Easy-to-read outlines
Numerous footnotes and comprehensive bibliographies
Praise for the Print Edition
We recognize the quality of [the Nehemiah Worldview Institute books] and appreciate the time and effort you have so obviously invested in the development of this material.
—Dr. James Dobson, Focus on the Family
Dan Smithwick and the Nehemiah Institute have made a major contribution in the restoration of American education . . .
—Dr. Charles Wolfe, Restore the Republic
Individual Titles
Modern life and thought is influenced by pervasive individualism—but the Bible commands us to strongly consider how life choices will affect others, including future generations. Created exclusively by the Nehemiah Institute, the Worldview Basic Training manual is an in-depth discipleship training course designed to encourage Christians in their faith through an enriching relationship with God, equip Christians to be effective agents of salt and light in a world of darkness, and prepare Christians to lead and influence others.
The objective of this course is to train Christians in the ways of God, specifically focusing on the need to train children by instilling in them core biblical truths.
Worldview Basic Training provides basic instruction of biblical principles in the areas of politics, economics, education, religion, and social issues. These training materials are intended to instill in readers a conviction that the Bible speaks authoritatively and accurately in each of these spheres of life. Worldview Basic Training consists of nine chapters, which conclude with brief quizzes. Several exercises are included throughout the course to reinforce key terms and concepts. This book is ideal for teachers, students—especially within a classroom setting—and anyone interested in worldview issues.
Daniel J. Smithwick received a BS in mathematics/education in 1972 from North Dakota State University. He subsequently entered into business management with AT&T for 20 years and then with several small business firms in upper management positions. In addition to his business career, Dan has been active in Christian education work for over 20 years. He served as board member of several Christian schools and taught in a private school for 1 year. Dan also worked for Dr. Pat Robertson's Freedom Council doing grassroots training on Christian worldview principles. In 1986, Dan founded the Nehemiah Institute and authored the first version of the PEERS Test. Dan continues to serve as president of the Institute, with particular focus on new product development and CFO responsibilities.
The terms "worldview" and "biblical worldview" are now commonplace in North American Christianity, but it was not long ago when discussions about worldview were rare and limited. What has contributed to their resurgence? In this book, the Nehemiah Institute shows that worldview is intricately connected to childhood development, and implores Christians to reexamine their philosophy of education. This introductory course in the basic Christian philosophy of education examines the subtle connections between education and worldview. This course outlines possibilities for restoring Christian biblical education in contrast to pervasive humanist worldviews, and makes an ideal guide for personal and classroom study. Students, especially, will benefit from this resource.
E. Daniel Schneider has over 35 years experience in Christian education as a teacher, administrator, board member, researcher, and consultant. Dan has a BA in history and an MA in education. His post- graduate studies include training at the Foundation for American Christian Education (F.A.C.E.), the Graduate Education Institute, and Summit Ministries Christian Worldview Seminar. Dan and his wife are the parents of 5 children, all who have been educated in Christian schools.
Product Details
Title: Nehemiah Worldview Institute Collection
Authors: Daniel J. Smithwick and E. Daniel Schneider
Publisher: Nehemiah Worldview Institute
Volumes: 2
Pages: 376
More details about these resources