The Works of Arthur Penrhyn Stanley (32 vols.)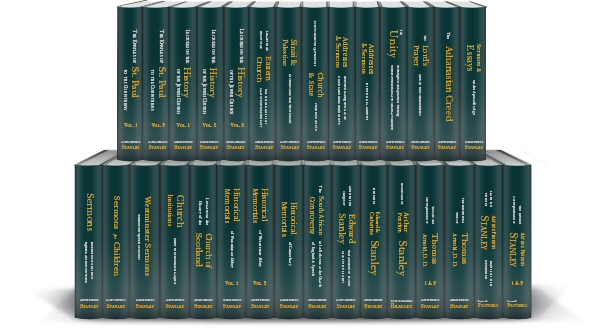 The Works of Arthur Penrhyn Stanley (32 vols.)
•
Runs on Windows, Mac and mobile.
$40.00
Reg.: $299.95
Print: $708.84
* Projected price. Future bids may change this price.
Place Your Bid!
Click on the highest price you'd pay. If the final price is lower, that's what you'll pay.
Overview
The Works of Arthur Penrhyn Stanley contains 32 works by and about this revered 1864–1881 dean of Westminster Abbey. The collection compiles his three-volume work on the history of the Jewish faith, his commentary on Paul's Epistles to the Corinthians, dozens of sermons and lectures, his memorials of Westminster Abbey and Canterbury Cathedral, his genre-defining biography of Thomas Arnold, and much more. Also included in this amazing collection is Rowland E. Prothero's two-volume biography of Stanley, which contains hundreds of letters to and from his friends and family, the former including Queen Victoria and John Colenso. Over 11,000 pages make up this packed collection!
In the Logos Bible Software edition, all Scripture passages in The Works of Arthur Penrhyn Stanley are tagged to appear on mouse-over. For scholarly work or personal Bible study, this makes these resources more powerful and easier to access than ever before. Perform powerful searches by topic or Scripture reference—finding, for example, every mention of "resurrection" or "Mark 9:2."
Key Features
11,000+ pages from Arthur Penrhyn Stanley
Dozens of sermons, lectures, addresses, and more
Rowland E. Prothero's two-volume Life and Correspondence of Arthur Penrhyn Stanley
Product Details
Title: The Works of Arthur Penrhyn Stanley
Author: Arthur Penrhyn Stanley
Volumes: 32
Pages: 11,316
About Arthur Penrhyn Stanley
Arthur Penrhyn Stanley (1815–1881), born in Cheshire and educated at Rugby School under Thomas Arnold, was ordained in 1839, the same year he was elected a fellow of University College. For ten years he tutored at the college, and he published several works that sealed his reputation as a gifted literary writer and preacher. In 1851, Stanley was appointed to a canonry in Canterbury Cathedral; he published a popular work on its history. At the close of 1856, Stanley was appointed Regius professor of ecclesiastical history at Oxford; then, in 1863, he was appointed dean of Westminster Abbey. A prolific writer, Stanley wrote dozens of books and was an avid letter writer from a very young age.