Divorce and Remarriage in the Bible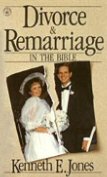 Overview
From the Foreword: "This present volume is geared toward self-study. But realizing that many of the marriage questions facing today's adults might be better answered in the setting of small group discussions, the publishers have produced an excellent leader's guide authored by Dr. Jones. We recommend it for church groups and other gatherings of those who respect the Bible's authority and light on a most important facet of our modern world."
With the Logos Bible Software edition of Divorce and Remarriage in the Bible all Scripture passages are linked to your favorite Bible translation in your library. With the advanced search features of Logos Bible Software, you can perform powerful searches by topic or Scripture reference.
Key Features
Contains bibliographic references
Study guide included
Contents
Chapter 1 - Twenty Reasons to Study This Book
Chapter 2 - Modern Problems with Marriage
Chapter 3 - Marriage in the Bible
Chapter 4 - The Unmarried
Chapter 5 - Mutual Responsibilities
Chapter 6 - Divorce in the Old Testament
Chapter 7 - Divorce in the Gospels
Chapter 8 - The Pharisees Test Jesus
Chapter 9 - Remarriage in the Gospels
Chapter 10 - The Teaching of Paul
Chapter 11 - Divorce and Remarriage in History
Chapter 12 - Divorced and Remarried Pastors
Chapter 13 - General Conclusions
Product Details
Title: Divorce and Remarriage in the Bible
Author: Kenneth E. Jones
Publisher: Warner Press
About Kenneth E. Jones
Kenneth E. Jones is also the author of Christian Stewardship, Let's Study the Bible, and Saving Faith in Jesus.
More details about these resources