Princeton Theology Collection (55 vols.)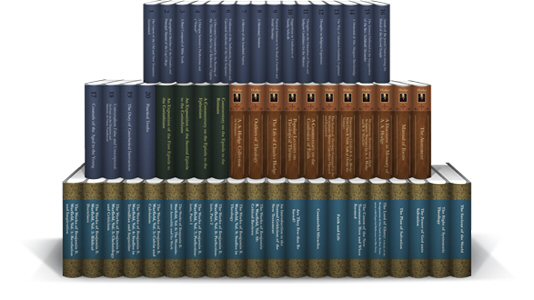 Overview
Since its founding in 1812, over 20,000 students have graduated from Princeton Theological Seminary. Its early founders and professors were staunch proponents of Calvinist doctrines, and their Reformed theology has had an enduring impact on Christianity for the last two centuries. The Princeton Theology Collection (55 vols.) brings together the works of four Princeton principals, together known as the Great Princeton Theologians:
The Archibald Alexander Collection contains twenty volumes of works on biblical studies and theology. This collection includes Alexander's important writings on biblical authority—the first works in Princeton theology to defend biblical inspiration against the claims of higher critics—a project greatly expanded by his successors Charles Hodge and B.B. Warfield. The Archibald Alexander Collection also includes Alexander's works on religious experience, church education, and his two massive volumes on the history of Israel. This collection also contains numerous sermons, lectures, and other addresses, including his address delivered at his own inauguration as professor of theology at Princeton.
The four commentaries in the Charles Hodge Commentary Collection serve as the basis for Hodge's life and thought, making his commentaries important for both biblical scholars and theologians. The volumes contain verse-by-verse commentary on every chapter in Romans, 1 Corinthians, 2 Corinthians, and Ephesians, along with textual analysis, doctrinal points, and helpful chapter summaries. Each commentary also includes a lengthy introduction and overview written by Hodge himself, in which he examines the authorship and dating of each book, along with the historical, cultural, political, and theological context of the original audience.
The 11-volume A. A. Hodge Collection includes six volumes authored by Hodge, plus two volumes co-authored by Hodge on the Westminster Confession, the famous biographical sketch of Hodge's life, A Discourse in Memory of A. A. Hodge by Francis L. Patton, and Princetoniana, by a student. His theology stemmed from his experience as a pastor, his work in India as a missionary, and his teaching career spent with the students and faculty of Princeton. Hodge's theological exploration was intended for the members of his church and for the direct benefit of his students.
The B. B. Warfield Collection includes the entire 10-volume Works of Benjamin B. Warfield, published in the decade following his death in 1921, plus 10 additional volumes which contain books, articles, and lectures not found in the original 10 volumes. As a prolific writer and accomplished scholar, Warfield defended Reformed confessionalism against the extremes of nineteenth century modernist and revivalist theology, and defined the parameters of theological method for the twentieth century.
As Princeton Theological Seminary celebrates its bicentennial, you can enhance your Bible study with the works of some of its most important alumni. With Logos, the works in the Princeton Theology Collection (55 vols.) are now more accessible than ever! All Scripture references are linked directly to the Bibles in your digital library, which means you can navigate instantly between God's Word and the books in your library. With Logos, you can also search by topic, isolating particular passages about the doctrine or text you're studying. That makes the Logos Bible Software edition ideal for research, sermon preparation, or personal study.
Key Features
Archibald Alexander's works on religious experience, biblical inspiration and authority, and other important themes in Princeton theology
Comprehensive introduction and overview for each Charles Hodge commentary
Summary of significant doctrinal points follows each chapter in the Charles Hodge commentaries
The original 10-volume Works of Benjamin B. Warfield
An additional 10 volumes of books, articles, and lectures not included in the original 10-volume Works of Benjamin B. Warfield
Praise for the Print Edition
Hodge's method and matter make him doubly useful in commenting. He is singularly clear, and a great promoter of thought.
[Hodge] gave theological structure to the claims of reality that reminded their hearers of the limitations of human achievement and the fragility of true virtue.
—John Farina
[B. B. Warfield's] mind was so clear and his literary style so chaste and lucid that it is a real joy to read his works and one derives pleasure and profit at the same time.
Beyond all question [A. A. Hodge] takes his place among the great men of America and the great theologians of the world.
—Francis Landey Patton, in A Discourse in Memory of Archibald Alexander Hodge, 1887
Product Details
Title: Princeton Theology Collection
Volumes: 55
Pages: 17,012
About the Authors
Archibald Alexander (1772–1851) was born in Rockbridge County, Virginia. He was educated at nearby Liberty Hall, and studied for two years under William Graham. At age 25, he was elected President of Hampden Sydney College in Virginia. Shortly thereafter, he moved to Philadelphia to become Pastor of the Third Presbyterian Church. When Princeton Theological Seminary opened in 1812, Archibald Alexander became First Professor of Theology, where he served until 1840. Among his students was Charles Hodge, who named his son, A. A. Hodge, after his mentor.
Charles Hodge (1797–1878) counts as one of the most influential theologians of the nineteenth century and one of Calvinism's most ardent defenders in America. He was born in Philadelphia to Hugh and Mary Hodge. He graduated from the College of New Jersey (Princeton University) in 1815, and was ordained in the Presbyterian Church in 1821. In 1822, at the request of Archibald Alexander, he became a professor at Princeton, and taught Biblical Literature and Systematic Theology until 1878. From 1826 to 1828, Hodge also studied in Europe, and became acquainted with Friedrich Augustus Tholuck, Wilhelm Gesenius, Augustus Neander, and Friedrich Schleiermacher.
During his tenure at Princeton, Hodge instructed more than three thousand ministers, served as moderator of the Presbyterian General Assembly in 1846, helped revise the Presbyterian Church's Book of Discipline, and served on the Board of Foreign Missions. He also founded the Biblical Repertory and Princeton Review and served as its editor for forty-three years. In addition to his systematic theology and four Bible commentaries, Hodge also wrote books on the Presbyterian Church and published numerous articles.
Among his last words: "To be absent from the body is to be with the Lord, to be with the Lord is to see the Lord, to see the Lord is to be like him."
Archibald Alexander Hodge (1823–1886) was born in Princeton, the son of Charles Hodge. He was named after Archibald Alexander, the principal of Princeton Theological Seminary from 1812 to 1840. A. A. Hodge attended Princeton College and Princeton Theological Seminary, graduating in 1847. He spent three years in India as a missionary, before returning to America to become Professor of Systematic Theology at Western Theological Seminary in Pittsburg, Pennsylvania in 1864. In 1877, A. A. Hodge left Western Theological Seminary to return to Princeton Theological Seminary to succeed his father as Chair of Systematic Theology.
Benjamin Breckinridge Warfield (1851–1921) was born in Lexington, Kentucky. He studied mathematics and science at Princeton University and graduated in 1871. In 1873, he decided to enroll at Princeton Theological Seminary, where he was taught by Charles Hodge. He graduated from seminary in 1876, and was married shortly thereafter. He traveled to Germany later that year to study under Franz Delitzsch.
After returning to America, Warfield taught at Western Theological Seminary (now Pittsburgh Theological Seminary). In 1881, Warfield co-wrote an article with A. A. Hodge on the inspiration of Scripture—a subject which dominated his scholarly pursuits throughout the remainder of his lifetime. When A. A. Hodge died in 1887, Warfield became Professor of Theology at Princeton, where he taught from 1887–1921. History remembers Warfield as one of the last great Princeton Theologians prior to the seminary's re-organization and the split in the Presbyterian Church.