Tabletalk Magazine, October 2006: Covenant Theology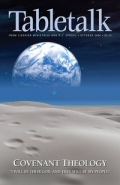 Tabletalk Magazine, October 2006: Covenant Theology
•
Overview
Covenant theology is, in essence, biblical theology. And while Reformed thinkers have not necessarily agreed on the minutiae of certain aspects, they have all agreed on the principle of viewing Scripture within a covenantal framework. The symphony of Scripture, and thus of God's redemptive plan, is largely overlooked today. The fault is partly our own. Systems like Dispensationalism have gained much ground, probably due to their being disseminated in simple, popular ways. It is our hope that this October 2006 edition of Tabletalk can provide a clear and simple response of a more biblical view of God's handiwork.
Contributors include R.C. Sproul along with R. Scott Clark, Michael S. Horton, David McKay, Rick Phillips, R.C. Sproul Jr., and Gene Edward Veith. Tabletalk features articles about topics central to the Christian faith and daily, in-depth Bible studies.
The 2006 Bible studies take a careful look at the book of Genesis.
Contents
"Our Covenant God" by Burk Parsons
"The Covenant of Works" by R. C. Sproul
"The History of Covenant Theology" by R. Scott Clark
"Redemptive History" by Rick Phillips
"Law and Gospel" by Michael S. Horton
"Those Whom God Hath Joined Togethor" by Burk Parsons
"Praying with the Patriarchs" by Derek W. H. Thomas
"The Laughter of Abraham and the Joy of Jesus" by Warren A. Gage
"Prayer and Its Discontents" by Kaki Cobb
"Covenant Community" by David McKay
"One Covenant Under God" by R. C. Sproul Jr.
"Covenant and Culture" by Gene Edward Veith
Praise for the Print Edition
Tabletalk has been a key ingredient in the diet of Christians conscious of their spiritual vitality.
—Michael S. Horton
Month by month, Tabletalk represents an oasis in a desert of false spirituality, mindless Christianity, and vapid conviction. Tabletalk represents theological rigor, biblical Christianity, and authentic Christian devotion. It is an antidote to the world of superficial Christianity. Read it and grow.
—R. Albert Mohler, Jr.
Tabletalk has been a wonderful resource in my own daily walk with the Lord.
—Ravi Zacharias
Product Details
Title: Tabletalk Magazine, October 2006: Covenant Theology
Executive Editor: R. C. Sproul
Editor: Burk Parsons
Series: Tabletalk
Publisher: Ligonier Ministries
Publication Date: October 2006
Pages: 63
About the Editors
R. C. Sproul is founder and president of Ligonier Ministries and president of Ligonier Academy. He also servers as the senior pastor of Saint Andrew's in Sanford, Fla., and he has written more than seventy books including Defending Your Faith, Abortion: A Rational Look at an Emotional Issue, The Truth of the Cross, Truths We Confess, and commentaries on Romans and John in the Saint Andrew's Expositional Commentary series.
Burk Parsons serves as editor of Tabletalk and associate pastor of Saint Andrew's in Sanford, Fla., and he is editor of the books Assured by God: Living in the Fullness of God's Grace and John Calvin: A Heart for Devotion, Doctrine, and Doxology.
More details about this resource