Tabletalk Magazine, February 2008: The Prophetic Books of the Old Testament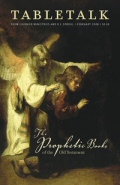 Tabletalk Magazine, February 2008: The Prophetic Books of the Old Testament
•
Overview
The prophetic literature of the Old Testament remains the most disputed over, if not the most widely misunderstood, portion of Scripture. This is the theme of the February 2008 issue of Tabletalk. In an effort to help our readers learn how to better read the prophets, this issue will attempt to focus on the main point and purpose of each prophetic era as integral to the Christian's understanding of God's redemptive plan. This issue is not, however, intended to be a treatise on biblical literature. While we do wish to heighten the church's awareness on how to read such texts, we desire to do it through a careful, yet approachable, analysis of how new covenant believers may interpret, use, and respond to the prophetic books of Sacred Writ.
Contributors include R.C. Sproul along with Bryan D. Estelle, Steve Kreloff, Keith A. Mathison, R. Albert Mohler Jr., Alec Motyer, O. Palmer Robertson, John Sartelle, R.C. Sproul Jr., Gene Edward Veith. Tabletalk features articles about topics central to the Christian faith and daily, in-depth Bible studies.
The 2008 Bible studies examines the gospel of Matthew and the Redeemer who saves His people from their sins.
Contents
"Covenant Prosecutors" by R. C. Sproul
"The Prophets: Before the Exile" by Alec Motyer
"The Prophets: After the Exile" by O. Palmer Robertson
"The Temptation of Jesus" by Keith A. Mathison
"Christ Victorious" by Joel R. Beeke
"The Blessings of Humility" by Jerry Bridges
"Kill Your Sin" by Tom Ascol
"Pastor's Perspective" by Steve Kreloff
"Pro Ecclesia: For the Church" by R. Albert Mohler Jr.
"Generation to Generation" by John Sartelle
"Tolle Lege: Take Up and Read" by Keith A. Mathison
"Seek Ye First" by R. C. Sproul Jr.
"Truth and Consequences" by Gene Edward Veith
Praise for the Print Edition
Tabletalk has been a key ingredient in the diet of Christians conscious of their spiritual vitality.
—Michael S. Horton
Month by month, Tabletalk represents an oasis in a desert of false spirituality, mindless Christianity, and vapid conviction. Tabletalk represents theological rigor, biblical Christianity, and authentic Christian devotion. It is an antidote to the world of superficial Christianity. Read it and grow.
—R. Albert Mohler, Jr.
Tabletalk has been a wonderful resource in my own daily walk with the Lord.
—Ravi Zacharias
Product Details
Title: Tabletalk Magazine, February 2008: The Prophetic Books of the Old Testament
Executive Editor: R. C. Sproul
Editor: Burk Parsons
Series: Tabletalk
Publisher: Ligonier Ministries
Publication Date: February 2008
Pages: 83
About the Editors
R. C. Sproul is founder and president of Ligonier Ministries and president of Ligonier Academy. He also servers as the senior pastor of Saint Andrew's in Sanford, Fla., and he has written more than seventy books including Defending Your Faith, Abortion: A Rational Look at an Emotional Issue, The Truth of the Cross, Truths We Confess, and commentaries on Romans and John in the Saint Andrew's Expositional Commentary series.
Burk Parsons serves as editor of Tabletalk and associate pastor of Saint Andrew's in Sanford, Fla., and he is editor of the books Assured by God: Living in the Fullness of God's Grace and John Calvin: A Heart for Devotion, Doctrine, and Doxology.
More details about this resource