The Ignatius Catholic Study Bible Collection (6 vols.)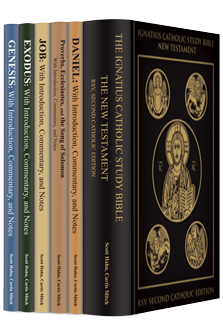 The Ignatius Catholic Study Bible Collection (6 vols.)
•
Runs on Windows, Mac and mobile.
Overview
These volumes bring you the written Word of God in a highly readable, accurate translation, excellent for personal and group study. Extensive study notes, topical essays, and word studies provide fresh and faithful insights informed by time-tested, authentically Catholic interpretations from the Fathers of the Church and other scholars. They also provide rich historical, cultural, geographical, and theological information pertinent to the narratives. Commentaries combine the best insights of ancient, medieval, and modern scholarship, while following the Church's guidelines for biblical interpretation. Plus, each book is outlined and introduced with an essay covering questions of authorship, date of composition, intended audience, and general themes. The Ignatius Study Bible also includes handy reference materials such as a doctrinal index, a concise concordance, a helpful cross-reference system, and various maps and charts.
The only Catholic study Bible based on the Revised Standard Version, Second Catholic Edition (RSV2CE), the Ignatius Catholic Study Bible and the penetrating study tools developed by renowned Bible teachers Dr. Scott Hahn and Curtis Mitch.
Key Features
Illuminating commentary enjoyed by Catholics and non-Catholics alike
A doctrinal index, connecting Catholic doctrine to Scripture
Maps, charts, and illustrations that explore each book
Presents authoritative Catholic commentary based on the RSV2CE
Offers the best insights of ancient, medieval, and modern biblical scholarship
Suits both individual and group study
Praise for the Print Edition
The Ignatius Study Bible is a triumph of both piety and scholarship.
—Erasmo Leiva, author, Fire of Mercy, Heart of the Word
Outstanding for personal study and Bible study groups. Excellent for evangelization and apologetics as well!
—Stephen Ray, host, The Footprints of God series
Meets a long-unmet need among Catholics for a conservative Bible resource.
—Mike Potemra, National Review Online
Simply put, it is fantastic and a great tool for Catholics.
—The Catholic Bible Blog
Once a generation a truly unique Bible tool is given to the Church. The Ignatius Study Bible is a gift for our generation. This is the most important book since the Catechism of the Catholic Church. Every parish study group and every student of Sacred Scripture should own and use this.
—David R. Currie, author, What Jesus Really Said about the End of the World
About the Editors
Scott Hahn has delivered numerous talks nationally and internationally on a wide variety of topics related to Scripture and the Catholic faith. Hundreds of these talks have been produced on audio and video by St. Joseph Communications. His talks have been effective in helping thousands of Protestants and fallen away Catholics reembrace the Catholic faith. He is currently a professor of theology and Scripture at Franciscan University of Steubenville, and he's the founder and director of the Saint Paul Center for Biblical Theology. In 2005, he was appointed Pope Benedict XVI Chair of Biblical Theology and Liturgical Proclamation at St. Vincent Seminary in Latrobe, Pennsylvania. Dr. Hahn is also the bestselling author of numerous books, including The Lamb's Supper, Reasons to Believe, and Rome Sweet Home. Scott received his BA in theology, philosophy, and economics from Grove City College, PA, his Master of Divinity from Gordon-Conwell Theological Seminary, and his PhD in biblical theology from Marquette University. He entered the Catholic Church at the Easter Vigil, 1986.
Curtis Mitch is research fellow and trustee of the St. Paul Center for Biblical Theology in Ohio. A former student of Scott Hahn, Mitch is the general editor for the Ignatius Catholic Study Bible, has contributed essays and commentary for the Catholic for a Reason series, and has co-authored The Gospel of Matthew in the Catholic Commentary on Sacred Scripture series. He lives with his wife, Stacy Mitch, near Steubenville, Ohio.
More details about these resources