Tabletalk Magazine, August 2010: The Tenth Century: Progress and Regress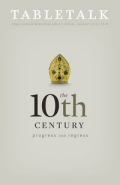 Tabletalk Magazine, August 2010: The Tenth Century: Progress and Regress
•
Overview
The August 2010 issue of Tabletalk continues the ongoing series on the history of the church by presenting highlights from the tenth century, including its historical, theological, and practical ramifications.
Contributors include C. Fitzsimmons Allison, Chris Donato, Collin Hansen, Keith Mathison, Burk Parsons, R. C. Sproul, and R. C. Sproul Jr.
Contents
Setting the Stage by R. C. Sproul
Revival & Repentance by Nick R. Needham
High Crimes & Misdemeanors by Carl R. Truman
Y1K by Keith A. Mathison
No Place for Heresy by C. FitzSimons Allison
Sanctified People by Iain D. Campbell
Jesus, The Image of God by Ken Jones
The Sabbath Now and Not Yet by Kim Riddleburger
Grace-Based Ethics by John P. Sartelle
The First Number by R. C. Sproul Jr.
From Eternity to Here by Jason J. Stellman
The Crown of Thorns Club by Chris Donato
Tell Us Your Stories by Collin Hansen
The Frozen Chosen by Keith A. Mathison
Key Features
Articles by a variety of Christian scholars and leaders that provide detailed and thought-provoking coverage of important topics.
Daily, in-depth studies guiding readers through one or more books of the Bible each year through rich yet easy-to-understand exposition, and practical applications.
Trusted resources for further study.
Praise for the Print Edition
Tabletalk has been a key ingredient in the diet of Christians conscious of their spiritual vitality.
—Michael S. Horton
Month by month, Tabletalk represents an oasis in a desert of false spirituality, mindless Christianity, and vapid conviction. Tabletalk represents theological rigor, biblical Christianity, and authentic Christian devotion. It is an antidote to the world of superficial Christianity. Read it and grow.
—R. Albert Mohler, Jr.
Tabletalk has been a wonderful resource in my own daily walk with the Lord.
—Ravi Zacharias
Product Details
Title: August, 2010: The Tenth Century: Progress and Regress
Executive Editor: R. C. Sproul
Editor: Burk Parsons
Series: Tabletalk
Publisher: Ligonier Ministries
Publication Date: 2010
About R. C. Sproul
R. C. Sproul is founder and president of Ligonier Ministries and president of Ligonier Academy. He also servers as the senior pastor of Saint Andrew's in Sanford, Fla., and he has written more than seventy books including The Holiness of God, The Intimage Marriage, Essential Truths of the Christian Faith, Following the Cross, and the R. C. Sproul Exposition Collection.
About Burk Parsons
Burk Parsons serves as editor of Tabletalk and associate pastor of Saint Andrew's in Sanford, Fla., and he is editor of the books Assured by God: Living in the Fullness of God's Grace and John Calvin: A Heart for Devotion, Doctrine, and Doxology.
More details about this resource