A Commentary on St. Paul's Epistle to the Romans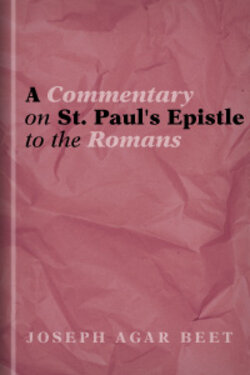 Introduction
All Are Guilty
Justification and its Results
The New Life in Christ
Harmony of the Old and New
Practical Lessons
Conclusion of the Epistle
Dissertations
In Dr. Agar Beet the Wesleyans have now a theologian who takes his place among the best of living expositors. . . . It is no small achievement to have carried into its ninth edition a book on so well worked a theme as the Epistle to the Romans. This success is the reward of solid and sober work. The writer has the great merit of knowing his own mind and of expressing his meaning with lucidity; and his literary skill enables him to give his readers most of the results attained by scholarship without distracting the unlearned by a parade of Greek. But he is more than a commentator; he applies the lessons of the Epistle with impressive earnestness and unfailing good taste.
—The Saturday Review
This is one of the greatest extant commentaries on Romans; and it is more, for it is also a compendium of theology, as must needs be the case with a work on the Epistle that deals at all adequately with its subject. Again and again as we turn over the pages we are delighted with some happy rendering, the skilful unraveling of some knotty phrase, the keen cut of thought into the heart of some tough sentence.
—The Christian World
Title: A Commentary on St. Paul's Epistle to the Romans
Author: Joseph Agar Beet
Series: Joseph Agar Beet Collection
Publisher: Thomas Whittaker
Publication Date: 1901
Pages: 386