Explorer's Bible Study: Corinthians, Ephesians, and Philippians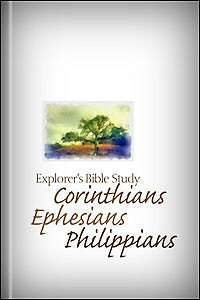 Explorer's Bible Study: Corinthians, Ephesians, and Philippians
•
Runs on Windows, Mac and mobile.
Overview
Explorer's Bible Study: Corinthians, Ephesians, and Philippians is a thirty-week study on four Pauline epistles. These epistles address specific struggles in the early church. Though centuries have passed, many issues will sound familiar. Christians still need instruction in how to get along with one another; care must be taken not to succumb to false teaching; believers need to know their status and position in Christ and to one another; and those obedient and submitted to Christ experience joy despite circumstances.
This volume features unique lessons that will guide you through the Bible and help you prepare for leading small groups or Sunday school. Each course focuses on a specific Bible passage and contains well-researched background information and leading questions that will guide your studies. By utilizing the tools included in Explorer's Bible Study: Corinthians, Ephesians, and Philippians, you will be prepared to better facilitate your small group or class and study the Bible with more depth and understanding. Incorporating this series with your preferred Bible, the Passage Guide, and the other Bible study tools in your Logos Bible Software allows you to dive into the Bible study with a significant base of knowledge, right in front of you.
Please note: Explorer's Bible Study: Corinthians, Ephesians, and Philippians will be divided into three separate resources.
Key Features
Daily Bible reading assignments and study questions
Introductions to each book of the Bible
Thorough notes on each passage
Praise for the Print Edition
. . .[the Explorer's Bible Study series has] very much enhanced our understanding of God's Word and of His purpose for each of us. In all the years I have taught, I have never used material that so motivated each student to study on a daily basis and as a result develop a habit of daily study. I am very grateful to you for making this superior material available.
—Hugh C. Thomson, Sr., Media, PA (small group teacher)
. . . the Explorer's study opened my eyes and heart to the Bible as if I were reading it for the first time; it brought to me a new understanding of God's Word with life-changing results. . . . I've heard of no better study for learning the truth and glory of God's Word or deepening one's relationship with God. (I cannot say enough good things about it!)
—Bobbie Kicklighter (Explorer's class member)
Product Details
Title: Explorer's Bible Study: Corinthians, Ephesians, and Philippians
Author: Deborah Burrus
Publisher: Explorer's Bible Study
Publication Date: 2005
Pages: 305
About Deborah Burrus
Deborah Burrus is a graduate of the University of Illinois, with a degree in agricultural communications. She has been teaching an Explorer's class in Jacksonville, Illinois, since 1989. Deborah has written two additional adult courses: Psalms of Prayer and Praise and The Book of Acts. She has co-authored Ecclesiastes: Making Sense When Life Doesn't and The Gospel of Luke.
Sample Pages from the Print Edition
More details about these resources