The Works of T. W. Allies (16 vols.)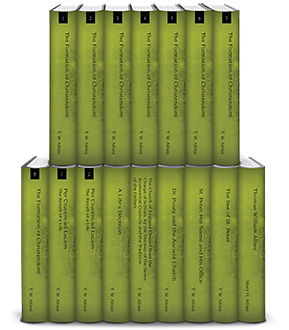 The Works of T. W. Allies (16 vols.)
•
Runs on Windows, Mac and mobile.
$20.00
Reg.: $154.95
Print: $519.95
* Projected price. Future bids may change this price.
Place Your Bid!
Click on the highest price you'd pay. If the final price is lower, that's what you'll pay.
Overview
T. W. Allies was one of the nineteenth centuries most prolific English theologians whose works on Church history, the early Church Fathers, doctrine, and theology have had an enduring impact on the Catholic Church. The sixteen volumes in The Works of T. W. Allies (16 vols.) include all of Allies most prodigious works—the eight-volume Formation of Christendom, Per Crucem ad Lucem, and A Life's Decision—plus more! Covering everything from the development of the early church and doctrines to a full biography of T. W. Allies, this collection provides extensive commentary and elucidation.
With the Logos edition all Scripture passages in The Works of T. W. Allies (16 vols.) are tagged and appear on mouse-over. What's more, Scripture references are linked to the wealth of language resources in your Logos library. This makes these texts more powerful and easier to access than ever before for scholarly work or personal Bible study. With the advanced search features of Logos Bible Software, you can perform powerful searches by topic or Scripture reference—finding, for example, every mention of "Christendom" or "church."
Key Features
Over six-thousand pages of notable scholarship by T. W. Allies
Biography written by Mary H. Allies
Completely searchable, linked to your preferred Bible translation and the other books in your library
Product Details
Title: The Works of T. W. Allies
Author: T. W. Allies
Volumes: 16
Pages: 6,534
T. W. Allies (1813–1903) was educated at Eton, Bristol Grammar School, and Wadham College at Oxford. Allies went on to become Rector of Launton, Oxfordshire. T. W. Allies converted to Catholicism from the Church of England in 1853.