Believers Church Bible Commentary Upgrade 2 (2 vols.)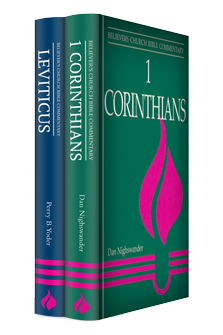 Believers Church Bible Commentary Upgrade 2 (2 vols.)
•
Runs on Windows, Mac and mobile.
Your Custom Discount
Reg. Price $39.99
Sale Price $22.99
Your Price $22.99
You Save $17.00 42%
Your Price
What's Pre-Pub?
$22.99
Overview
The Believers Church Bible Commentary Series is published for all who seek more fully to understand the original message of Scripture and its meaning for today. These commentaries, informed by recent scholarship, are detailed, yet accessible. They are written for lay leaders, teachers, pastors, college and seminary students, and all those searching the Bible for truth and life. The series is based on the conviction that God is still speaking to all who will listen and that the Holy Spirit makes the Word a living and authoritative guide for all who want to know and do God's will.
The Believers Church Bible Commentary is a cooperative project of Brethren in Christ Church, Brethren Church, Church of the Brethren, Mennonite Brethren Church, and the Mennonite Church. The writers place each section of Scripture in its larger biblical context and bring it into conversation with the past and present experience of God's people in the world.
Each volume illuminates the Scriptures by providing historical and cultural background, explaining theological, sociological, and ethical meanings, and making "the rough places plain" throughout. Critical issues are also addressed and explained with the lay leader in mind.
Overall Outline
The commentaries are organized into sections according to the major divisions of the text. Each section is comprised of five parts in order to provide a balance of exegesis, theological reflection, and life application:
An Introductory Preview
A Summary Outline of the Section
Explanatory Notes
Text in Biblical Context
Text in the Life of the Church
The two focused articles at the end of each chapter, "The Text in Biblical Context" and "The Text in the Life of the Church," are unique features of this series. Especially in the latter, Believers Church perspectives come through clearly. These include believers baptism, commitment to the Rule of Christ (Matthew 18:15-20) as part of the meaning of church membership, belief in the power of love in all relationships, and a willingness to follow the way of the cross of Christ.
There are comprehensive outlines, biographical aids, helpful charts, indexes, maps, glossaries, and essays on points that need further development.
The BCBC series represents the Anabaptist Believers Church tradition as a key perspective for interpretation.
In the Logos edition, these volumes are enhanced by amazing functionality. Important terms link to dictionaries, encyclopedias, and a wealth of other resources in your digital library. Perform powerful searches to find exactly what you're looking for. Take the discussion with you using tablet and mobile apps. With Logos Bible Software, the most efficient and comprehensive research tools are in one place, so you get the most out of your study.
Individual Titles
God is gracious, holy, and present. As a book about how to worship and how to live, Leviticus unfurls these critical characteristics of God in relation to humanity. In the thirty-third volume in the Believers Church Bible Commentary series, Old Testament scholar Perry B. Yoder argues that the oft-neglected book of Leviticus discloses valuable truths, symbols, and practices of the New Testament. Traversing difficult interpretive territory such as the sacrificial system, purity laws, and priestly instructions, Yoder writes with a clarity and nuance that will interest a wide swath of readers. He eloquently poses for readers the focal question of Leviticus: how to live in the presence of God.
Perry B. Yoder is professor emeritus of Old Testament at Anabaptist Mennonite Biblical Seminary in Elkhart, Indiana. Yoder's key interests are the Old Testament, particularly the Psalms; ecological responsibility; and peace and justice. He worked as People's Teacher of the Word, traveling across North America doing Bible teaching 1975–77; was associate secretary for Peace and Social Concerns for the General Conference Mennonite Church, 1977–78. He taught at Bluffton College, Bethel College and Conrad Grebel College before coming to AMBS in 1985. He retired in 2005, but continues to teach Anabaptist Short Courses online.
Christians in the bustling, diverse city of Corinth in 50 BCE quarreled about how to be faithful to Jesus. In Paul's first letter to the Corinthians, he calls the small band of new believers to unity and cautions against factionalism, themes that pastor Dan Nighswander unpacks for contemporary readers in this thirty-second volume in the Believers Church Bible Commentary series. Any Christians who experience division over loyalty to different leaders, who find it hard to agree on sexual ethics (or to live up to them), and who feel tension between their theological convictions and social context will find common ground with believers in Corinth. Home of the exalted "love chapter," which roots all Christian action in the greatest gift, 1 Corinthians equips those who follow Jesus to craft true community with other believers, differences notwithstanding. With keen theological, biblical, and pastoral insight, Nighswander illuminates for readers the apostle Paul's challenge to the Corinthian church and calls Christians today to unity through the reconciling work of Christ.
Dan Nighswander has pastored Mennonite churches in Manitoba and Ontario and has served as part-time lecturer in New Testament at Conrad Grebel University College, denominational administrator for Mennonite Church Canada, and missionary in South Africa. He holds masters degrees from Anabaptist Mennonite Biblical Seminary and Wilfrid Laurier University, and he completed his ThD in New Testament at Toronto School of Theology.