Zondervan Practical Theology Collection (20 vols.)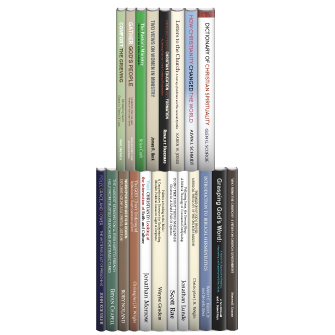 Zondervan Practical Theology Collection (20 vols.)
•
Runs on Windows, Mac and mobile.
Overview
The Zondervan Practical Theology Collection presents contemporary insights to key Christian disciplines. Featuring a variety of viewpoints, this collection offers guidance and practical help to pastors and ministry leaders in many different facets of the church and ministry as a whole.
In the Logos edition, these volumes are enhanced by amazing functionality. Important terms link to dictionaries, encyclopedias, and a wealth of other resources in your digital library. Perform powerful searches to find exactly what you're looking for. Take the discussion with you using tablet and mobile apps. With Logos Bible Software, the most efficient and comprehensive research tools are in one place, so you get the most out of your study.
Key Features
Offers solid biblical foundations for the challenges of practical ministry
Provides practical guides for key issues in churches and other Christian communities

In recent decades Christian spirituality, spiritual formation, and spiritual theology have become important concepts in the global evangelical community. Consequently, an accessible and reliable academic resource is needed on these topics—one that will offer a discerning orientation to the wealth of ecumenical resources available while still highlighting the distinct heritage and affirming the core grace-centered values of classic evangelical spirituality.
The Dictionary of Christian Spirituality reflects an overarching interpretive framework for evangelical spiritual formation: a holistic and grace-filled spirituality that encompasses relational (connecting), transformational (becoming), and vocational (doing) dynamics. At the same time, contributors respectfully acknowledge the differences between Reformed, Holiness, and Pentecostal paradigms of the spiritual life. And, by bringing together writers from around the world who share a common orthodoxy, this reference work is truly global and international in both its topical scope and contributors.
Entries give appropriate attention to concepts, concerns, and formative figures in the evangelical tradition of spirituality that other reference works neglect. They offer a discerning orientation to the wealth of ecumenical resources available, exploring the similarities and differences between Christianity and alternate spiritualities without lapsing into relativism. The Dictionary of Christian Spirituality is a resource that covers a wide range of topics relating to Christian spirituality and is biblically engaged, accessible, and relevant for all contemporary Christians.
The very publication of this work speaks to the contemporary interest in spirituality. So much spirituality, however, is uninformed, shallow, and vague. All the more reason to welcome this important dictionary. It is impressive in its scope, wide in what is included, and deep in the intent to strengthen life in the Spirit of Christ. Scan a few entries, and it will be evident what a valuable resource this can be.
—Leighton Ford, President, Leighton Ford Ministries
The combination of substantial reflective essays on major themes in Christian spirituality and sharply focused articles on major figures and topics provides a rich mixture of insight, information, and inspiration. 'Spirituality' can be a subject that wafts into the ether, but in this broadly ecumenical and very well-balanced work, it is presented with real substance and genuine edification.
—Mark A. Noll, Professor of History, University of Notre Dame
The Dictionary of Christian Spirituality is a well-researched, comprehensive study of Christian spirituality from a broad evangelical perspective. . . . I give the Dictionary of Christian Spirituality my highest recommendation.
—Richard J. Foster, Professor of Theology, Friends University
Engaging, comprehensive, informative, broad in perspective. Who thinks it is fun to read a dictionary? This one is! This is a dictionary to be read for enjoyment as well as information. The essays and articles are freshly written, thorough but concise. The Dictionary of Christian Spirituality reflects the deep respect and appreciation the writers have for their topics. Reading this dictionary is like taking a finely tuned course in the topics included. . . . I was fascinated and drawn from article to article . . . appreciating the fine scholarship, depth of research reflected, and careful writing that make the Dictionary of Christian Spirituality an excellent resource.
—Jeannette A. Bakke, Faculty Associate, Bethel Theological Seminary
This is not the only dictionary about Christian spirituality in town. There are many around and some of them are very good. But this one, with its global interests and spiritual zeal, has an energy and breadth that lifts it into a new league. Moreover, as well as making a very good job of expanding our knowledge of Christian spirituality and all the sources that have shaped it, this important volume steers the reader through the people, movements, and issues with a reliable, generous, and grace-focused wisdom. It is a source not just of information about Christian spirituality but of real formation, through the Spirit, in the life of Christ.
—Christopher Cocksworth, Bishop of Coventry, Church of England
The more I read in the Dictionary of Christian Spirituality, the more I wanted to read more! The initial essays provide a thoroughly excellent foundation, and the alphabetized entries that follow leave us intrigued to read others. I highly recommend this dictionary for all Christians, especially those who want to grow in their active practices of various spiritual disciplines, their devoted love for God and neighbor, and their fervent thanksgiving for global saints and the myriad ways God works in the world.
—Marva J. Dawn, Teaching Fellow in Spiritual Theology, Regent College
Scholarship with a soul! This is a book like no other—scholarly breadth with spiritual depth in a dictionary. So many have written so much about Christian spirituality that it is difficult to connect the parts. Here is a readable resource that brings everything together. I kept turning the pages . . . not to read through, but to explore. Every article led me to another journey on a different page.
—Leith Anderson, President, National Association of Evangelicals
The Dictionary of Christian Spirituality is a remarkable balance of broad, integrative essays and more than 700 succinct, informative dictionary entries. It combines a wide survey of the great movements in Christian spirituality while giving attention to the main contributors from all parts of the globe, past and present. The contributors include some of the great heavyweights of the movement while also incorporating significant voices from a variety of related disciplines and perspectives. The work is a must-have resource for every able scholar, pastor, and follower of Jesus.
—Gayle D. Beebe, President, Westmont College
Glen G. Scorgie (PhD, St. Andrews) is Professor of Theology at Bethel Seminary San Diego since 1996. Previously he was Academic Vice-President of North American Baptist College in Edmonton, Alberta, Canada, and is a past president of the Canadian Evangelical Theological Association. For the past decade he has also been involved in the ministries of Chinese Bible Church of San Diego, and lectures regularly in Asia.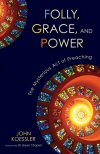 When you stand before your congregation, what do you hope to accomplish when you preach the Word? If people have Bibles and the freedom to read and pray on their own—why do they need you? In short, what do you bring to the table?
Author, Pastor, and Professor John Koessler answers those questions and many more. Why does one sermon have a powerful effect on the audience while another falls flat? Why should listeners heed what the preacher says? Is human language adequate for facilitating an encounter with God? What is the point of preaching a sermon? Folly, Grace, and Power is a must-read for pastors, seminarians, and lay leaders charged with the task of preaching God's word. This essential book is both a stern reminder of the sacredness of the awesome "job" of being a preacher, as well as a how-to that reveals the key to speaking powerfully on God's behalf.
John Koessler has written an inspiring and responsible theological reflection on the proclamation of the Word. This book is full of meaty insights. Preaching is an exercise not just in communication but also in incarnation. Indeed, Koessler challenges us with the inspiring and sobering truth that to preach is to prepare others for eternity.
—Chris Brauns, Pastor, The Red Brick Church
Whether you are a seasoned preacher or just getting started, if you care about being an effective preacher, this book is a must-read for you.
—Joseph M. Stowell, President, Cornerstone University
John Koessler has written for Discipleship Journal, Leadership, Moody Magazine, Decision, and Christianity Today. He has served as a pastor and currently is Chair of the Pastoral Studies Department at Moody Bible Institute in Chicago. He is the author of several books including True Discipleship and God Our Father. He holds degrees from Wayne State University, Biblical Theological Seminary, and Trinity Evangelical Divinity School.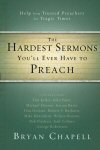 Cancer. Suicide. The death of a child. As much as we wish we could avoid tragedies like these, eventually they will strike your church community. When they do, pastors must be ready to offer help by communicating the life-changing message of the gospel in a way that offers hope, truth, and encouragement during these difficult circumstances. Those asked to preach in the midst of tragedy know the anxiety of trying to say appropriate things from God's Word that will comfort and strengthen God's people when emotions and faith are stretched thin. This indispensable resource helps pastors prepare sermons in the face of tragedies by providing suggestions for how to approach different kinds of tragedy, as well as insight into how to handle the theological challenges of human suffering.
Each topic provides a specific description of the context of the tragedy, the key concerns that need to be addressed in the message, and an outline of the approach taken in the sample sermon that follows. Topics addressed include:
Abortion
Abuse
Responding to national and community tragedies
The death of a child
Death due to cancer and prolonged sickness
Death due to drunk driving; drug abuse
Suicide
Bryan Chapell, author of Christ-Centered Preaching, has gathered together messages from some of today's most trusted Christian leaders including: John Piper, Tim Keller, Michael Horton, Jack Collins, Dan Doriani, Jerram Barrs, Mike Khandjian, Robert Rayburn, Wilson Benton, Bob Flayhart, and George Robertson. Each chapter provides you with the resources you need to communicate the life-giving hope of the gospel in the midst of tragedy. In addition, the appendices provide further suggestions of biblical texts for addressing various subjects as well as guidance for conducting funerals.
Bryan Chapell is the bestselling author of numerous books on Christian ministry and life. Christ-Centered Preaching and Christ-Centered Worship are standard seminary texts; Holiness by Grace, Each for the Other, and Praying Backwards have helped thousands find greater joy and fulfillment in the grace of Christ. Bryan is distinguished professor of preaching at Knox Theological Seminary.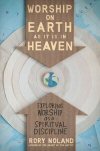 Despite the prevalence and popularity of worship pastors and the popularity of worship music, Christians of all varieties still struggle to understand and experience vibrant connection to God through worship. The fast pace of everyday life and ongoing "worship wars" challenge believers' ability to slow down and focus on God's goodness and sovereignty and to experience the blessings genuine worship can bring to their daily lives.
This book provides a practical perspective on the Christian discipline of worship, mining the Bible for wisdom on how to worship God. Author Rory Noland addresses both individual and corporate worship, relating biblical teaching to everyday issues Christians face in their personal faith and church life. Discussion questions and action points encourage readers to step by faith into God's presence and "worship on earth as it is in heaven."
This book includes:
Slice-of-church-life scenarios: every chapter begins with a brief scenario that presents a worship-related issue or a conflict corresponding to the chapter topic
Group discussion questions: based on the opening scenario, these questions help readers think about and discuss worship-related topics from different perspectives
Issue-by-issue practical guidance from a biblical perspective
"Ponder and Apply" application questions: each chapter ends with a series of discussion questions and action steps to help readers identify key insights and make personal applications
Rory Noland is the director of Heart of the Artist Ministries, an organization dedicated to serving artists in the church. A songwriter, speaker, church leader, and consultant, Rory is also the author of three books: The Heart of the Artist: A Character-Building Guide For You and Your Ministry Team, Thriving as an Artist in the Church: Hope and Help For You and Your Ministry Team, and The Worshiping Artist: Equipping You and Your Ministry Team to Lead Others in Worship. Rory currently serves part-time as Pastor of Worship at Harvest Bible Chapel in Rolling Meadows, Illinois, contributes regularly to Worship Leader magazine, and also leads worship for the Transforming Center, a ministry that cares for the souls of pastors and leaders. Rory graduated from the Chicago Musical College at Roosevelt University with a degree in theory and composition and served as the music director at Willow Creek Community Church in South Barrington, Illinois.

Until the curse of sin is finally removed at the end of time, suffering will be a part of the human experience, and a large part of that suffering will be walking through the painful reality of death. "Death," writes Paul Tautges, "provides a natural opportunity not only for ministry to others, but also for personal growth in ministers." Those who shepherd others through the pain and loss that accompanies death should seek to offer wise and biblical counsel on these precious and painful occasions.
This book is a treasure chest of pastoral theology that will equip you to reach out to those who grieve with the Christ-centered comfort of God rooted in the gospel. The theological foundation espoused here, as well as the numerous practical helps that are included, will help any servant of the Lord to point the hearts and minds of the bereaved to the "man of sorrows" who is "acquainted with grief" (Isaiah 53:3).
Written with the tenderness and understanding of a gentle pastor, this book is a helpful manual for those who guide others through the valley of the shadow of death.
—Les Lofquist, executive director, IFCA International
Paul Tautges has served Immanuel Bible Church in Sheboygan, Wisconsin as pastor-teacher since 1992. He is the author of Counsel One Another: A Theology of Personal Discipleship, The Discipline of Mercy, and Comfort Those Who Grieve. Tautges' preaching and teaching ministry takes him overseas for the equipping of national pastors for the work of church-based ministry. He is the author of several books and is a biblical counselor certified with the Association of Certified Biblical Counselors (ACBC) and the International Association of Biblical Counselors (IABC).

"God is spirit, and his worshippers must worship in spirit and in truth" (John 4:24). The Bible tells us that we are to worship the Lord—that we were created for this purpose. But what is true worship? What does the Bible teach about the right—and the wrong—ways to worship God?
In Gather God's People, pastors Brian Croft and Jason Adkins unpack a biblical theology of worship, discuss the practical matters of planning a worship service, and offer suggestions and insights on the best way to lead a worship service that honors the Lord. In this book you will learn how to apply biblical doctrine and spirituality to the practice of Christian worship.
Christian worship must be built upon, shaped by, and saturated with the word of God. In this helpful book, Croft and Adkins challenge us to think biblically through every aspect of corporate worship. From theological foundations to practical help, this book will help equip you in leading God's people.
—Matt Boswell, pastor of ministries and worship, Providence Church, Frisco, Texas
Brian Croft is senior pastor of Auburndale Baptist Church in Louisville, Kentucky. Brian is the founder of Practical Shepherding, a nonprofit organization committed to equipping pastors all over the world in the practical matters of pastoral ministry.
Jason Adkins is a graduate of the Southern Baptist Theological Seminary and an assistant pastor at Auburndale Baptist Church, where he provides leadership for the church's worship and administration. He also serves as a technical writer for an educational company.
Who Runs the Church?: 4 Views on Church Government
Editor: Steven B. Cowan
Publisher: Zondervan
Publication Date: 2004
Pages: 320
Churches have split and denominations have formed over the issue of church government. Yet while many Christians can explain their particular church's form of rule and may staunchly uphold it, few have a truly biblical understanding of it. What model for governing the church does the Bible provide? Is there room for different methods? Or is just one way the right way? In Who Runs the Church? Four predominant approaches to church government are presented by respected proponents.
Steven B. Cowan, M.Div., Ph.D., is associate professor of Philosophy and Apologetics at Southeastern Bible College in Birmingham, AL.
Grasping God's Word: A Hands-On Approach to Reading, Interpreting, and Applying the Bible, 3rd ed.
Authors: J. Scott Duvall and J. Daniel Hays
Edition: 3rd
Publisher: Zondervan
Publication Date: 2012
Pages: 512
Grasping God's Word has proven itself in classrooms across the country as an invaluable help to students who want to learn how to read, interpret, and apply the Bible for themselves. The third edition, revised based on feedback from professors, will continue to serve college-level students and lay learners well in their quest to gain a firm grasp on the rock of God's word.
Old Testament scholar J. Daniel Hays and New Testament expert J. Scott Duvall provide practical, hands-on exercises to guide students through the interpretive process. To emphasize the Bible's redemptive arc and encourage correlation across the canon, the authors have included a call to "cross into the rest of Scripture" as an additional step in the interpretive journey. This edition has also been rearranged for clarity and includes updated illustrations, appendices, bibliography, and assignments.
. . . . a wonderfully user-friendly book for serious readers who desire to journey into the world of the Bible in order to better understand it and to live faithfully in today's world.
—From the foreword by Kevin J. Vanhoozer
It leads students from the most fundamental building blocks of interpretation (including skills that most beginning students lack) through all the essential processes.
—Craig S. Keener, professor of New Testament, Eastern Seminary
J. Scott Duvall is professor of New Testament at Ouachita Baptist University. He is the coauthor with George H. Guthrie of Biblical Greek Exegesis: A Graded Approach to Learning Intermediate and Advanced Greek and with Terry G. Carter and J. Daniel Hays of the textbook Preaching God's Word.
J. Daniel Hays is dean of the Pruet School of Christian Studies and professor of Old Testament at Ouachita Baptist University. He is the author of From Every People and Nation, and he has co-authored Grasping God's Word; Preaching God's Word; Journey into God's Word; The Story of Israel: A Biblical Theology; Iraq: Babylon of the End Times?; Apocalypse; and The Dictionary of Biblical Prophecy
Introduction to Biblical Hermeneutics
Authors: Walter C. Kaiser, Jr. and Moisés Silva
Publisher: Zondervan
Publication Date: 2007
Pages: 352
Since its publication in 1994, An Introduction to Biblical Hermeneutics has become a standard text for a generation of students, pastors, and serious lay readers. This second edition has been substantially updated and expanded, allowing the authors to fine-tune and enrich their discussions on fundamental interpretive topics. In addition, four new chapters have been included that address more recent controversial issues:
The role of biblical theology in interpretation
How to deal with contemporary questions not directly addressed in the Bible
The New Testament's use of the Old Testament
The role of history in interpretation
The book retains the unique aspect of being written by two scholars who hold differing viewpoints on many issues, making for vibrant, thought-provoking dialogue. What they do agree on, however, is the authority of Scripture, the relevance of personal Bible study to life, and why these things matter.
Walter C. Kaiser Jr. received his PhD at Brandeis University. He is a distinguished professor emeritus of Old Testament and president emeritus of Gordon-Conwell Theological Seminary in South Hamilton, Massachusetts. Dr. Kaiser has written over forty books, including Toward an Exegetical Theology: Biblical Exegesis for Preaching and Teaching; The Messiah in the Old Testament; and The Promise-Plan of God; and coauthored An Introduction to Biblical Hermeneutics: The Search for Meaning.
Moisés Silva taught biblical studies at Westmont College, Westminster Theological Seminary, and Gordon-Conwell Seminary. He is the author or coauthor of eight books, and the revising editor of the Zondervan Encyclopedia of the Bible.
The Mission of God's People: A Biblical Theology of the Church's Mission
Author: Christopher J. H. Wright
Editor: Jonathan Lunde
Publisher: Zondervan
Publication Date: 2010
Pages: 304
In The Mission of God's People author Chris Wright offers a sweeping biblical survey of the holistic mission of the church, providing practical insight for today's church leaders. Wright gives special emphasis to theological trajectories of the Old Testament that not only illuminate God's mission but also suggest priorities for Christians engaged in God's world-changing work.
The Mission of God reveals that the typical Christian understanding of "missions" encompasses only a small part of God's overarching mission for the world. God is relentlessly reclaiming the entire world for himself. In The Mission of God's People, Wright shows how God's big-picture plan directs the purpose of God's people, the church. Wright emphasizes what the Old Testament teaches Christians about being the people of God. He addresses questions of both ecclesiology and missiology with topics like "called to care for creation," "called to bless the nations," "sending and being sent," and "rejecting false gods." The Mission of God's People promises to enliven and refocus the study, teaching, and ministry of those truly committed to joining God's work in the world.
. . . extraordinarily readable, written by a preacher who knows how to communicate simply, clearly, and fascinatingly. It is refreshingly adventurous, as it explores the theme of mission in biblical passages where you might not have expected to find it. . . . remarkably practical . . . surprisingly relevant . . . outstandingly down-to-earth . . . It is thus eminently commendable . . .
—I. Howard Marshall, professor, University of Aberdeen
What a marvelous author Chris Wright is! Here you get the distilled insight of someone who knows mission and knows the Scriptures . . . And he doesn't confine himself to scriptural themes but enables us to get inside lots of particular Scriptures, all in easily manageable chunks. What do theology and mission have to do with each other? This book powerfully answers the question.
—John Goldingay, professor, Fuller Theological Seminary
The Mission of God's People is more than a biblical theology. It is a journey through the call God has given to his people to impact the world in the way God desires. . . . This book brings us there very nicely, fully using both Testaments, and even gives us questions to reflect upon in order to move us to action. Well done.
—Darrell L. Bock, research professor of the New Testament, Dallas Theological Seminary
This is biblical theology at its best. . . . Through his comprehensive reading of the whole Bible, he offers a robust portrayal of Israel's mission and our own. Thank you, Chris, for showing us that God's election is not about us; it is about the world. May this work inspire his church to greater faithfulness in giving verbal witness to God's redemptive grace for the cosmos, but also to greater ethical faithfulness as we embody his grace in the microcosms in which we live.
—Daniel I. Block, Gunther H. Knoedler Professor of Old Testament, Wheaton College
. . . Christopher Wright shows in The Mission of God's People that grounding missions practice in the prior action and plan of God does not render the church static or passive. In this masterful survey, Wright demonstrates decisively what happens when the whole church starts reading the whole Bible and reflecting the full scope of God's good news in all our life and witness in the world. This is the long-awaited road map that moves missions from the practice of a few elite professionals to the faithful witness of all of God's children. If want to help your church become a missional church, I cannot think of a better place to begin that journey than this book. I assure you, you will discover afresh who you are in Christ and what you are here for!
—Timothy Tennent, professor, Asbury Theological Seminary
A wonderfully kaleidoscopic biblical overview of the privileged role afforded to all of God's people in fulfilling the Missio Dei in the world. Chris Wright demonstrates that the theme of the mission of God and his people is a prominent and unmistakable thread running through the elaborate tapestry of the whole of Scripture. In so doing, he provides a ringing affirmation that it is the responsibility of the whole church to bear witness to Christ and his kingdom in every area of the world geographically, as well as in every sphere of society.
—Lindsay Brown, director, Lausanne Movement for World Evangelization
Christopher J. H. Wright is the international director of the Langham Partnership International. He also serves as a chair of the Lausanne Movement's Theology Working Group and chair of the Theological Resource Panel of TEAR Fund, a leading Christian relief and development charity. He has written several books, including Living as the People of God, God's People in God's Land, Knowing Jesus through the Old Testament, Walking in the Ways of the Lord, Deuteronomy in the New International Biblical Commentary, The Message of Ezekiel in the Bible Speaks Today series, Old Testament Ethics for the People of God, The Mission of God, and The God I Don't Understand.
Following Jesus, the Servant King: A Biblical Theology of Covenantal Discipleship
Author: Jonathan Lunde
Publisher: Zondervan
Publication Date: 2010
Pages: 320
Throughout the Old Testament and into the New, God not only demands righteousness from his people but also showers on grace that enables them to act. Jesus, of course, provides the ultimate fulfillment of these twin aspects of God's relationship to humanity. In biblical terms, Jesus is the King who demands righteous obedience from his followers, and Jesus is the Servant who provides the grace that enables this obedience.
So what does it mean to follow Jesus? What does God expect from his followers, and how can they be and do what is required? Jonathan Lunde answers these and other questions in his sweeping biblical study on discipleship. He surveys God's interaction with his people from Eden to Jesus, paying special attention to the biblical covenants that illuminate the character and plans of God. He offers Bible students and teachers—such as pastors, missionaries, and lay leaders—the gift of practical biblical teaching rooted in the Bible's witness on the vital topic of discipleship.
Faithfully refreshing. Lunde's thoughtful and insightful contribution will cause many to walk with Jesus at a whole new level of faithfulness.
—J. Scott Duvall, professor of New Testament, Ouachita Baptist University
Jonathan Lunde, in this book that is excellent for both the classroom and the church, leads us to Christ so we can see what it means to follow as disciples.
—Scot McKnight, Karl A. Olsson Professor in Religious Studies, North Park University
A breathtaking glimpse of what God has designed from the beginning of covenantal history—through a true biblical theology that plumbs the depths of Scripture—to live in an abundant New Covenant discipleship to Jesus as our Servant King.
—Michael J. Wilkins, distinguished professor of New Testament language and literature, Talbot School of Theology, Biola University
Jonathan Lunde (PhD, Trinity Evangelical Divinity School) is an associate professor of Biblical and theological studies at Talbot School of Theology of Biola University. He is the coeditor (with Kenneth Berding) of Three Views on the New Testament Use of the Old Testament and has contributed articles to The Dictionary of Jesus and the Gospels and the New Dictionary of Biblical Theology.
Scott B. Rae says that our culture is in an ethical mess because we've neglected moral training and education. In Doing the Right Thing, he argues that there is such a thing as moral truth, that it can be known, and that it can be put into practice.
Looking at the areas of medicine, the marketplace, public life, education, and the family, Rae shows how foundational ethical principles can guide you in making moral day-to-day decisions. Informed by Scripture and calling for a renewed understanding of the importance of the Christian faith in moral training, Doing the Right Thing issues a call for cultivated virtue that can bring about both better lives and a better society.
Scott Rae is professor of Christian ethics at Talbot School of Theology at Biola University in La Mirada, California. He is the author of Business for the Common Good, The Virtues of Capitalism: A Moral Case for Free Markets, and Moral Choices: An Introduction to Ethics.
Politics according to the Bible: A Comprehensive Resource for Understanding Modern Political Issues in Light of Scripture
Author: Wayne Grudem
Publisher: Zondervan
Publication Date: 2010
Pages: 624
A variety of perspectives exist within the Christian community when it comes to political issues and political involvement. This comprehensive and readable book presents a political philosophy from the perspective that the Gospel pertains to all of life so Christians should be involved in political issues. In brief, this is an analysis of conservative and liberal plans to do good for the nation, evaluated in light of the Bible and common sense. In this ground-breaking book, recognized evangelical Bible professor Wayne Grudem rejects five mistaken views about Christian influence on politics:
"Compel religion"
"Exclude religion"
"All government is demonic"
"Do evangelism, not politics"
"Do politics, not evangelism"
He proposes a better alternative: "significant Christian influence on government." Then he explains the Bible's teachings about the purpose of civil government and the characteristics of good or bad government. Does the Bible support some form of democracy? Should judges and the courts hold the ultimate power in a nation? With respect to specific political issues, Grudem argues that most people's political views depend on deep-seated assumptions about several basic moral and even theological questions, such as whether God exists, whether absolute moral standards can be known, whether there is good and evil in each person's heart, whether people should be accountable for their good and bad choices, whether property should belong to individuals or to society, and whether the purpose of the earth's resources is to bring benefit to mankind.
After addressing these foundational questions, Grudem provides a thoughtful, carefully-reasoned analysis of over 50 specific issues dealing with the protection of life, marriage, the family and children, economic issues and taxation, the environment, national defense, relationships to other nations, freedom of speech and religion, quotas, and special interests. He makes frequent application to the current policies of the Democratic and Republican parties in the United States, but the principles discussed here are relevant for any nation.
A wonderful resource as we face growing tensions from an ever more powerful state.
—Chuck Colson, founder, Colson Center for Christian Worldview
Grudem's biblically-based good sense overwhelms the nostrums of . . . evangelical left.
—Marvin Olasky, editor-in-chief, World
Precisely and exactly the call the rising generation needs to hear.
—Timothy Goeglein, vice president, External Relations, Focus on the Family
Wayne Grudem is a research professor of theology and Biblical studies at Phoenix Seminary in Phoenix, Arizona. He holds degrees from Harvard (AB), Westminster Theological Seminary (MDiv, DD), and Cambridge (PhD). He is the author of more than a dozen books including the bestselling Systematic Theology.
Think Christianly: Looking at the Intersection of Faith and Culture
Author: Jonathan Morrow
Publisher: Zondervan
Publication Date: 2011
Pages: 304
Think Christianly is about seizing the opportunities we have every day to speak the life Jesus offers into our culture. Tragically, many such opportunities pass us by unclaimed—either because we don't notice them or we have not prepared ourselves to enter into them. And those around us seem to grow increasingly unwilling to hear anything the church has to say.
Jonathan Morrow helps church leaders envision and implement ways for their congregations to "think Christianly" about contemporary questions and to speak in informed, engaging ways. Morrow explores many of the important issues that Christians often hear raised with regard to faith—questions about who Jesus was, the good and bad of religion, pain and evil in the world, the reliability of the Bible, sexuality and intimate relationships, and hope for change, among others. The life and faith issues that Think Christianly addresses lead to cultural moments where Christianity and contemporary culture intersect. This book will help churches take vital steps toward cultivating compassion and competence in speaking faithfully to a questioning world.
As someone who has devoted many years of ministry to teaching Christian worldview, I am thrilled to see dynamic and faithful worldview leaders like Jonathan Morrow stepping to the fore. Think Christianly, in a compelling and accessible way, equips Christians young and old to engage the culture winsomely, intelligently, and confidently.
—Chuck Colson, founder, Colson Center for Christian Worldview
Jonathan Morrow is the author of Welcome to College: A Christ-follower's Guide for the Journey and co-wrote (with Sean McDowell) Is God Just a Human Invention?. He graduated with a MDiv and an MA from Talbot School of Theology and serves as the equipping pastor at Fellowship Bible Church in Murfreesboro, TN.
The God I Don't Understand: Reflections on Tough Questions of Faith
Author: Christopher J. H. Wright
Publisher: Zondervan
Publication Date: 2008
Pages: 224
If we are honest, we have to admit that there are many things we don't understand about God. We do not have final answers to the deep problems of life, and those who say they do are probably living in some degree of delusion. There are areas of mystery in our Christian faith that lie beyond the keenest scholarship or even the most profound spiritual exercises. For many people, these problems raise so many questions and uncertainties that faith itself becomes a struggle, and the very person and character of God are called into question.
Chris Wright encourages us to face up to the limitations of our understanding and to acknowledge the pain and grief they can often cause. But at the same time, he wants us to be able to say, like the psalmist in Psalm 73: "But that's all right. God is ultimately in charge and I can trust him to put things right. Meanwhile, I will stay near to my God, make him my refuge, and go on telling of his deeds."
It is because Dr. Wright confronts biblical problems with a combination of honesty and humility that I warmly commend this book.
—John R.W. Stott, rector emeritus, All Souls Church
Christopher J.H. Wright is the international director of the Langham Partnership International. He also serves as a chair of the Lausanne Movement's Theology Working Group and chair of the theological resource panel of TEAR Fund, a leading Christian relief and development charity. He has written several books, including Living as the People of God, God's People in God's Land, Knowing Jesus through the Old Testament, Walking in the Ways of the Lord, Deuteronomy in the New International Biblical Commentary, The Message of Ezekiel in the Bible Speaks Today series, Old Testament Ethics for the People of God, and The Mission of God.
How Christianity Changed the World
Author: Alvin J. Schmidt
Publisher: Zondervan
Publication Date: 2004
Pages: 448
Western civilization is becoming increasingly pluralistic, secularized, and biblically illiterate. Many people today have little sense of how their lives have benefited from Christianity's influence, often viewing the church with hostility or resentment. How Christianity Changed the World is a topically arranged Christian history for Christians and non-Christians.
Grounded in solid research and written in a popular style, this book is both a helpful apologetic tool in talking with unbelievers and a source of evidence for why Christianity deserves credit for many of the humane, social, scientific, and cultural advances in the Western world in the last two thousand years.
Honest and realistic . . . a fascinating inspirational experience.
—David O. Moberg, professor emeritus of sociology, Marquette University
Alvin J. Schmidt (PhD, University of Nebraska) retired in 1999 as a professor of sociology at Illinois College in Jacksonville, Illinois, where he still lives. He is the author of several books, including The Great Divide: The Failure of Islam and the Triumph of the West, and served as a consulting editor for Dictionary of Cults, Sects, Religions and the Occult.
Letters to the Church: A Survey of Hebrews and the General Epistles
Author: Karen H. Jobes
Publisher: Zondervan
Publication Date: 2011
Pages: 496
Respected New Testament scholar Karen Jobes explores the cultural and theological background of Hebrews and the General Epistles (James through Jude) in this rich commentary. Writing from an evangelical perspective, Jobes addresses issues of historical relevance as well as how these ancient books connect with Christian faith and practice today.
Pastors, professors, students, and laypeople interested in deeper biblical study will find this an invaluable resource that offers well-researched commentary in an accessible, spiritually meaningful form.
Karen Jobes' survey is clearly written, critically informed, beautifully illustrated, background-enlightening, and theologically rich. This volume will make an ideal textbook for the study of the letters that it covers.
—Robert H. Gundry, scholar-in-residence, Westmont College
Professor Jobes combines lively prose and scholarly depth to make the most neglected books in the New Testament come alive for students. This is, without rival, the most engaging introduction available to these important but difficult biblical books.
—Frank Thielman, Presbyterian professor of divinity, Beeson Divinity School of Samford University
This clear, accessible, thorough, and well-organized study of Hebrews and the General Epistles is an ideal text for survey courses. Jobes utilizes the best of biblical scholarship but presents it in a manner that beginning students will understand.
—Mark L. Strauss, professor of New Testament, Bethel Seminary
Jobes insightfully addresses the historical, literary, and theological features of these letters and does so with a conversational and engaging demeanor. Letters to the Church is a comprehensive introduction to these letters and a great textbook choice for college and seminary classrooms.
—Jeanine Brown, professor, Bethel Seminary
This is the textbook on the General Epistles I have been waiting for. It is thorough and accessible, even for students with little biblical background knowledge.
—Dan McCartney, professor of New Testament, Westminster Theological Seminary
Karen H. Jobes is Gerald F. Hawthorne Professor of New Testament Greek and Exegesis at Wheaton College. She is the author of many articles and several books, including Esther in The NIV Application Commentary.
Introduction to Christian Education and Formation: A Lifelong Plan for Christ-Centered Restoration
Author: Ronald T. Habermas
Publisher: Zondervan
Publication Date: 2008
Pages: 256
A bold and unique hybrid among resources for Christian educators, students, and pastoral staff, this enterprising book blends the voices of a single author and ten contributing experts into a global conversation on Christian formation and nurture. It effortlessly transcends all ages and all cultures, as it positions Christianity vibrantly alive from cradle to grave.
This introductory text on Christian education-formation includes extensive graphical illustrations, while providing a wealth of resources. Not to be used only in the classroom, these resources help the education-formation model to be lived in the life of the church."
Readers will walk with Jesus, discovering his perspective on education, formation, and restoration. They are also challenged to engage the multicultural richness of our world, be formed by it, and participate in God's kingdom work.
—Cathy Stonehouse, dean, School of Practical Theology, Asbury Theological Seminary
This is truly an integration of the old term 'Christian Education' with the current term 'Spiritual Formation.' Habermas challenges the reader to recapture what has been lost by many in the field of Christian education for several decades. . . . This is a fresh and well thought through approach to the important foundational issues for those serving in areas of education ministry and spiritual formation. Focusing on the life and ministry of Jesus as the framework, this volume adds significantly to the importtance of spiritual formation for all ages and cultures.
—Dennis E. Williams, distinguished senior professor of leadership and church ministry, The Southern Baptist Theological Seminary
Ronald T. Habermas has taught in Christian higher education for more than 25 years and he has served on the staff of local churches for more than a dozen years. He is a member of the North American Professors of Christian Education and holds degrees from William Tyndale College, North American Baptist Seminary, Wheaton Graduate School, and Michigan State University. Dr. Habermas is the author of many journal articles and several books including The Complete Disciple. Currently he researches and writes on various projects, while doing adjunct teaching.
Two Views on Women in Ministry
Editor: James R. Beck
Series: Counterpoints
Publisher: Zondervan
Publication Date: 2005
Pages: 368
What does the Bible say about women's roles in the church? This book furnishes you with a clear and thorough presentation of the two primary views on women in ministry so you can better understand each one's strengths, weaknesses, and complexities. Each view—egalitarian and complementarian—is represented by two contributors.
Each author states his or her case and is then critiqued by the other. The fair-minded, interactive Counterpoints forum allows you to compare and contrast the two different positions, and to form your own opinion concerning the practical and often deeply personal issue of women in ministry.
Every pastor struggles with countless demands on his time. A plan for setting and sticking to ministry priorities is a necessary skill. While some choose to respond to the most urgent needs, others seek a more balanced and intentional approach. But what determines these priorities? Where should a busy pastor look for wisdom in making these decisions?
In the Pastor's Ministry, pastor and author Brian Croft looks to the Scriptures to determine the top 10 priorities for a faithful pastoral ministry. These biblically rooted responsibilities help pastors determine how to spend their time and respond with discernment to the demands of the church.
To be successful and faithful in pastoral ministry, every pastor needs to understand these core callings and make them part of his regular practice. These 10 responsibilities guide how a pastor schedules his time, helping him to lay the foundation for a biblically faithful ministry in his church.
Faithful pastoral ministry is one of the most urgent needs of the church. Brian Croft is a careful guide to faithful biblical ministry and a needed voice among evangelical pastors.
—R. Albert Mohler, Jr., president, The Southern Baptist Theological Seminary
This book will be a huge blessing to many shepherds and even more sheep. I wish it had been around when I was starting out in ministry 20 years ago.
—David Murray, professor of practical theology, Puritan Reformed Theological Seminary