Westminster Theological Journal (78 vols.) (1938-2016)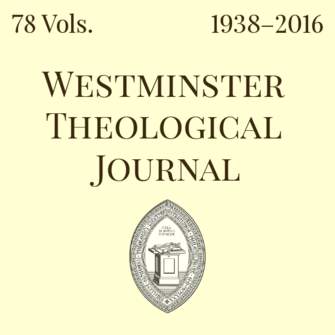 Westminster Theological Journal (78 vols.) (1938-2016)
•
Runs on Windows, Mac and mobile.
Overview
The Westminster Theological Journal (WTJ)—published semi-annually—is one of America's premier conservative theological journals, specializing in all aspects of theology, church history, and biblical interpretation. The journal's inaugural issue appeared in 1938, making it one of America's oldest continuously running theological journals. The journal exists to serve the ministers and members of Presbyterian and Reformed churches and to grow Reformed theological scholarship. Each issue includes a number of scholarly articles and book reviews by seminary faculty, noted scholars, and graduate students.
The Logos editions of Westminster Theological Journal enhance your study with amazing functionality. Fully integrated into your digital library, the Timeline enables you to instantly contextualize the people, places, and ideas discussed in the journal with thousands of other biblical and world events. Perform powerful searches to find exactly what you're looking for. Take the discussion with you using tablet and mobile apps. With Logos Bible Software, the most efficient and comprehensive research tools are in one place, so you get the most out of your study.
Key Features
Focuses on theology, church history, and biblical interpretation
Defends the Scriptures as the infallible word of God
Provides a Reformed/Presbyterian perspective on the Bible's teaching
Individual Volumes
Westminster Theological Journal, Volume 1 (1938)
Westminster Theological Journal, Volume 2 (1939)
Westminster Theological Journal, Volume 3 (1940)
Westminster Theological Journal, Volume 4 (1941)
Westminster Theological Journal, Volume 5 (1942)
Westminster Theological Journal, Volume 6 (1943)
Westminster Theological Journal, Volume 7 (1944)
Westminster Theological Journal, Volume 8 (1945)
Westminster Theological Journal, Volume 9 (1946)
Westminster Theological Journal, Volume 10 (1947)
Westminster Theological Journal, Volume 11 (1948)
Westminster Theological Journal, Volume 12 (1949)
Westminster Theological Journal, Volume 13 (1950)
Westminster Theological Journal, Volume 14 (1951)
Westminster Theological Journal, Volume 15 (1952)
Westminster Theological Journal, Volume 16 (1953)
Westminster Theological Journal, Volume 17 (1954)
Westminster Theological Journal, Volume 18 (1955)
Westminster Theological Journal, Volume 19 (1956)
Westminster Theological Journal, Volume 20 (1957)
Westminster Theological Journal, Volume 21 (1958)
Westminster Theological Journal, Volume 22 (1959)
Westminster Theological Journal, Volume 23 (1960)
Westminster Theological Journal, Volume 24 (1961)
Westminster Theological Journal, Volume 25 (1962)
Westminster Theological Journal, Volume 26 (1963)
Westminster Theological Journal, Volume 27 (1964)
Westminster Theological Journal, Volume 28 (1965)
Westminster Theological Journal, Volume 29 (1966)
Westminster Theological Journal, Volume 30 (1967)
Westminster Theological Journal, Volume 31 (1968)
Westminster Theological Journal, Volume 32 (1969)
Westminster Theological Journal, Volume 33 (1970)
Westminster Theological Journal, Volume 34 (1971)
Westminster Theological Journal, Volume 35 (1972)
Westminster Theological Journal, Volume 36 (1973)
Westminster Theological Journal, Volume 37 (1974)
Westminster Theological Journal, Volume 38 (1975)
Westminster Theological Journal, Volume 39 (1976)
Westminster Theological Journal, Volume 40 (1977)
Westminster Theological Journal, Volume 41 (1978)
Westminster Theological Journal, Volume 42 (1979)
Westminster Theological Journal, Volume 43 (1980)
Westminster Theological Journal, Volume 44 (1981)
Westminster Theological Journal, Volume 45 (1982)
Westminster Theological Journal, Volume 46 (1983)
Westminster Theological Journal, Volume 47 (1984)
Westminster Theological Journal, Volume 48 (1985)
Westminster Theological Journal, Volume 49 (1986)
Westminster Theological Journal, Volume 50 (1987)
Westminster Theological Journal, Volume 51 (1988)
Westminster Theological Journal, Volume 52 (1989)
Westminster Theological Journal, Volume 53 (1990)
Westminster Theological Journal, Volume 54 (1991)
Westminster Theological Journal, Volume 55 (1992)
Westminster Theological Journal, Volume 56 (1993)
Westminster Theological Journal, Volume 57 (1994)
Westminster Theological Journal, Volume 58 (1995)
Westminster Theological Journal, Volume 59 (1996)
Westminster Theological Journal, Volume 60 (1997)
Westminster Theological Journal, Volume 61 (1998)
Westminster Theological Journal, Volume 62 (1999)
Westminster Theological Journal, Volume 63 (2000)
Westminster Theological Journal, Volume 64 (2001)
Westminster Theological Journal, Volume 65 (2002)
Westminster Theological Journal, Volume 66 (2003)
Westminster Theological Journal, Volume 67 (2004)
Westminster Theological Journal, Volume 68 (2005)
Westminster Theological Journal, Volume 69 (2006)
Westminster Theological Journal, Volume 70 (2008)
Westminster Theological Journal, Volume 71 (2009)
Westminster Theological Journal, Volume 72 (2010)
Westminster Theological Journal, Volume 73 (2011)
Westminster Theological Journal, Volume 74 (2012)
Westminster Theological Journal, Volume 75 (2013)
Westminster Theological Journal, Volume 76 (2014)
Westminster Theological Journal, Volume 77 (2015)
Westminster Theological Journal, Volume 78 (2016)
More details about these resources
Show More