Dietrich Bonhoeffer Works German-English (34 Vols.)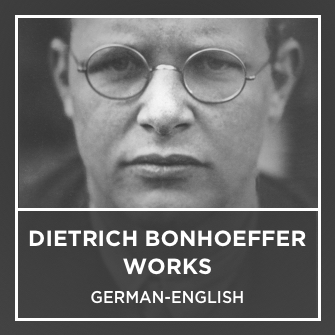 Dietrich Bonhoeffer Works German-English (34 Vols.)
•
Runs on Windows, Mac and mobile.
Overview
Experience Bonhoeffer's legacy on a deeper level than ever before. This German-English collection gives you access to the complete works of one of the most influential Christian martyrs in history not just in English, but also his native German, allowing you to get even closer to Bonhoeffer's original meaning and thought. Bonhoeffer bequeathed to humanity a legacy of theological creativity and spirituality that has retained its importance throughout time and continues to inspire people from a variety of backgrounds all throughout the world.
The resources in these collections are linked to one another, allowing you work with both texts simultaneously, giving you a chance to work with the original German, while having quick access to the English translation for consultation, or vice versa. This way you can fully experience the original beauty of Bonhoeffer's writings, without sacrificing understanding.
Now you can access Dietrich Bonhoeffer Works in the most accessible edition ever produced. With advanced search features, you can pinpoint every instance where Bonhoeffer wrote about a particular verse or topic. All Scripture references are linked directly to both original language texts and the English Bibles in your library. What's more, when you copy and paste material from Dietrich Bonhoeffer Works, citations are automatically generated using the style of your choice.
This product is configured to honor dynamic pricing. If you've already purchased the English edition and choose to purchase this product, you will only pay for the German edition. Likewise, if you've already purchased the German edition and choose to purchase this product, you will only pay for the English edition.
Key Features
Gives you access to the full English and German collections
Each resource is linked to its counterpart, allowing you jump seamlessly from English to German
Includes extensive introductions, notes, appendixes, bibliographies, and indexes
Contains fresh insight and translation of Bonhoeffer's works
Praise for the Print Edition
This is an enormous venture. Fortress Press, with the blessing of the International Bonhoeffer Society, is publishing a critical, studied, clarifying, and . . . standard-setting, if not normative version. [Dietrich Bonhoeffer] is in the select company of the giants of this century who still challenge new generations even as his writings startle us seniors with their freshness.
—Martin Marty, Context
Dietrich Bonhoeffer is the one German theologian who will lead us into the third millennium.
—Dorothy Soelle, visiting professor emeritus, Union Theological Seminary
Without doubt, Dietrich Bonhoeffer Works will be the definitive point of reference from here forward. It supersedes all previously published Bonhoeffer documents and adds new ones as well.
—Larry Rasmussen, Reinhold Niebuhr Professor Emeritus of Ethics, Union Theological Seminary
Product Details
Individual Titles
About Dietrich Bonhoeffer
Dietrich Bonhoeffer (1906–1945) was a German theologian, pastor, and ecumenist, was a professor in Berlin, an uncompromising teacher in the Confessing Church, and a consistent opponent of National Socialism. Executed by Hitler at the end of World War II, his influence continues today as one of the most important theologians of the twentieth century.
More details about these resources
Show More