Mobile Ed: PC131 Shepherding Women (audio)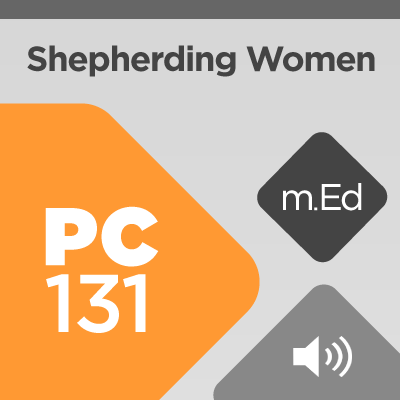 Overview
Dr. Bev Hislop provides strategies to improve pastoral care to women. The course examines the biblical portrayal of women, considers the effect of physiological and psychological differences between men and women on pastoral care, and offers a profile of effective shepherding of women.
This is the audio only version of PC131 Shepherding Women. To purchase the full course, click here.
Course Outline
Unit 1: A Pastoral Understanding of Women
Gender Distinction in Scripture
Searching for Resources on Gender and the Image of God
Unique to Man
Unique to Woman
Impact and Implications of the Fall
Woman as Life-Bearer (1)
Woman as Life-Bearer (2)
Discovering Different Views of 1 Peter 3:7
Woman as Companion and Bride
Compassionate Shepherding
Moved to Compassion
Jesus' Compassion in Mark 5
The Woman Who Touched Jesus
Jesus' Compassion in John 4
Condemnation in John 8
Elizabeth, Mary, and Mary
Women Shepherding Women in Titus
Older Women and Men in Titus
Unit 2: Physiological and Psychological Differences
The Formation of the Brain
Empathizing and Systemizing (1)
Empathizing and Systemizing (2)
Processing Pain
Gender Advantages
Using the Baker Encyclopedia of Psychology and Counseling
Unit 3: Women Shepherding Women
Distinctives of Shepherding Women
Performing Bible Word Searches on "Shepherd"
What Makes a Good Shepherd?
Women as Shepherds
Effective Biblical Shepherding
Unit 4: Profile of Shepherding
The Metaphor of Sheep
Bad Shepherds Are Non-shepherds
Ezekiel 34
Creating a Handout about Good vs. Bad Shepherding
The Impact of Poor Shepherding
Using the Passage Guide to Examine the Context of Ezekiel 34
The Impact of Good Shepherding
Essential Elements of Good Shepherding
Creating, Sharing, and Collaborating on Prayer Lists
Elements of Shepherding: Binding the Injured
Do's for Shepherding: Discover If She Wants to Change
Two Do's for Shepherding: Lists and Limits
Consulting Pastoral Visitation: A Pocket Manual
Two Do's for Shepherding: Answers and Referrals
Examining Legal Issues Associated with Counseling Ministries
Do's for Shepherding: Walk through Her Pain
Do's for Shepherding: Respect Her Choice
Two Do's for Shepherding: Presence and God's Power
Three Don'ts for Shepherding: Advice, Promises, and Fixing Things
Two Don'ts for Shepherding: Assumptions and Facts
Two Don'ts for Shepherding: Judgments and Workload
Two Don'ts for Shepherding: Overspiritualizing and Emotions
Listen to My Story
Active Listening
Empathize with Me
Reflect My Options
Respect My Choices
Hope for the Church
About Bev Hislop
Dr. Bev Hislop is a writer and professor with over 30 years of experience in women's ministry. She is the founder of the Women's Center for Ministry at Western Seminary, where she currently teaches. Dr. Hislop has served on the board of Network for Women in Leadership, hosted a weekly radio program, and established and directed several women's ministries.
Dr. Hislop's newest book, Shepherding Women in Pain, is a vital resource for pastors, women's ministry directors, and all who have a heart for helping hurting women. Dr. Hislop is also the author of Shepherding a Woman's Heart, and was a major contributing author to the Women's Ministry Handbook.
More details about this resource