Mobile Ed: NT308 The Reliability of New Testament Manuscripts (audio)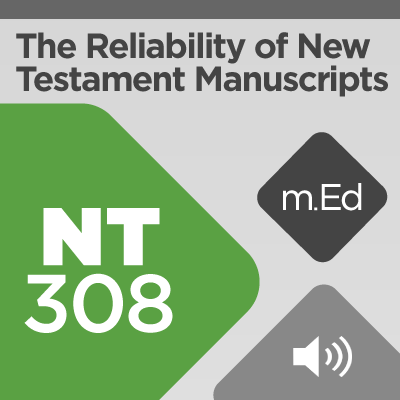 Mobile Ed: NT308 The Reliability of New Testament Manuscripts (audio)
•
Runs on Windows, Mac and mobile.
Overview
In this course, Craig Evans answers a question commonly asked about the New Testament—can we trust the manuscripts? Because the answer has serious consequences, Dr. Evans clearly outlines the history of these important documents. He discusses the quality, quantity, and age of the manuscripts and how these elements compare to nonbiblical ancient texts. He describes the practices of ancient writers and scribes and provides numerous examples to show that the manuscripts of the New Testament are reliable.
This is the audio only version of NT308 The Reliability of New Testament Manuscripts. To purchase the full course, click here.
Course Outline
Introduction
Introducing the Speaker and the Course
Unit 1: Evidence for the Reliability of New Testament Manuscripts
The Basics of New Testament Manuscripts
Finding Manuscripts in Logos
Examples Demonstrating the Quality of New Testament Manuscripts
Adding Manuscript Images to Presentations or Documents
Exploring Ancient Manuscripts and Resources
The Comparative Strength of the New Testament Manuscript Record
The Longevity of the Autographs
Researching the Works of Tertullian
The Number of Autographs
Accessing and Navigating the Textual Apparatus
The Preservation of the New Testament in Translations
About Craig A. Evans
Craig A. Evans is the Payzant Distinguished Professor of New Testament and director of the graduate program at Acadia Divinity College in Wolfville, Nova Scotia. He has written extensively on the historical Jesus and the Jewish background of the New Testament era. His books include Jesus and His Contemporaries: Comparative Studies, a commentary on Mark in the Word Biblical Commentary, Jesus and the Ossuaries, and Ancient Texts for New Testament Studies. He has recently served on the advisory board of the Gospel of Judas for National Geographic Society and has appeared frequently as an expert commentator on network television programs such as Dateline, and in various documentaries on the BBC, the Discovery Channel and the History Channel.
More details about this resource