Mobile Ed: AP221 Apologetics in an Urban Context (audio)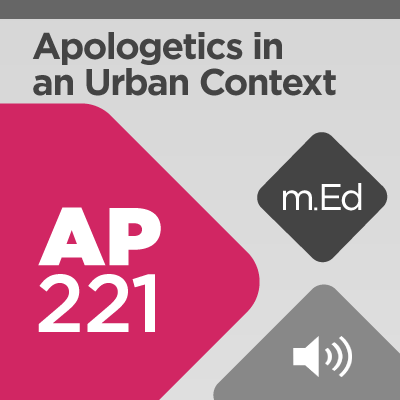 Mobile Ed: AP221 Apologetics in an Urban Context (audio)
•
Runs on Windows, Mac and mobile.
Overview
In this course, Dr. Carl Ellis discusses the need for an apologetic that speaks to the unaddressed core concerns of urban communities, incorporating not only philosophy but also sociology, anthropology, and history in its approach. The course focuses on the African-American experience as a case study to explain the specific challenges apologists face regarding urban culture.
This is the audio only version of AP221 Apologetics in an Urban Context. To purchase the full course, click here.
Course Outline
Introduction
Introducing the Speaker and the Course
Unit 1: Theology and Knowledge
Theology: Modes and Models
Using Logos Notes to Track Themes
Theology: Apologetics and Ethics
Exploring the Psalms with the Psalms Explorer Tool
Theology: Context and Approaches
Theology: Precedential
Using the Factbook and Searching Cultural Concepts
Knowledge: Its Nature and Importance
Knowledge: Faith, Reason, and Obedience
Knowledge: Revelation
Unit 2: Issues in Apologetics
Apologetics: Justifying Knowledge
Apologetics: Models
Discovering Ancient Inscriptions from the Biblical World
Apologetics: Addressing the Eclipse of the Christian Voice
Apologetics: Defining a Christian Approach (Part 1)
Apologetics: Defining a Christian Approach (Part 2)
Apologetics: A Critical Need Today
Apologetics: Core Concerns
Apologetics: Righteousness and Justice
Identifying and Searching for the Greek Term for "Righteousness"
Unit 3: Worldviews
Examples of Worldviews at Work
Worldview: Not Just Abstract or Theoretical
Using the Timeline to Explore Worldviews throughout History
Rational Worldviews: Theism
Rational Worldviews: Deism
Rational Worldviews: Naturalism and Nihilism
Irrational Worldviews: Existentialism
Looking Up Unfamiliar Terms in Logos
Irrational Worldviews: Postmodernism
Worldviews: A General Shift
Worldviews: A Culture Clash or a Christian Encounter?
Creating and Sharing Inspirational Quotes with Visual Copy
Unit 4: Shifting Socioeconomic Paradigms
Adam Smith versus William Godwin
Human Nature: Constrained versus Unconstrained
A Seismic Shift in Public Policy
Shifting Paradigms in Social Outlook
Contemporary Scene: Sociopolitical Ideologies
Contemporary Scene: The Political Matrix
Contemporary Christian Perspectives: African-American versus Anglo-American
Contemporary Scene: Feeding Addiction versus Holistic Correction
Contemporary Scene: Left versus Right
Contemporary Scene: Degenerate Movements
Looking to the Future
Unit 5: African-American Theological Vacuum and Ghetto Nihilism
African-American Theological Vacuum: Antebellum Developments
African-American Theological Vacuum: Effects of Emancipation
Theological Vacuum: Late 19th-Century Traumas
Theological Vacuum: 20th-Century Developments
Ghetto Nihilism: Introduction
Ghetto Nihilism: Black Migration to the North
Ghetto Nihilism: Stages of Development
Ghetto Nihilism: Characteristics
Ghetto Nihilism: Present Situation
Before Black Consciousness: "Black Is Ugly"
Phases of Blackness: "Black Is Beautiful"
Phases of Blackness: "Black Is Absolute"
Phases of Blackness: "Black Is Ghetto"
Ghetto Culture: Redneck Origins
Ghetto Culture: Redneck Characteristics
Ghetto Culture: Redneck Blacks
Challenges of Ministry in the 'Hood
Unit 6: Old and New Paradigms
Old Paradigms: Dignity
Old Paradigms: Identity
Old Paradigms: Significance
Old Paradigms: Socioeconomic Outlook
New Paradigms: What the System Delivers
New Paradigms: Addressing African-American Core Concerns
Conclusion
Holistic Great Commission
Product Details
Title: AP221 Apologetics in an Urban Context (audio)
Instructor: Carl F. Ellis Jr.
Publisher: Lexham Press
Publication Date: 2014
Product Type: Logos Mobile Education
Resource Type: audio
Length: 6 hours
About Eric L. Johnson
Dr. Carl F. Ellis Jr. is the assistant professor of practical theology at Redeemer Seminary in Dallas, Texas, and the associate pastor for cultural apologetics at New City Fellowship. Dr. Ellis studied under Francis Schaeffer at L'Abri in Hermoz sur Ollon, Switzerland, completed his ThM at Westminster Theological Seminary, and holds a DPhil from Oxford Graduate School.
More details about this resource