The Church Fathers Collection (3 vols.)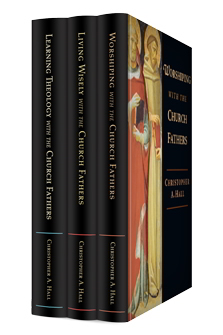 The Church Fathers Collection (3 vols.)
•
Runs on Windows, Mac and mobile.
Your Custom Discount
Reg. Price $54.99
Sale Price $38.99
Your Price $38.99
You Save $16.00 29%
Your Price
What's Pre-Pub?
$38.99
Overview
For many years, Christopher A. Hall has been working hard to introduce the Church Fathers to an evangelical audience. Here, the Church Fathers Collection (3 vols.) brings together three of his books from this important era of Christian history. Discussing the Church Fathers in the context of theology, christian living, and worship, this collection brings insight, thoughtfulness and depth to an evangelical audience in a way that makes Christian history fresh and relevant.
In the Logos edition, these volumes are enhanced by amazing functionality. Important terms link to dictionaries, encyclopedias, and a wealth of other resources in your digital library. Perform powerful searches to find exactly what you're looking for. Take the discussion with you using tablet and mobile apps. With Logos Bible Software, the most efficient and comprehensive research tools are in one place, so you get the most out of your study.
Key Features
Introduces accessible, but in depth, teaching on the Fathers of the Early Church
Frames the leaders and writers of the early church in the context of contemporary evangelical thought
Presents the Church Fathers in the context of real world issues, theology, and worship
Individual Titles
The early church fathers were great theologians--though they did not think of themselves as such. They were working pastors, involved in the daily life and leadership of their congregations. Yet they were wrestling with many of the great and formative questions of the Christian faith, such as the Trinity, the incarnation, the providence of God and the nature of the church. These beliefs were defined in the crucible of spiritual leadership, pastoral care and theological conflict, all set against the background of the great cultural movements and events of their day. For the church fathers, theology was a spiritual exercise woven into the texture of life.
What would it be like to sit under the preaching and instruction of these great men, to look over their shoulders as they thought and wrote, or to hear them debate theological issues? Learning Theology with the Church Fathers offers us that experience. With the same insight and love of his subject that he brought to Reading Scripture with the Church Fathers, Christopher A. Hall opens the door on patristic theology. Focusing on the great questions, we view these issues in their settings and find greater appreciation for the foundations and architecture of our Christian faith.
The first centuries of Christianity are like a far country. But despite their foreignness, they hold a treasury of wisdom for living. Early Christians struggled and flourished in a culture that was in love with empire and military power, infatuated with sex and entertainment, tolerant of all gods but hostile to the One. And from this crucible of discipleship they extracted lessons of virtue, faithfulness, and joy in Christ. Christopher Hall takes us to the ancient Mediterranean world, inquiring Christian leaders how to live a good life as a Christ follower. The menu of topics wends its way through wealth and poverty, war and violence, marriage and sexuality, theater and the arena, as well as the harsh realities of persecution and martyrdom.
Gathering around Basil or Chrysostom or Augustine, we are instructed anew in the way of discipleship. And as they grapple with issues surprisingly resonant with our own, this cloud of ancient witnesses both surprises and challenges us in the life of faith.
Chris Hall brings to life the early church's habitus in this engaging account of what it meant to be a Christian living not long after the time of Christ. But he goes even further in bringing twenty-first-century Christians into the story so that we too can live wisely today. This is a must-read for anyone looking to follow in the footsteps of the Fathers as they lead us to authentic and praiseworthy living in honor of Christ.
—Joel C. Elowsky, Concordia Seminary, St. Louis
Christopher Hall invites us to accompany the fathers as they enter the sanctuary for worship and the chapel for prayer. He also takes us to the wilderness, where we learn from the early monastics as they draw close to God in their solitary discipline. The focus of this book is not liturgy but more broadly worship in its corporate and individual dimensions. We enter into the patristic understanding of baptism and the Eucharist. And we come under the instruction and discipline of great spiritual teachers of prayer.
In two previous books, Reading Scripture with the Church Fathers and Learning Theology with the Church Fathers, Christopher Hall has ushered us alongside the church fathers as they study the Scriptures and plumb the depths of theology. In this survey of the spiritual life of worship he informs and challenges Christians in faithful living today. Hall weaves his own experiences into his observations of the fathers' practices and teachings and so helps us close the gap of the centuries. Readers will enjoy a rich and rare schooling in developing their spiritual life.
In recent years, more and more evangelicals who are looking for spiritual depth and congregational vitality have started to explore the thought and practice of the early church. Christopher Hall is a wise, experienced guide through the twists and turns of this often strange and unfamiliar territory. This volume provides a clear, readable exposition of what the leading church fathers understood about baptism, the Lord's Supper, prayer and spiritual disciplines. A special strength of this book is that Hall explains the biblical and theological reasoning used by the fathers as they developed their approaches. This book is essential reading for pastors, lay leaders and students who are looking for a reliable introduction to the spirituality of the early church.
—Jeffrey P. Greenman, associate dean of biblical and theological studies and professor of Christian ethics, Wheaton College
About Christopher A. Hall
Christopher A. Hall (PhD, Drew University) is the director of Renovaré Institute of Christian Spiritual Formation. He is associate editor of the Ancient Christian Commentary on Scripture, and his books include Reading Scripture with the Church Fathers, Learning Theology with the Church Fathers, and Worshiping with the Church Fathers.
Hall previously served at Eastern University for over twenty years in several roles, including chancellor, provost, dean of Palmer Seminary, dean of the Templeton Honors College, distinguished professor of theology, and director of academic spiritual formation. He and his wife, Debbie, live in Pennsylvania and have three grown children.