9Marks: Building Healthy Churches Collection (3 vols.)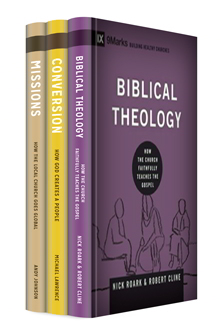 9Marks: Building Healthy Churches Collection (3 vols.)
•
Runs on Windows, Mac and mobile.
Overview
How does understanding conversion shape ministry? Who is responsible for global missions? How does the church guard against false gospels? These questions frame the ideas presented in this collection. The Building Health Churches Collection from the 9Marks series presents thoughtful and theologically deep analysis of the biblical roles that conversion and mission play within the Christian Church. Bringing together Bible-based teaching with the practical experiences of the authors in mission and evangelism, this collection makes an excellent starting place for conversations about mission in your local church community.
In the Logos edition, these volumes are enhanced by amazing functionality. Important terms link to dictionaries, encyclopedias, and a wealth of other resources in your digital library. Perform powerful searches to find exactly what you're looking for. Take the discussion with you using tablet and mobile apps. With Logos Bible Software, the most efficient and comprehensive research tools are in one place, so you get the most out of your study.
Key Features
Theologically grounded discussion of evangelism and missions
Contextualizing conversion within the totality of Christian life
Practically discusses the role of the church in the larger world
Individual Titles
The way a church operates says a lot about how they believe people are saved. When a church truly embraces the Bible's teaching on conversion, they will call people to repentance and faith—not just one-time decisions, therapeutic healings, or moral lifestyles.
This short book was written to help churches rightly understand the difference that a biblical doctrine of conversion should make for teaching, evangelism, discipling, membership, and every other facet of the life of a local church.
Conversion is essential and misunderstood. Lawrence understands this and explains what the Bible teaches simply and compellingly. This small book is a big gift.
—Mark Dever, pastor, Capitol Hill Baptist Church, Washington, DC; president, 9Marks
Michael Lawrence serves as the lead pastor of Hinson Baptist Church in Portland, Oregon. He earned a PhD in church history from Cambridge University and an MDiv from Gordon-Conwell Theological Seminary. Lawrence is the author of Biblical Theology in the Life of the Church.
Even though most Christians will never move overseas, the Bible enlists every Christian and every local church in the grand project of global missions. The local church is the engine of world missions. But where should a church begin?
Churches don't need a complicated missions program. They need the Bible and the wisdom to know how to apply it. This book points to Scripture and offers practical steps for training and supporting missionaries, forming international partnerships, sending short-term teams, and engaging the nations both at home and abroad.
I am grateful for Johnson's wise, sensitive, and practical insights for the local church committed to going global. While written by a North American, this book is neither culturally bound nor ethnocentrically blind. The issues addressed apply to any healthy local church anywhere in the world. In other words, Missions is thoroughly biblical. And for this reason, those like me who minister in another culture will find its lessons doable. I heartily recommend it, praying that God will grant it a wide readership, for his global glory.
—Doug Van Meter, pastor-teacher, Brackenhurst Baptist Church, Johannesburg, South Africa
Andy Johnson (PhD, Texas A&M) serves as an associate pastor at Capitol Hill Baptist Church in Washington, DC.
Every week, many churches around the world read the Bible but miss the main point—and end up teaching false gospels week in and week out. One of the most important safeguards against this danger is an understanding of biblical theology: reading the Bible in light of its main message, culminating in Jesus Christ.
Starting with a framework for understanding the storyline of the Bible and then explaining basic principles for prioritizing the teaching of this message, this book aims to help churches guard the truth of the gospel.
This little book packs a big punch. Absorb its contents, and feel its effect for years to come.
—Constantine R. Campbell, associate professor of New Testament, Trinity Evangelical Divinity School
Faithful preaching and teaching not only zooms in on a particular text but also zooms out and considers the storyline of the whole Bible. Nick Roark and Robert Cline show how biblical theology is essential for the church, for preaching, and for living. They survey the big picture of the Scriptures and show us some wrong turns that are commonly made. A very helpful resource for pastors, teachers, and laypeople.
—Thomas R. Schreiner, James Buchanan Harrison Professor of New Testament, The Southern Baptist Theological Seminary
I love biblical theology, but I don't always love biblical theology books. Too often, they are so technically written that they miss the majority of believers. This book is an exception. The authors not only define, defend, and describe biblical theology but also do so in a way that is accessible to all believers. This book is simple while addressing complex ideas, short but packed with information, and theoretical yet filled with practical examples of doing biblical theology. It is both a call to do biblical theology and a handbook for doing it well. I finished it with a deeper desire to see Jesus in the Word and to help my church members do the same.
—Chuck Lawless, dean of doctoral studies and vice president for spiritual formation, Southeastern Baptist Theological Seminary; author, Spiritual Warfare: Biblical Truth for Victory and Putting on the Armor
Nick Roark (MDiv, Southeastern Baptist Theological Seminary) serves as the pastor of Franconia Baptist Church in Alexandria, Virginia. Nick previously served on the pastoral staff of Capitol Hill Baptist Church in Washington, DC.
Robert Cline is the managing director for training content and curriculum at the International Mission Board of the Southern Baptist Convention.
More details about these resources