Pastoral Care & Counseling: Foundational Certificate Program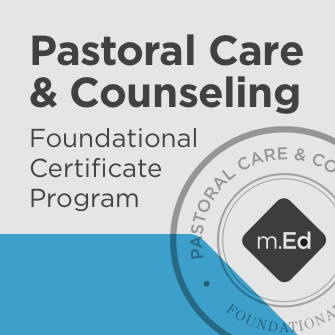 Pastoral Care & Counseling: Foundational Certificate Program
•
Runs on Windows, Mac and mobile.
Overview
In the Pastoral Care & Counseling: Foundational Certificate Program you will learn how to minister to those who are struggling, hurting, and in crisis. You will learn the key pillars of pastoral counseling from experienced Christian counselors and you will study methods counselors use as they apply the gospel to everyday issues. These courses will help you nurture your church community, prepare for counseling demands in your ministry, and equip you to minister more effectively to others.
Product Details
Title: Pastoral Care & Counseling: Foundational Certificate Program
Publisher: Lexham Press
Product Type: Logos Mobile Education
Resource Type: Courseware, including transcripts, audio, and video resources
Courses: 5
Video Hours: 34
Getting the most out of Mobile Ed
Logos Mobile Education is a highly effective cross-platform learning environment that integrates world class teaching with the powerful study tools and theological libraries available in Logos Bible Software. Every course provides links to additional resources and suggested readings that supplement the lecture material at the end of every transcript segment.
All courses in this bundle come with an Activities resource that functions as a type of "workbook" for the courses. This resource includes learning activities such as: places for you to respond to reflection questions, exercises that will challenge and show you how deepen your understanding of this course by using specific Logos tools and resources, tutorial videos on different features of Logos Bible Software, and links to relevant Logos guides and tools. A link to open the Activities resource is conveniently placed at the end of every segment.