Crossway Top Authors Bundle (94 vols.)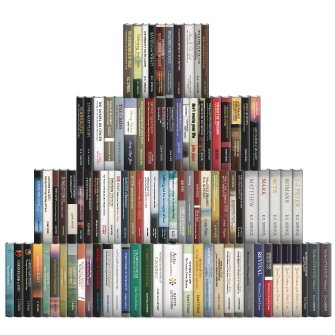 Overview
Featuring many of the most influential Christian authors of the twentieth and twenty-first century, this collection provides readers with a rich variety of biblical exegesis, theology, pastoral teaching, life application, church history, and devotional material. Including dozens of classic works and contemporary stand-outs from pastor-scholars, this collection allows readers to engage the key doctrines of the Christian faith through focus on Scripture, and direct their study towards worship and service.
In the Logos editions, these volumes are enhanced by amazing functionality. Important terms link to dictionaries, encyclopedias, and a wealth of other resources in your digital library. Perform powerful searches to find exactly what you're looking for. Take the discussion with you using tablet and mobile apps. With Logos Bible Software, the most efficient and comprehensive research tools are in one place, so you get the most out of your study.
Key Features
Provides key volumes from Crossway's most influential authors
Includes commentaries, topical theological studies, biblical theology, and more
Features classic works, best sellers, and defining individual works
Product Details
Title: Crossway Top Authors Collection
Publisher: Crossway
Volumes: 94
Digital Resources: 99
Pages: 26,560
Collections Included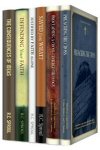 Crossway R.C. Sproul Collection
Author: R.C. Sproul
Publisher: Crossway
Pages: 1,024
R.C. Sproul is a gifted communicator known for tackling weighty concepts and distilling them into a life-changing and readily understandable format. This collection brings together four of his most engaging books on philosophy, apologetics, and theology—from the enduring influence of ancient thought and Enlightenment ideas to a Reformed view of Justification, to a historically sensitive apologetic, to a biblically grounded presentation of soteriology. Pastors, teachers, small group leaders, and those in positions of spiritual influence will benefit from his insights into defending and defining the Christian faith.
R.C. Sproul serves as senior minister of preaching and teaching at Saint Andrew's Chapel in Sanford, Florida, and is the founder and president of Ligonier Ministries. He has taught at numerous colleges and seminaries, has written over seventy books, and is featured daily on Renewing Your Mind, an international radio broadcast. He is the author of numerous books, including The Holiness of God, Chosen, and The Mystery of the Holy Spirit, as well as the Crucial Questions Series.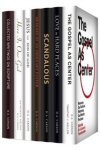 Crossway D.A. Carson Collection
Author: D.A. Carson
Publisher: Crossway
Pages: 1,552
Respected biblical scholar D.A. Carson presents a varied and faithful collection of biblical teaching on various subjects regarding Christology, bibliology, and the Christian life. With these resources, modern pastors and teachers will be able to deepen their own understanding of the gospel, its implications for Christians, and its meaning for a lost world. Readers will find new insights that will make their ministry more relevant and effective when encountering doubting, unbelief, and faithlessness. Carson provides answers to questions about Jesus and his work on the cross, the role of pastors in their God-ordained setting, and examines love from a scripturally faithful perspective.
D.A. Carson is a premier New Testament scholar and research professor of New Testament at Trinity Evangelical Divinity School, where he has taught since 1978. He is president of the Gospel Coalition, and has written or edited nearly 60 books including Exegetical Fallacies, Second Edition, Showing the Spirit: A Theological Exposition of 1 Corinthians 12–14, and How Long, O Lord? Reflections on Suffering and Evil, and The Gagging of God: Christianity Confronts Pluralism.
Crossway Martyn Lloyd Jones Upgrade
Author: Martyn Lloyd-Jones
Publisher: Crossway
Pages: 1,424
In this diverse collection of sermons, Martyn Lloyd-Jones—one of the most respected preachers of the twentieth century—breaks open the Bible with characteristic clarity and depth. Delving into biblical passages, Lloyd-Jones articulates theologically rich and profound concepts in language that is both moving and understandable. This set includes many posthumously-published sermons that appear for the first time in these volumes.
Martyn Lloyd-Jones (1899–1981) is recognized as one of the last century's most gifted preachers and writers. He served as minister of Westminster Chapel in London for 25 years and preached extensively throughout the United States and Europe. Through his devotional writings, commentaries and other books, Lloyd-Jones has had a profound influence upon the Christian church and the lives of many thousands worldwide. He is the author of Seeking the Face of God and Revival.

Crossway John Piper Collection
Author: John Piper
Publisher: Crossway
Pages: 6,950
After more than 30 years of preaching and ministry, John Piper continues to teach and influence Christians. Perfect for building your library or continuing your study of Piper's theology, this diverse collection includes some of his most significant devotional and academic works. There are volumes on important figures of the faith—Augustine, Luther, Bunyan, Wilberforce, and Edwards—as well as instruction for Christian living and spiritual reflection.
John Piper is a widely respected theologian and bestselling author who served as pastor for Preaching and Vision of Bethlehem Baptist Church for 33 years. He still serves as chancellor of Bethlehem College and Seminary.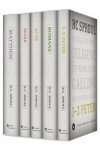 St. Andrews Expositional Commentary Series
Author: R.C. Sproul
Publisher: Crossway
Pages: 2,528
R.C. Sproul is one of the foremost Reformed teachers of our day. An exceptional communicator and gifted expositor, Dr. Sproul is adept at explaining and applying the Word to mind, will, and affections. Presenting the fruit of his lifetime of biblical study, the St. Andrew's Expositional Commentary Series adapts his verse-by-verse preaching into indispensable tools for digging deeper into God's Word. These volumes of expositional sermons—covering Matthew, Mark, Acts, Romans, and 1–2 Peter—are rich with penetrating insights into both what the text means, and how to preach it.
R.C. Sproul is a respected teacher, theologian, and pastor. He is the founder and chairman of Ligonier Ministries where he serves as executive editor of Tabletalk magazine.

Crossway J.I. Packer Collection
Author: J.I. Packer
Publisher: Crossway
Pages: 2,528
Revisit the foundations of the Christian faith with one of the foremost evangelical scholars living today. A renowned theologian, J.I. Packer takes readers through a deeper examination of everyday Christian tenets such as the Ten Commandments, the Apostles' Creed, and the Lord's Prayer, and addresses topics like weakness, intentionality, disappointment and more to help you grow in Christ. One of today's most important evangelicals, Packer has greatly influenced the modern church and the field of evangelism. The Crossway J.I. Packer Collection, a compendium of that influence, presents 10 volumes in which Packer offers profound reflection on the Christian life.
J.I. Packer is considered one of the most influential evangelicals in North America. Packer committed his life to Christ after hearing lectures from C.S. Lewis at Oxford. In the 1950s, Packer was ordained a deacon and priest in the Church of England. Before moving to Canada, he lectured at several schools, including Tyndale Hall in Bristol, Latimer House at Oxford, and Oak Hill Theological College in London.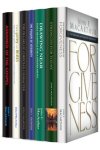 Crossway John MacArthur Collection
Author: John MacArthur
Publisher: Crossway
Pages: 2,026
Few individuals have had such an overwhelming and comprehensive influence on evangelical Christianity as John MacArthur, Jr. He has written hundreds of books and study guides each thoroughly biblical and practical. This bundle brings together seven helpful titles from this esteemed preacher and Bible teacher and provides a wealth of study materials.
Explore many of MacArthur's most popular works that carefully examine a variety of topics including heaven, spiritual discernment, salvation and many more. With a scriptural basis, these books will discuss difficult questions and issues and encourage you to apply the teachings in your life.
John MacArthur is a fifth-generation pastor, a popular author and conference speaker, and has served as pastor-teacher of Grace Community Church in Sun Valley, California since 1969.
John's pulpit ministry has been extended around the globe through his media ministry, Grace to You, and its satellite offices in Canada, Europe, India, New Zealand, and Singapore. In addition to producing daily radio programs for nearly 2,000 English and Spanish radio outlets worldwide, Grace to You distributes books, software, audiotapes, and CDs by John MacArthur. In 36 years of ministry, Grace to You has distributed more than 13 million CDs and audiotapes.

Acts 1-8 (3 vols.)
Author: Martyn Lloyd-Jones
Digital Resources: 6
Publisher: Crossway
Pages: 1,728
The book of Acts records some of the most important events in the New Testament: the birth of the church, the coming of the Holy Spirit, bold preaching, and dramatic missionary journeys. In addition to providing incredible insights into the growth of the apostolic church, Acts also encourages and challenges Christians today, spurring readers on to wholehearted devotion to Christ. In this newly revised, three-volume collection of sermons, Dr. Martyn Lloyd-Jones explains the message of the first eight chapters of Acts with clear language and pastoral warmth. From Peter's bold preaching to the dramatic stoning of Stephen, Lloyd-Jones points readers back to the foundational figures and key events of the Christian faith, emphasizing the basic truths undergirding genuine belief. Please note: this commentary is three volumes but will download to your software as six separate resources.
Martyn Lloyd-Jones (1899–1981), minister of Westminster Chapel in London for 30 years, was one of the foremost preachers of his day. His many books have brought profound spiritual encouragement to millions around the world.

Sam Storms Collection
Author: Sam Storms
Publisher: Crossway
Pages: 2,032
The Sam Storms Collection includes devotional and meditative guides for studying several books of the Bible, including Corinthians, Psalms, and Colossians. Celebrated author Sam Storms urges readers not only to enter into the Bible but to take the next step toward knowing God and his Word. Dive into provocative questions of Christian theology (and their biblical answers) in Tough Topics, or explore the process of Christian conversion in Signs of the Spirit, a companion guide to Jonathan Edwards' classic, Religious Affections.
Sam Storms spent 38 years in ministry as a pastor, professor, and author. He was visiting associate professor of theology at Wheaton College from 2000 to 2004, and is currently senior pastor at Bridgeway Church in Oklahoma City. He's a graduate of The University of Oklahoma (BA), Dallas Theological Seminary (ThM), and The University of Texas (PhD).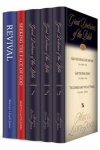 Crossway Martyn Lloyd-Jones Collection
Author: Martyn Lloyd-Jones
Publisher: Crossway
Pages: 3,856
This collection contains 5 volumes of enduring commentary, theology, and Christian living material from Martyn Lloyd-Jones, one of the twentieth century's leading voices in evangelical doctrine and preaching. These volumes provide nearly 1,500 pages of Lloyd-Jones' highly relevant and well-loved works.
Martyn Lloyd-Jones (1899–1981), minister of Westminster Chapel in London for 30 years, was one of the foremost preachers of his day. His many books have brought profound spiritual encouragement to millions around the world.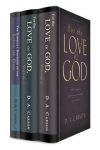 D.A. Carson Love of God Collection
Author: D.A. Carson
Publisher: Crossway
Pages: 912
This 900-page collection brings together three excellent books by noted evangelical scholar Donald A. (D.A.) Carson. As the title suggests, The Difficult Doctrine of the Love of God looks at God's love from a biblical perspective and really digs into this vitally important doctrine. Carson offers valuable insight on a topic that is often distorted by today's media and popular culture.
Volumes 1 and 2 of For the Love of God each offer systematic 365-day plans that take readers through the New Testament and Psalms twice and the rest of the Old Testament once using the M'Cheyne Bible-reading schedule. Carson takes the exciting task of reading the entire Bible in a year to the next level with his edifying comments and reflections for each day's scriptural passage and his ability to place each reading into a larger framework of history and God's eternal plan. Each volume of For the Love of God provides a full year (365 days) of thoughtful and insightful devotions, making this collection an excellent value.
D.A. Carson is a premier New Testament scholar and research professor of New Testament at Trinity Evangelical Divinity School, where he has taught since 1978.