Jeff Rosenau Accountability Ministries Collection (2 vols.)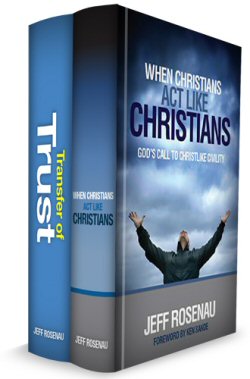 Jeff Rosenau Accountability Ministries Collection (2 vols.)
•
Runs on Windows, Mac and mobile.
Overview
Founder and President of Accountability Ministries, Jeff Rosenau, has devoted his ministry to prepare Christians to become the people God is calling them to be. Making John 15:5,12 as foundational verses for Accountability Ministries, the Jeff Rosenau Accountability Ministries Collection provides two volumes grounded on these passages. The two volumes—one on anxiety and depression, and the other on Christlike character—focus your direction heavenward. They emphasize how God can transform our hearts and minds in periods of opposition or struggles. Allowing him control during these times of difficulty allows us to experience God's love and grow in our spiritual walk and dependency on Him.
The Jeff Rosenau Accountability Ministries Collection gives you personal experiences of the author and practical helps on your journey towards Christlikeness. Plus, with the Logos Bible Software edition, you have an abundance of resources that offer applicable and insightful material for your study. You can easily search the subject of anxiety or Christian maturity and access an assortment of useful resources and perspectives from a variety of pastors and theologians.
Key Features
Insights from the author's personal life experiences
Addresses practical issues Christians face
Individual Titles

In Transfer of Trust, Jeff Rosenau shares seven life-changing lessons God taught him during his four-year struggle with anxiety and depression. Through Scripture and personal stories, he explains how God used his emotional illness to help him experience the love of Christ in ways that enabled him to transfer trust in himself to trust in the true and living God. For the past twenty-six years, Jeff has enjoyed a complete and full recovery, thanks to the grace and power of God to heal and transform lives.
I was deeply moved. Seldom are truth and grace better entwined in a real life story. Rosenau's practical encouragement and insights form a wonderful resource for pastors and counselors who find themselves needing help as they stand in the gap of broken lives.
—Rev. Brad Strait, Senior Pastor, South Fellowship Church
Jeff's story of learning to trust God rather than himself in the midst of suffering is a wonderful example of what can happen when we hold onto Jesus Christ—even when we are tempted to let go. It is an important message whether we are depressed or not.
—Dr. David Osborn, Director, Doctor of Ministry Program, Denver Seminary
Transfer of Trust is really, really good! I love how Jeff weaves his story with biblical principles. It is a book of hope, vulnerability, and reliance on God.
—Kris Hungerford, Executive Director of Grace Counseling Center

In a world of gossip, quarreling and rancorous debate, this book seeks to produce a measure of civility into daily communication. It does so by helping readers grow in their knowledge of the Son of God so that their personal relationship with Jesus will enable them to respond as Christ would to people of opposing views.
Have you ever wondered what would happen if Christians acted like Christians? Jeff Rosenau has thought deeply and wisely about this intriguing question. His persuasive new book provides the answer in a highly readable, engaging and convicting way. My recommendation:turn off your cell phone for a couple of hours and read this book. You'll be glad you did.
—William L. Armstrong, President, Colorado Christian University
For those of us who want to be transformed so that by example we might restore peace in our own lives while improving our relations with others, Jeff Rosenau reminds us of God's call to Christlike civility. This practical book teaches us how and why we ought to follow Jesus' example as we enter every discussion with a firm conviction of Christian truth, a willingness to learn from those with whom we may disagree, and a desire to honor the humanity of even our fiercest foes. In a world where incivility and finger-pointing monologues are fast replacing Christlike dialogue, this book is needed more than ever.
—Samuel B. Casey, General Counsel, Advocates International
The most significant thing I can say about this book is the author lives the message God has given him to share. As Jeff points out, in most cases the relationship truly is more important than the issue and who happens to be "right." Giving up our right to be right is hard to do, even for Christians. Through Scripture and real life stories, this book conveys a convicting and inspirational call to a deeper level of maturity in Christ.
—Dave Legg, Vice President, People Resources, The Navigators
Product Details
Title: Jeff Rosenau Accountability Ministries Collection
Author: Jeff Rosenau
Publisher: Accountability Ministries
Volumes: 2
Pages: 324
About Jeff Rosenau
Jeff Rosenau is the founder and president of Accountability Ministries. He currently also teaches biblical principles at various churches and para-church organizations.
More details about these resources