Eerdmans New Testament Commentaries Collection (4 vols.)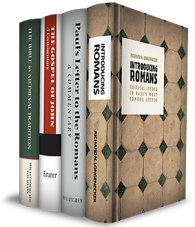 Eerdmans New Testament Commentaries Collection (4 vols.)
•
Runs on Windows, Mac and mobile.
Overview
Presenting four top New Testament scholars at the forefront of their fields, the Eerdmans New Testament Commentaries Collection (4 vols.) contains two commentaries on the Book of Romans, a commentary on the Gospel of John, and a volume on the Epistle to the Galatians based on medieval translations and interpretations.
In Introducing Romans: Critical Issues in Paul's Most Famous Letter, Richard N. Longenecker provides a guide to the most critical issues Romans poses for modern interpreters. In his book Paul's Letter to the Romans: A Commentary, Arland Hultgren draws on more than thirty years of experience teaching Romans to engage the text of Paul's letter using careful exegesis in conversation with scores of contemporary biblical scholars. In The Gospel of John: A Commentary, Frederick Dale Bruner lends insight from a lifetime of teaching the Gospel of John, and offers practical wisdom for our present-day lives. And, in The Letter to the Galatians, Ian Christopher Levy presents six new English translations of medieval biblical interpretations of Paul's Epistle to the Galatians, and shows us how reconnecting with the era's theological and spiritual riches can enhance contemporary reading of the Bible.
The Eerdmans New Testament Commentaries Collection (4 vols.) is packed with fresh insight and highly original content. With the Logos editions of these works, all Scripture passages in Eerdmans New Testament Commentaries Collection (4 vols.) are tagged and appear on mouse-over. What's more, Scripture references are linked to the wealth of language resources in your Logos library. This makes these texts more powerful and easier to access than ever before for scholarly work or personal Bible study. With the advanced search features of Logos Bible Software, you can perform powerful searches by topic or Scripture reference—finding, for example, every mention of "grace," or "Romans 14:1."
Key Features
Two commentaries on Romans, one commentary on the Gospel of John, and six English translations of medieval interpretations of Galatians
Written in an academic yet readable style
Completely interactive with your Logos digital library
Product Details
Title: Eerdmans New Testament Commentaries Collection
Publisher: Eerdmans
Volumes: 4
Pages: 2,157
Individual Titles

Introducing Romans: Critical Issues in Paul's Most Famous Letter
Author: Richard N. Longenecker
Publisher: Eerdmans
Publication Date: 2011
Pages: 518
Paul's Letter to the Romans has proven to be a particular challenge for commentators, with its many highly significant interpretive issues often leading to tortuous convolutions and even "dead ends" in their understanding of the letter. Here, Richard N. Longenecker takes a comprehensive look at the complex backdrop of Paul's letter and carefully unpacks a number of critical issues, including:
Authorship, integrity, occasion, date, addressees, and purpose
Important recent interpretive approaches
Greco-Roman oral, rhetorical, and epistolary conventions
Jewish and Jewish Christian thematic and rhetorical features
The establishing of the letter's Greek text
The letter's main focus, structure, and argument
Introducing Romans, a kind of introduction-ahead-of-time to Richard Longenecker's forthcoming commentary on Romans, is a major achievement in its own right, the fruit of at least fifty years of scholarship on the apostle Paul and on Romans in particular. It can stand alone as an indispensable handbook for anyone venturing to write a commentary of one's own or for anyone who wants to teach or understand that classic letter. Above all, Longenecker succeeds admirably in putting the many issues surrounding Romans in the broadest possible historical context, encompassing not just recent fashions but the legacy of centuries. Seasoned scholars and beginning students alike have every reason to be grateful.
—J. Ramsey Michaels, Missouri State University
Longenecker addresses here the major questions about this intriguing letter, setting out his own views cogently and clearly, with fairness and respect for those with whom he disagrees, and drawing upon decades of research and reflection. Reasonable, clear, well-informed, and instructive in every chapter, this extensive introduction to Romans deserves a place in any scholarly collection on Paul's most-discussed letter.
—Larry Hurtado, University of Edinburgh
A veteran interpreter of Paul here takes on issues—some perennial, some of more recent focus—important for understanding Paul's weightiest letter. Students will find this to be an informed introduction to a host of crucial subjects; as a handy reference work, the book merits a place on the shelves of scholars as well. Warmly commended for both!
—Stephen Westerholm, McMaster University
This extended introduction to Romans is in effect the first installment of Dick Longenecker's forthcoming major commentary on the epistle, and publishing it separately has enabled him to deal more comprehensively with the issues than in any existing commentary. . . . I warmly commend it and look forward eagerly to the publication of the commentary whose harbinger it is.
—I. Howard Marshall, University of Aberdeen
Richard N. Longenecker is professor emeritus of New Testament at Wycliffe College, University of Toronto. His many books include The Christology of Early Jewish Christianity and The Message and Ministry of Paul.

Paul's Letter to the Romans: A Commentary
Author: Arland J. Hultgren
Publisher: Eerdmans
Publication Date: 2011
Pages: 832
Building on his own fresh translation from the Greek, Hultgren walks readers through Romans verse-by-verse, illuminating the text with helpful comments, probing into major puzzles, and highlighting the letter's most inspiring features. He also demonstrates the forward-looking, missional character of Paul's epistle—written, as Hultgren suggests, to introduce Roman Christians to the major themes of Paul's theology and to inspire in them both confidence in the soundness of his teaching and support for his planned missionary efforts in Spain.
Ideal for pastors and serious students of the Bible, Hultgren's commentary includes eight appendices that discuss in detail such issues as "Romans 1:26-27 and Homosexuality" and "Pistis Christou: Faith in or of Christ?"
Arland Hultgren's commentary on Romans is well researched and clearly written, his arguments concise and generally persuasive. There are fresh insights aplenty. For instance, his exegesis of Romans 14:1–15:13 provides a provocative solution to the issue of who 'the strong' and 'the weak' were by convincingly arguing that there is diatribe at work in this paraenesis. Pastoral sensitivity abounds. For example, his exegesis of Romans 1:26–27 in the commentary proper and in his appendix on that passage takes full account of ancient and contemporary contexts and terminology and challenges long-standing views. This gem of a commentary will stimulate the minds and warm the hearts of many a teacher, preacher, and pastor.
—Robert J. Karris, O.F.M., St. Bonaventure University
Arland J. Hultgren is Asher O. and Carrie Nasby Professor of New Testament at Luther Seminary, St. Paul, Minnesota. Among his books are Paul's Gospel and Mission: The Outlook from His Letter to the Romans, The Rise of Normative Christianity, Christ and His Benefits: Christology and Redemption in the New Testament, and The Parables of Jesus: A Commentary.

The Gospel of John: A Commentary
Author: Frederick Dale Bruner
Publisher: Eerdmans
Publication Date: 2012
Pages: 1,311
The author of a much-loved two-volume Matthew commentary that he revised and expanded in 2007, Frederick Dale Bruner now offers The Gospel of John: A Commentary—more rich fruit of his lifetime of study and teaching. Rather than relying primarily on recent scholarship, Bruner honors and draws from the church's major John commentators throughout history, including Augustine, Chrysostom, Aquinas, Luther, Calvin, Henry, Bultmann, Barrett, and more.
This "historical interpretation" also sheds light on Bruner's "contemporary interpretation," which includes a clear translation of the text, references to major recent scholarship, and Bruner's personal application of the Gospel to present-day experience. Rich in biblical insights, ecumenical in tone, broadly historical, deeply theological, and lovingly written, Bruner's Gospel of John promises to be an invaluable reference for pastors and teachers.
Frederick Dale Bruner is George and Lyda Wasson Professor of Religion Emeritus at Whitworth University and scholar in residence at Fuller Theological Seminary. His other books include A Theology of the Holy Spirit and the two-volume Matthew: A Commentary—The Christbook and The Churchbook.

The Letter to the Galatians
Editor/Translator: Ian Christopher Levy
Series: The Bible in Medieval Tradition
Publisher: Eerdmans
Publication Date: 2011
Pages: 289
This work on Galatians seeks to reconnect today's Christians with part of the church's rich tradition of biblical interpretation. Ian Christopher Levy has brought together six substantial commentaries on Galatians written between the ninth and the fourteenth centuries. Levy's clear, readable translations of these major texts—previously unavailable in English—are augmented by his in-depth introduction, which locates each author within the broad context of medieval scholarship. Levy provides the translations for:
Haimo of Auxerre: Complete Galatians
Bruno the Carthusian: Complete Galatians
Peter Lombard: Galatians 2
Robert of Melun: Questions on Galatians
Robert Grosseteste: Galatians 3
Nicholas of Lyra: Galatians 4
Edited and translated by one of the most gifted and prolific historians of exegesis in the world today, this volume will be indispensable for studying the history of exegesis. Few fields are growing so rapidly in religious studies, and the need for English translations is pressing. Ian Levy here not only masterfully translates six important medieval authors at length. He also supplies a rich and detailed introduction that itself constitutes an important contribution to secondary literature on the reception of Paul's letter to the Galatians. . . . An ideal volume with which to introduce students to this burgeoning field.
—Kevin Madigan, Harvard Divinity School
Ian C. Levy has translated six medieval writings (commentaries and essays) dealing with Paul's letter to the Galatians. He thus brings these important writings to the attention of modern general readers and students of the Pauline letter. All who consult Levy's translations will profit from the reading.
—Joseph A. Fitzmyer, S.J., Catholic University of America
This first volume of a series devoted to medieval commentaries on sacred scripture, with its capacious introduction and wide choice of translated texts, augurs well for the project as a whole. The medieval masters of what they themselves called 'the Sacred Page' brought both deep devotion and skill to their consideration of the Word of God. One only hopes that the subsequent volumes measure up to the high bar set by Levy.
—Lawrence S. Cunningham, University of Notre Dame
Levy's volume offers outstanding access to medieval commentaries on one of Paul's most influential letters. Anyone interested in the history of exegesis will find here a treasure trove; but just as importantly, no one invested in the 'new perspective on Paul,' whether pro or con, can afford to neglect these medieval interpretations of the Letter to the Galatians.
—Boyd Taylor Coolman, Boston College
Ian Christopher Levy teaches theology at Providence College. He is also editor of A Companion to John Wyclif and coeditor (with Gary Macy and Kristen van Ausdall) of The Eucharist in the Middle Ages.
More details about these resources