Eerdmans Jewish Studies Collection (3 vols.)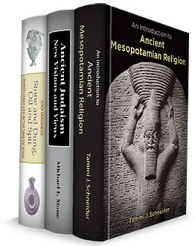 Overview
The Eerdmans Jewish Studies Collection (3 vols.) presents a fascinating look at ancient Middle Eastern religious belief and practice, daily life and culture, and the archaeological and textual history that form our current picture of the ancient Near East. The award-winning authors in the Eerdmans Jewish Studies Collection (3 vols.) challenge us to view this time in Jewish history with a fresh pair of eyes. While many periods in history have received intensive study, the late Second Temple in Judaism—the historical era into which Jesus was born, raised, and conducted his ministry—none was more consequential for the formation of the embryonic, nascent, and apostolic Christian communities and thus for the church across the ages.
In Tammi J. Schneider's An Introduction to Ancient Mesopotamian Religion, readers are provided a succinct but comprehensive look at the fascinating world of ancient religious belief and practice in the Mesopotamian region. In Michael E. Stone's Ancient Judaism: New Visions and Views, Stone examines with a critical eye some assumptions and axiomatic beliefs that have helped determine the direction of scholarship in the field of Second Temple Judaism during the last half-century. And with Stone and Dung, Oil and Spit, Jodi Magness focuses on aspects of Jewish daily life in late Second Temple Palestine, providing details on a broad spectrum of subjects—purification rituals, daily household tools, dining customs and communal meals, clothing and tzitzit, tombs and burial customs, and more.
These dynamic authors bring the ancient Near East to life with fresh and original perspectives making Eerdmans Jewish Studies Collection (3 vols.) a must-have for anyone interested in the Second Temple Period. Produced with scholarly rigor yet accessible to nonspecialists and students, with Logos Bible Software, these volumes are completely searchable and linked to the original language texts in your library. That makes the Logos edition of the Eerdmans Jewish Studies Collection (3 vols.) the most useful and accessible for students, pastors, those in the academic world, and laity.
Key Features
Studies on textual and historical matters
Thorough scholarship
Written in an academic yet readable style
Completely interactive with your Logos digital library
Product Details
Title: Eerdmans Jewish Studies Collection
Publisher: Eerdmans
Volumes: 3
Pages: 887
An Introduction to Ancient Mesopotamian Religion
Author: Tammi J. Schneider
Publisher: Eerdmans
Publication Date: 2011
Pages: 156
In her Introduction to Ancient Mesopotamian Religion, Tammi J. Schneider offers readers a compact guide to the religion of the peoples living in the region of the Tigris and Euphrates rivers from the beginning of the Bronze Age to the time of Alexander the Great and Darius III. Drawing on extant texts, artifacts, and architecture, Schneider uncovers both an intriguing pantheon of deities—including Marduk, Ishtar, and many others—and the complex, fluid, and highly ritualized religious experience of the people who spent their lives serving and appeasing them.
Tammi Schneider has done us all a great service by writing this attractive overview of Mesopotamian religions. The book is encyclopedic in the best sense of the word: comprehensive, reliable, in-depth, and up-to-date, with notes that invite further inspection. It should be useful to students learning about the cultures of the ancient world as well as to teachers in allied specialties. Both length and price are just right.
—Jack M. Sasson, Vanderbilt University
Tammi Schneider has provided an extremely useful initiation into the very complex world of ancient Mesopotamian religion. Students will benefit from the clear presentation and writing style of the author and will, undoubtedly, be challenged to dig deeper into the intricacies of the various topics and issues that are introduced.
—K. Lawson Younger Jr., Trinity Evangelical Divinity School
Schneider's state-of-the-art introduction is bound to become a standard textbook on Mesopotamian religion.
—Karel van der Toorn, University of Amsterdam
Scholars of the ancient Near East have only recently begun to attempt syntheses of their material for the public. Not only does Tammi Schneider take the very complicated topic of Mesopotamian religion and make it understandable to the beginning student, but she also provides a solid framework for understanding the wider context of the Judeo-Christian religious traditions. In addition, her detailed and erudite notes will help the reader who is interested in pursuing further research on the subject of comparative religions. She is to be commended!
—Mark W. Chavalas, University of Wisconsin–La Crosse
Tammi J. Schneider is professor of religion at Claremont Graduate University, Claremont, California, and is co-director of excavations at Tell el-Far'ah, Israel. Her books include Sarah: Mother of Nations.
Ancient Judaism: New Visions and Views
Author: Michael E. Stone
Publisher: Eerdmans
Publication Date: 2011
Pages: 256
In Ancient Judaism: New Visions and Views, Michael Stone examines a broad range of basic issues in the study of Second Temple Judaism and calls for a radical rethinking of approaches to Jewish history. Stone challenges scholars and students to question theologically conditioned histories of ancient Judaism devised by later orthodoxies, whether Jewish or Christian, and to acknowledge religious experience as a major factor in the composition and transmission of ancient religious documents. He urges readers to look above and beyond the spectacles of tradition and cultural memory that too often distort their understanding of the ancient past.
Addressing an assortment of topics regarding the authorship, transmission, and interpretation of the canonical Hebrew Bible, the Dead Sea Scrolls, apocryphal and pseudepigraphic literature, and more, Stone's Ancient Judaism underscores the stunning complexity of both the raw data and the resulting picture of Judaism in antiquity.
Drawing on his vast knowledge of the Judaisms of the late Second Temple period, Michael Stone analyzes the scholarship of the past sixty years, indicating areas of significant progress and promise as well as some dead ends. Students of early Judaism and Christian origins should read, mark, and inwardly digest this book and keep it on their shelves, both for what it discusses and for the light its methodological clarity sheds on topics yet to be explored.
—George W. E. Nickelsburg, University of Iowa
Michael Stone's work is unique in contemporary biblical and pseudepigrapha studies. In this book he covers a wide range of subjects and illuminates the way in which scholarly debate has been conducted. Stone's wide knowledge and the originality of his approach converge here to produce studies of insight and perceptiveness that push the boundaries of our understanding of the world of the pseudepigrapha, their history, and their reception. Scholars and students alike continue to be in his debt.
—Christopher Rowland, Queen's College, Oxford
Michael E. Stone is professor emeritus of comparative religion and Armenian studies at the Hebrew University of Jerusalem. His many books include 4 Ezra: A Commentary on 4 Ezra, Adam's Contract with Satan, History of the Literature of Adam and Eve, and works on Armenian apocryphal literature.
Stone and Dung, Oil and Spit: Jewish Daily Life in the Time of Jesus
Author: Jodi Magness
Publisher: Eerdmans
Publication Date: 2011
Pages: 375
In Stone and Dung, Oil and Spit Jodi Magness unearths "footprints" buried in both archaeological and literary evidence to shed new light on Jewish daily life in Palestine from the mid-first century B.C.E. to 70 C.E.—the time and place of Jesus' life and ministry.
Magness analyzes recent archaeological discoveries from such sites as Qumran and Masada together with a host of period texts, including the New Testament, the works of Josephus, and rabbinic teachings. Layering all these sources together, she reconstructs in detail a fascinating variety of everyday activities—dining customs, Sabbath observance, fasting, toilet habits, burial customs, and more.
Jodi Magness brings the literary evidence from both Jewish and New Testament writings together with the extensive archaeological material to produce a literally 'down to earth' picture of the conditions and customs of daily life in the late Second Temple period which will be essential reading for all who are interested in the period.
—Fergus Millar, Oriental Institute, Oxford University
Magness's latest work is a superb handbook on Jewish daily life in the late Second Temple period. She demonstrates how texts and archaeology, with careful scholarship, can mutually illuminate each other. This book will be valuable for undergraduates, graduate students, and all scholars of the period for a long time to come.
—Sidnie White Crawford, University of Nebraska-Lincoln
Bringing together archaeological evidence, Second Temple period sources including the Dead Sea Scrolls, and early Christian literature, Jodi Magness illuminates numerous aspects of the daily life of Second Temple Jews. Her originality and mastery of the sources makes this a major contribution to our field.
—Lawrence H. Schiffman, New York University
Jodi Magness is Kenan Distinguished Professor for Teaching Excellence in Early Judaism at the University of North Carolina at Chapel Hill. In addition to Qumran and the Dead Sea Scrolls, her research interests include ancient pottery, ancient synagogues, and the Roman army in the East, and she has published and lectured extensively on these subjects. She has participated in twenty different excavations in Israel and Greece, including serving as co-director of the 1995 excavations in the Roman siege works at Masada. Her works include the award-winning books The Archaeology of Qumran and the Dead Sea Scrolls and The Archaeology of the Early Islamic Settlement in Palestine.
More details about these resources