Get Powerful Tools for Deeper Bible Study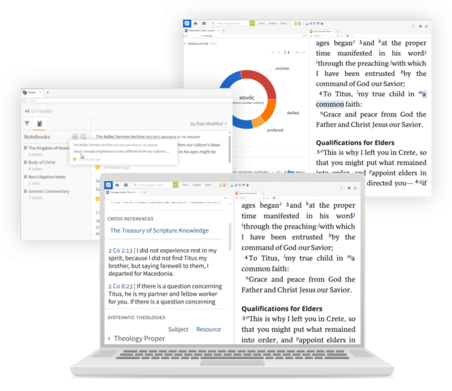 Logos 8 is a collection of digital books and Bible study tools that make personal Bible study easy for anyone. Logos 8 Fundamentals gives you the books and tools to:
Dig into the Word on any device: Get dozens of Bible study resources you can study anywhere.

Do word studies and more: Study any passage, topic, or biblical word with quick summaries and links to what you need to know.

Study just the essentials: Fundamentals helps you find biblical insights fast without getting overwhelmed.
In-depth Bible study doesn't have to be over your head. Get Logos, and start studying the Bible for yourself.
Pick the Option That's Right for You

Logos 8 Basic
Get a basic set of Bible study tools.
---
Includes Bible Dictionaries & Commentaries
Lexham English Bible

Lexham Bible Dictionary

Faithlife Study Bible

The Holy Bible: King James Version (KJV)

Commentary Critical and Explanatory on the Whole Bible

The Treasury of Scripture Knowledge

Connect the Testaments: A 365-Day Devotional with Bible Reading Plan

DIY Bible Study (4 vols.)
Free
Get started
Learn more
Recommended

Logos 8 Fundamentals
Get 53 premium resources and enhanced Bible study tools.
---
Featured Resources
The Eerdmans Companion to the Bible

The Bible Knowledge Commentary

Concise Theology by J.I. Packer

Devotionals and daily Bible study readings

Two audio Bibles

LT 271: Study Jonah with Logos

New Customer Special Pricing
$49.99
Value: $1,399.19
Get started
Learn more