Prayer Lists
Remind yourself to pray for specific requests on specific days right from your Logos Home Page. With Prayer Lists, you can enter individual prayer requests, check them off every time you pray for them, and even record the Lord's answers to them. You can access your Prayer Lists and create new ones from the Docs menu.
Get more Prayer Lists training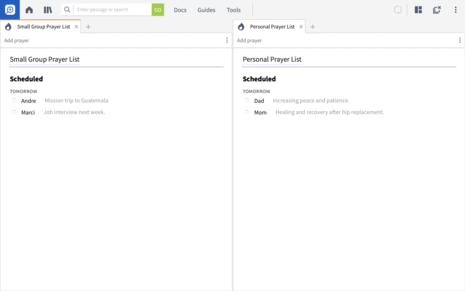 Create and Share Your Prayer Lists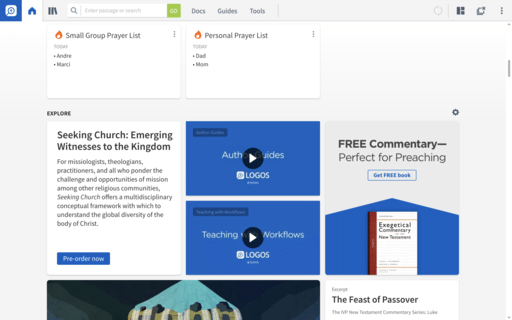 Get reminders right on your Home Page
After you set up your prayer lists, the prayer list cards on your Home Page will remind you to pray specifically for the items scheduled for that day.
Share your list with others
With just a few clicks you can share a list of prayers with your small group on Faithlife.com. With shared lists, each group member can add prayer requests and catalog how those prayers have been answered.
Availability
Included in
---
Logos Starter and up
Works best in
---
Logos Starter and up
Available on
---

Desktop
Full functionality

Mobile
Partial functionality

Logos web app
Partial functionality
Learn How to Use This Feature