Select Life and Works of George MacDonald (25 vols.)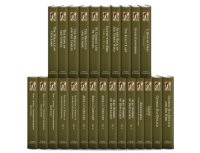 Select Life and Works of George MacDonald (25 vols.)
•
Se ejecuta en Windows, Mac y dispositivos móviles.
$24.00
Regular: $219.95
Impreso: $730.92
* Precio anticipado. Las ofertas futuras pueden alterar este precio.
¡Presente su oferta!
Haga clic en el máximo precio que está dispuesto a pagar. Si el precio final resulta más bajo será eso lo que pague.
Overview
The Select Life and Works of George MacDonald collection features works from every genre he contributed to. It presents MacDonld's most famous sermon collections, fantasy novels, poetry, and short stories. The striking imagery of MacDonald's work has made his stories widely adapted for film and theatre. Considered by many to be a pioneer—if not the father—of the modern fantasy novel, George MacDonald significantly influenced some of the most famous authors who have ever lived including Lewis Carroll, W. H. Auden, J. R. R. Tolkien, E. Nesbit, Madeleine L'Engle, G. K. Chesterton, Oswald Chambers, Elizabeth Yates, Mark Twain, and C. S. Lewis. Several of these authors reference specific works included in this collection as particularly influential, including Phantastes, Lilith, At The Back of the Northwind, Unspoken Sermons, and David Elingbrod. The series also includes a critical but appreciative intellectual biography of MacDonald, as well as a moving account of George MacDoanld's marriage to Louisa Powell MacDonald written by their eldest son, Greville MacDonald.
With the Logos editions, these valuable volumes are enhanced by amazing functionality and features. Scripture and ancient-text citations link directly to English translations and original-language texts, and important terms link to dictionaries, encyclopedias, and a wealth of other resources in your digital library. Perform powerful searches with the Topic Guide to instantly gather relevant biblical texts and resources. Tablet and mobile apps let you take the discussion with you. With Logos Bible Software, the most efficient and comprehensive research tools are in one place, so you get the most out of your study.
Key Features
Provides 25 volumes of George MacDonald's best fiction, poetry, and sermons
Features George MacDonald's most famous works, including Phantastes and Lilith
Presents two biographical accounts of George MacDonald's incredible life
Praise for George MacDonald
I have never concealed the fact that I regarded him as my master; indeed I fancy I have never written a book in which I did not quote from him . . . I know hardly any other writer who seems to be closer, or more continually close, to the Spirit of Christ Himself. Hence his Christ like union of tenderness and severity. Nowhere else outside the New Testament have I found terror and comfort so intertwined.
—C. S. Lewis, chair of Medieval and Renaissance Literature, Cambridge University
Surely, George MacDonald is the grandfather of us all—all who struggle to come to terms with truth through fantasy.
—Madeleine L'Engle, award-winning author, A Wrinkle in Time
Product Details
Title: Select Life and Works of George MacDonald
Authors: George MacDonald, Joseph Johnson, and Greville MacDonald
Volumes: 25
Pages: 8,372
About George MacDonald
George MacDonald (1824–1905) was a Scottish novelist, poet, and minister. Though he only achieved wide-spread fame posthumously, his work—especially his poignant fairy tales—was highly influential on many of the twentieth century's most important writers, including Lewis Carroll, W. H. Auden, J. R. R. Tolkien, E. Nesbit, Madeleine L'Engle, G. K. Chesterton, Oswald Chambers, and Elizabeth Yates. C. S. Lewis openly regarded MacDonald as his "master." MacDonald was educated at Aberdeen and Highbury College. He was raised in the Congregationalist Church, but was uncomfortable with some Reformed doctrines, and he at times departed from Calvinist orthodoxy.